Lewis Hamilton hopes upgrade can bring 'special' British GP win

By Andrew Benson
Chief F1 writer
Last updated on .From the section Formula 1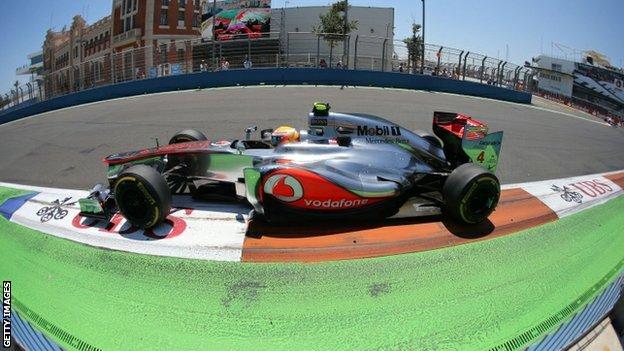 Lewis Hamilton is pinning his hopes for a win in Sunday's British Grand Prix on an upgrade to his McLaren car.
The Englishman crashed out of third place during the last race in Valencia and is third in the championship, 23 points behind the leader, Ferrari's Fernando Alonso.
"We've got some upgrades coming," Hamilton said. "We're going to need them because other teams have obviously been making some serious steps forward."
Hamilton has been worried by progress made by Ferrari and particularly Red Bull.
World champion Sebastian Vettel dominated the European Grand Prix in Valencia from pole position until being forced into retirement by an alternator failure.
The German's crushing performance came after a major bodywork change at the rear of the car that rivals are concerned has moved the Red Bull on to another level.
Vettel's team-mate Mark Webber is second in the championship, 20 points behind Alonso, while Vettel is fourth, a further six adrift.
McLaren struggled for pace in Valencia, where they suffered high tyre degradation in the race, but Hamilton feels their car will be better suited to the fast Silverstone circuit.
"Our car doesn't seem to go so well on the lower speed circuits like Valencia, but I think on the higher speed circuits like Silverstone, we should be able to be more competitive there," he said.
"Trying to look after our tyres is our biggest problem so hopefully there's a better chance with the new upgrades."
Hamilton's title hopes took a bit of a hit after he failed to finish in Valencia following a clash with Williams driver Pastor Maldonado, who was penalised for the collision.
But Hamilton said he was not going to dwell on the incident, or the points he lost as a consequence.
"Sometimes you have to accept when things don't go your way in racing. Obviously it was frustrating to lose out so close to the finish, but that's motor racing: you put it behind you and move on to the next race - which, happily for me, is at my home circuit of Silverstone.
"It doesn't really alter the way I go racing because I race to win, and that's what I'll be doing, especially at my home grand prix.
"The British Grand Prix is special because I get a massive boost from all the fans.
"To me, winning at Silverstone is right up there with winning at Monaco. Standing on the top step of the podium in 2008 was among the sweetest moments of my career."
His McLaren team-mate Jenson Button is hoping Silverstone will be the race where he gets his season back on track after a difficult few races.
Button has scored only six points in the last five races and is now 62 points behind Alonso and effectively out of the championship battle.
He said: "We've been making progress in a lot of areas and while I wasn't able to show that in terms of the result at Valencia - mainly because I got boxed in at the start, then wasn't very lucky with the Safety Car - our strategy was fine and the car improved throughout the race.
"The last race I gained a lot of confidence in the car. I will be arriving at Silverstone confident and ready to fight.
"As a circuit it should suit our car. It's a fast circuit. There's no reason why we shouldn't get a front row."