Jenson Button 'trusts' FIA's Bahrain GP decision
Last updated on .From the section Formula 1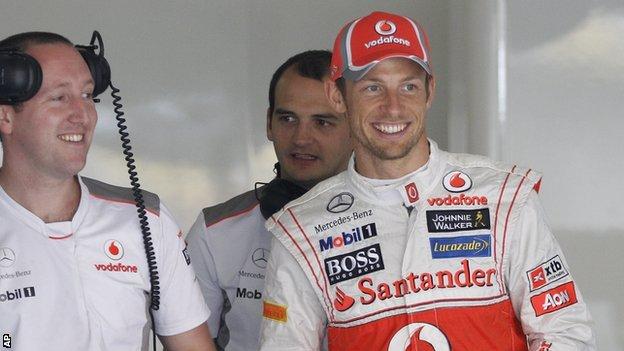 Jenson Button says he trusts the FIA's decision to go ahead with this weekend's Bahrain Grand Prix.
Button said: "I trust in the FIA that they know all the information so we have to trust in their decision.
"I don't think they will ever want to put us at risk. They do a lot on safety for drivers."
He continued: "That's a priority for them. If everything is straightforward and nothing happens, it's not even going to be in the back of my mind at all."
Last week, a number of Formula 1 teams expected the Bahrain GP to be called off amid security concerns but the FIA said it was "satisfied that all the proper security measures are in place".
There is an increased police presence on the roads to the Sakhir International Circuit, where this weekend's racing will take place.
Button has spent two days in Dubai preparing for the warm temperatures, which are expected to exceed 30C in Bahrain.
And the 32-year-old from Somerset said: "It's a massive thing for us, for me especially.
"I don't know why I can't work tyres in cold conditions. It must be the way I drive. I've tried driving differently but it doesn't work. Heat really helps me."