Ferrari need 'fundamental change' says Pat Fry

By Andrew Benson
Chief F1 writer in Shanghai
Last updated on .From the section Formula 1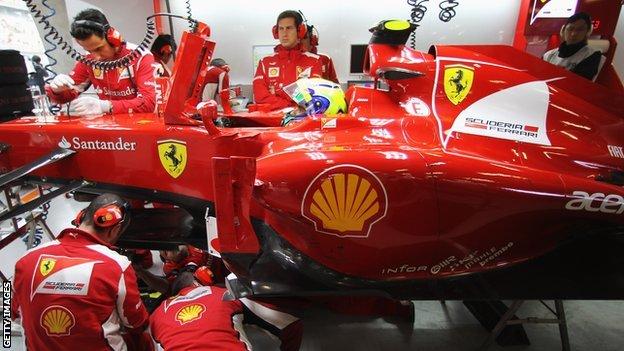 Ferrari technical director Pat Fry has said the team need to make major changes to the way they operate before they can become competitive.
Ferrari have started the season off the pace and Fry suggested getting back to the front would take some time.
"We need to fundamentally be changing the methodologies that we use to select, design and manufacture so we are competitive long-term," he said.
Fry added that Ferrari were "leaving no stone unturned" in trying to improve.
Ferrari have made a major change in design philosophy for this year after winning only one race in 2011.
Fernando Alonso is leading the championship after an unexpected victory in wet conditions in Malaysia three weeks ago, but the car is about a second off the pace of the leading runners in normal conditions.
They had a set-back in pre-season testing when they discovered the positioning of the exhaust exits - designed to enhance aerodynamics - was overheating the rear tyres.
A revised exhaust position is part of a major upgrade to the car planned for the Spanish Grand Prix next month but Fry admitted there were more deep-seated problems at the team.
"The exhaust is one of the more obvious changes that we've made, but that's quite a small part of the problem we've got.
"There's work on all fronts, not just work going into what we're taking to Barcelona, there's also a huge amount of work in just trying to change the fundamentals of what we do, so we can actually take a step forward and be competing with everyone else.
Asked to detail what the problems were, he said: "The biggest performance differentiator is aerodynamics. We've got some issues there that we're trying to resolve.
"The areas you need to be working on is everything from the way you run the windtunnel, the accuracy of your windtunnel, the simulation that you use to decide what components to take forward... so we're not leaving any stone unturned.
"We're actually trying to review and revise our methodologies through the whole process and that carries on into the design office for trying to get weight out of various parts, make other bits more durable.
"So there's work going on absolutely everywhere within the company, on the basic fundamental methodology as well as just trying to upgrade the car."