HRT promote chief engineer Toni Cuquerella to technical director
By Andrew Benson
Chief F1 writer
Last updated on .From the section Formula 1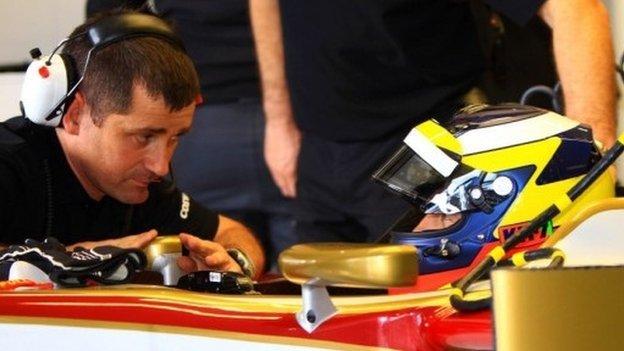 HRT have appointed a new technical director, filling a role that has been vacant for six months.
Cuquerella, 38, has worked with HRT since the end of 2009, when they were preparing for their debut in 2010.
He said his priority was to "solve the current car's problems" and to "unify and expand the technical department".
Following Willis's departure to join Mercedes, Belgian Jacky Eeckelaert was in charge of the development of the new car in the role of technical co-ordinator, before leaving the team in February.
HRT are last in the constructors' championship after the first two races of the season, having failed to get the car ready for any of the three official pre-season tests.
The team are in the process of bringing their entire operation under one roof in Spain. The current car, the F112, was designed at their German technical base in Cologne.
Cuquerella said: "Until now there was a lot of dispersion from within the technical team and that had its repercussions in the concept and quality of the F112.
"But I am confident that we have a good work base and a clear direction to advance and have a good project for the future."
The Spaniard first worked in F1 as a race engineer at the now defunct Super Aguri team, where he spent two years before moving to BMW Sauber, where he performed the same role with Robert Kubica.