No extra security needed for Bahrain - motorsport chief
Last updated on .From the section Formula 1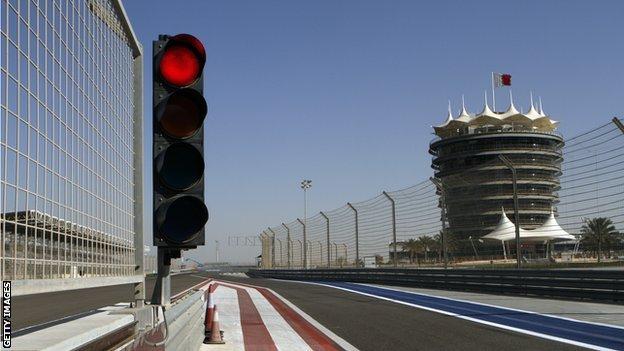 Security does not need to be stepped up during the Bahrain Grand Prix, according to the president of the country's Automobile Federation.
Sheikh Abdullah bin Isa Al Khalifa told PA Sport: "We've never had any violence towards foreigners.
"All I can guarantee you is you will be as safe as at any other grand prix."
Pockets of resistance protesters continue to be involved in almost daily clashes with police in the Gulf state.
Al Khalifa continued: "Yes, the events of February 14 last year [the Day of Rage] inflamed matters, but we've never had an issue with Formula 1, which has been visiting our country since 2004.
"Any death is unfortunate or regrettable, but no, I'm not worried at all.
"Of course, there are no guarantees in this world. You could be anywhere, even Silverstone."
On whether security should be increased, Al-Khalifa, who is also one of the 26 members of the FIA's World Motor Sport Council, said: "No, absolutely not.
"It will be life as normal. We've never had any violence towards foreigners simply because they are foreigners or in F1.
"There is no violence towards guests of the country, and I don't think there will be any disruption or danger to anybody coming into Bahrain."
He said he understood people's "apprehension" but added: "Anybody who has been there before and comes now will see there is no difference.
"It is why I'm hoping for the race to come as quickly as possible, just to let this community [in Formula 1] see and feel what is really going on in Bahrain.
He added: "So my message to Formula 1 is 'be part of unifying my country'."