Team profile: Mercedes
Last updated on .From the section Formula 1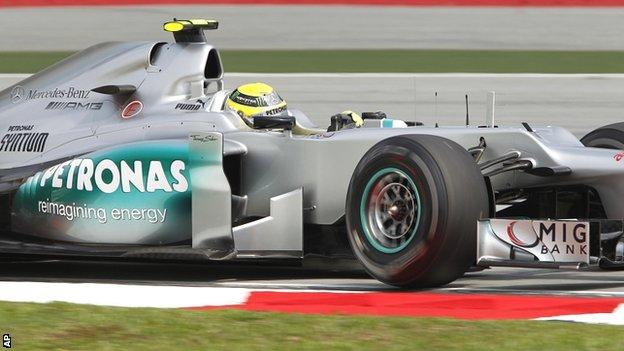 Mercedes made the bold move to return to the sport in 2010, after several years as an engine supplier. However, the German team have failed to replicate the success they enjoyed in their short first stint.
With Juan Manuel Fangio at the wheel, Mercedes won the drivers' championship in their first season in 1954, with the Argentine following it up with another triumph the following year.
However, the Le Mans disaster of 1955, where 83 spectators and Mercedes driver Pierre Levegh lost their lives, saw the marque withdraw from motor racing entirely.
The manufacturer dipped its toe back into Formula 1 in 1994, powering Sauber with engines built by Ilmor before hooking up with McLaren in a partnership which continues to this day.
In 2010, Mercedes returned to the sport as a full manufacturer, buying reigning champions BrawnGP - which was formerly Honda, BAR and Tyrrell - while still supplying McLaren and Force India with engines.
The team, under the leadership of Ross Brawn, employed Michael Schumacher and Nico Rosberg and enjoyed moderate success in their first season back, with Rosberg taking three podium finishes. However they lacked the pace to win.
The silver arrow took a step back in 2011, failing to grace the podium on the way to a second successive fourth place finish in the constructors' championship.
MEET THE BOSS - ROSS BRAWN
What is F1's biggest challenge?
F1's biggest challenge is to stay relevant for all of our stakeholders, our fans and the media. We have to ensure that the sport is shaped for the future by making it highly entertaining, economically viable for the manufacturers and teams, and with as much relevance as possible for our society on a wider scale.
Does F1 need road-car manufacturers?
I believe it does. Manufacturers of the calibre of Mercedes-Benz and Ferrari have been the core of F1 for many years and along with the other manufacturers who are currently involved or have been involved in the past, they add to the strength of F1 and are a great asset to the sport.
The best piece of advice I've ever given a driver is…
... go fast, don't crash! It's the best way to get across the finish line.
The best piece of advice I've received is…
... treat others as you want to be treated yourself. That's what my father always told me.
What kind of team boss are you - hairdryer treatment or arm around the shoulder?
Arm around the shoulder.
Wheeler-dealer or techie?
Both! I'm a wheeler-dealer techie. You have to be both when you are in a senior position in an F1 team. You have to find compromises and concessions.
What was your first paid job?
I was a labourer on a building site during my summer holidays at school.
What time do you set your alarm clock for?
0615 when I'm at home.