Team profile: Force India
Last updated on .From the section Formula 1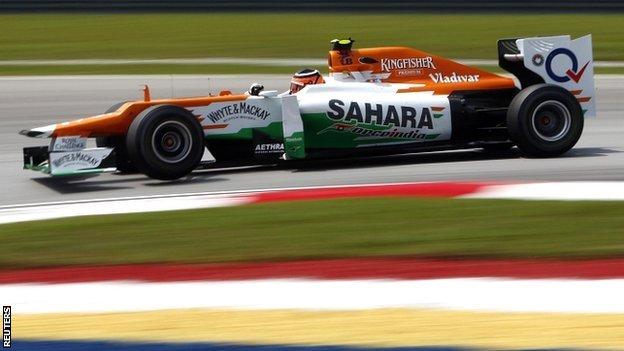 Formula 1 welcomed its first Indian racing team when businessman Vijay Mallya bought the Spyker team in 2007 and rebranded the outfit Force India for 2008.
The team, which can trace its origins back to Jordan in 1991 and subsquently raced under the Midland and Spyker names, runs in its national colours orange, green and white.
Adrian Sutil and Giancarlo Fisichella were the team's first drivers, but progress was slow as the team struggled to improve a car that was used to running at the back of the field.
However, 29 races after their debut, former Renault driver Fisichella converted the team's first pole position at the 2009 Belgian Grand Prix into second place - the team's only podium to date - for their first points finish.
The following season, the team were regularly challenging for points with Sutil and Vitantonio Liuzzi at the wheel and they finished seventh in the constructors' championship, two places higher than the previous season.
In 2011, the team recruited Paul di Resta, who won the German Touring Car Championship title (DTM) with Mercedes the previous year, to race alongside Sutil and the outfit achieved its best finish constructors' championship finish with sixth.
MEET THE BOSS - OTMAR SZAFNAUER
What is F1's biggest challenge?
Continuing to grow the fan base through exciting races and great entertainment.
Does F1 need road-car manufacturers?
Yes, because variety is good for any sport. You need larger and smaller teams to keep the interest high.
The best piece of advice I've ever given a driver is…
It is a long race - you can't win it in Turn One.
The best piece of advice I've received is…
Fully investigate a situation before making a judgement.
What kind of team boss are you - hairdryer treatment or arm around the shoulder?
Arm round the shoulder.
Wheeler-dealer or techie?
Hybrid.
What was your first paid job?
Worked as a paper boy.
What time do you set your alarm clock for?
0700 most days.