BBC Sport remembers F1's greatest drivers of all time
Last updated on .From the section Formula 1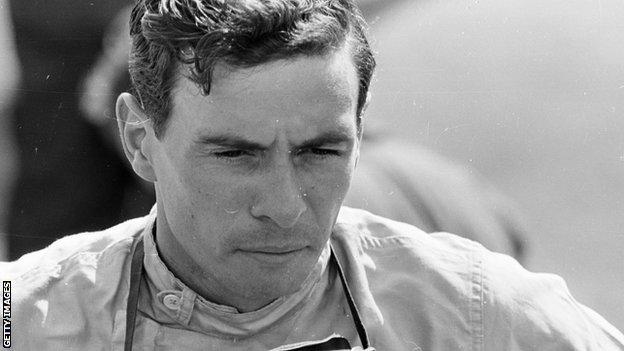 The Formula 1 grid this year contains six world champions and a depth of talent that stands comparison with any era of the sport.
So at a time when the current field is blessed with so many great drivers, it seems appropriate to reflect on the great names of the past, and how the current top names compare.
BBC Sport will this year run down a list of 20 of the greatest drivers in F1 history, revealing one on the Tuesday before every grand prix, starting next week ahead of the season-opening race in Australia.
The list has been compiled by the BBC F1 team. Each member was asked to come up with their own personal list of the 20 greatest drivers since F1 started in 1950. The rankings provided were combined to produce a BBC F1 top 20, which we will count down through the season from 20 to one.
In each episode, veteran commentator Murray Walker will provide his personal reflections in a career highlights video featuring the driver, whom chief F1 writer Andrew Benson will profile.
The BBC list does not pretend to be a definitive all-time top 20 - all such things are in any case subjective, given the difficulty of comparing drivers from different eras.
But what it does is highlight just what a golden age F1 is going through at the moment. Four of the 20 drivers on the list are racing in 2012. Two other current drivers only just missed out, being ranked in 22nd and 23rd places overall when the lists were combined.
That underlines why Ferrari's Fernando Alonso - inarguably one of the greatest drivers of this era - felt moved to say earlier this year that "the level of the championship [is] higher than ever".
The 2012 season is shaping up to be one to relish - both of itself and in the context of a sport with rich history. A history into which we hope to provide an interesting insight this year...
Here is the list of greatest drivers, including video of Murray Walker's view...
The greatness of the man and the brilliance of his driving is remembered easily, the occasional darkness of his psyche perhaps less so.
Juan Manuel Fangio set records so immense that, in percentage terms, they will surely never be beaten.
Jim Clark towered over his era, a period when he made many grands prix mind-numbingly boring. Yes, the Lotus was often the best car, but Clark's supremacy was not in doubt.
Michael Schumacher's monumental achievements came about through a perfect storm of an exceptionally talented and hard-working driver, ground-breaking technical achievement, a bottomless pit of money and a ruthless management that exploited every last avenue to its benefit...
Alain Prost drove like poetry and was an integral part of one of the greatest rivalries sport has ever known...
Sir Stirling Moss is the ultimate proof that statistics count only for so much when assessing the worth of a grand prix driver...
Sir Jackie Stewart's enduring legacy stretches much further than 27 grand prix wins in 99 races, three world championships and being one of the greatest drivers ever to set foot in a Formula 1 car. It is that he had a bigger effect on his sport than arguably any man in history...
The Red Bull driver has undoubtedly had a stellar career so far - 22 grand prix victories, at a rate of more than one in four races, 33 pole positions and the youngest double world champion in history. All by the age of 25 and in just five seasons in F1...
Just 42 days after suffering horrendous burns in a crash at the Nurburgring, Lauda, swathed in bandages, was grinding out a determined fourth-place finish in Monza. It was a moment that defined the Austrian's revered career...
Alonso's standing has been affirmed by his majestic form in 2012 as he moved on to 30 grand prix victories and started his pursuit of a third world title. An F1 career that began in 2001 could yet become even more sensational...
In 1952, the first of the two consecutive world titles he secured with Ferrari, Ascari won every championship F1 race bar the first. Heading into the final race of the 1953 season, he had won 11 of the previous 13 grands prix...
Gilles Villeneuve won only six grands prix in a career that spanned a little over four years, yet 30 years after his death his name still shines out like a beacon as a symbol of the heroic qualities that to many make up the very essence of a grand prix driver...
Nigel Mansell was the personification of drama in a Formula 1 car.
Whether it be daring overtaking manoeuvres, his muscular handling of some of the sport's defining cars, or the histrionics and apparent persecution complex that accompanied much of his career, there was never a dull moment when the moustachioed Midlander was around...
Michael Schumacher says his toughest rival in his first career was Mika Hakkinen, which is quite a compliment from a man who also raced against Ayrton Senna and Alain Prost and lost his final world championship battle to Fernando Alonso...
When Lewis Hamilton burst onto the Formula 1 scene in 2007, taking on and often beating the reigning world champion Fernando Alonso in equal cars, in Italy they gave him the nickname 'Il Phenomeno' - the Phenomenon...
Few drivers have had perceptions of them shift as dramatically throughout their careers as Nelson Piquet.
For a while in the mid-1980s, Piquet was regarded as the best driver in the world but, as his career went on, his stock fell and at the end he slipped out of F1 almost unnoticed - and largely unlamented...
Number 17 - Emerson Fittipaldi
Emerson Fittipaldi was a trailblazer in more ways than one.
He was the man who paved the way for future generations of Brazilian drivers to make their country synonymous with Formula 1...
Sir Jack Brabham is one of a select band of just eight drivers who have won the world title three times or more, but his achievements go far beyond that. He is also the only man to have won a title in a car bearing his own name...
Damon Hill makes a thought-provoking observation about his father Graham.
Despite winning two Formula 1 titles, as well as being the only man to win the 'triple crown' of F1 world championship, Le Mans and Indy 500, Graham Hill always had the image of a 'trier' - a man who made it to the top through hard graft, rather than the easy talent of his contemporary Jim Clark...
Throughout Formula 1 history, there have been drivers who, through ability and charisma, have left an impression that transcends their limited results. Jochen Rindt, number 20 on BBC F1's list of the greatest drivers of all time, is one such man...