Red Bull's Mark Webber shines in second testing session
By Andrew Benson
Chief F1 writer
Last updated on .From the section Formula 1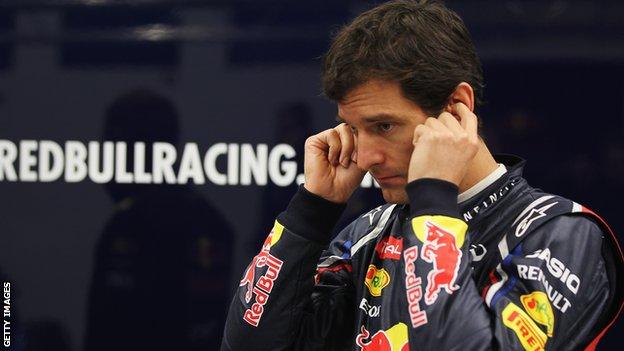 Mark Webber and his Red Bull team were in impressive form on the second day of Formula 1 pre-season testing in Jerez.
The Australian was the pacesetter throughout the day, producing a series of consistently fast laps out of the reach of the other 2012 cars.
Michael Schumacher set the fastest time of the day in last year's Mercedes.
Day one pacesetter Kimi Raikkonen was only fifth fastest for Lotus, while McLaren and Ferrari had another low-key day.
Both teams emphasised they were concentrating on learning about their new cars rather than setting quick times.
However, the same will also apply to Red Bull, yet Webber was quickly down to a pace faster than Raikkonen had managed on Tuesday and well clear of Felipe Massa in the Ferrari and Jenson Button in the McLaren.
Webber's fastest time was one minute 19.184 seconds, while Massa managed a 1:20.454 to be seventh fastest and Button was a further 0.1secs adrift in eighth.
Webber said: "We're making some pretty good progress. It's early days in the concept of the car, we have a lot of stuff to go through and, with the regulation changes, you have to understand new challenges.
"The car was pretty competitive in winter testing last year and the same again this year, (but) we know Ferrari and McLaren will be there."
Massa had been a few 10ths slower than his best time for most of the day before improving when he pushed harder towards the end of the afternoon.
The Brazilian said Ferrari were still struggling to understand their new car. It is deliberately a major departure in design from their 2011 car, which won only one race.
"It is a very new car, and it is not a car (like the one) we had in the last years," Massa said.
"It is a car that needs a lot of work, and (there are) a lot of things to try. I did so many laps just trying different things in the car. It was a programme to understand every single point in the car set-up.
"It is more or less what we expected to do. We had to try so many things but it was more or less in the right direction."
All three men will hand their cars over to their team-mates for the final two days of the test.
On Thursday, world champion Sebastian Vettel takes over from Webber, Lewis Hamilton from Button and Fernando Alonso from Massa.
Toro Rosso's Daniel Ricciardo was third fastest - second of the 2012 cars - with Force India reserve Jules Bianchi fourth, 0.051secs faster than the team's race driver Paul di Resta.
Raikkonen grabbed the headlines with his pace on the first day with a 1:19.6, but he did not get close to that on Wednesday, setting a fastest time of 1:20.239.
He also had an off-track moment at the Dry Sac hairpin at the end of Jerez's long straight - famous for being the place where Schumacher tried to take out Williams driver Jacques Villeneuve in the title-deciding race in 1997.
Raikkonen had another minor 'off' in the dying minutes of the day's testing, taking to the gravel before rejoining the track.
FASTEST TIMES, DAY TWO TESTING, JEREZ
1 Michael Schumacher (Ger) Mercedes 1:18.561*
2 Mark Webber (Aus) Red Bull-Renault 1:19.184
3 Daniel Ricciardo (Aus) Toro Rosso-Ferrari 1:19.587
4 Jules Bianchi (Fra) Force India-Mercedes 1:20.221
5 Kimi Raikkonen (Fin) Lotus-Renault 1:20.239
6 Paul di Resta (GB) Force India-Mercedes 1:20.272
7 Felipe Massa (Brz) Ferrari 1:20.454
8 Jenson Button (GB) McLaren-Mercedes 1:20.688
9 Sergio Perez (Mex) Sauber-Ferrari 1:20.711
10 Pastor Maldonado (Ven) Williams-Renault 1:21.197
11 Heikki Kovalainen (Fin) Caterham-Renault 1:21.518
12 Pedro de la Rosa (Spa) HRT-Cosworth 1:22.128*
* = 2011 car