Kimi Raikkonen primed for Formula One comeback with Lotus
By Andrew Benson
Chief F1 writer, BBC Sport website
Last updated on .From the section Formula 1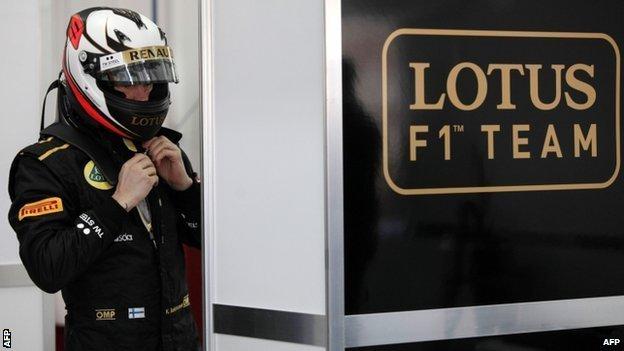 Kimi Raikkonen says he had no trouble re-adapting to a Formula 1 car in his first test this week after two years away from the sport.
The Finn, world champion for Ferrari in 2007, completed two days of running with his new team Lotus in Valencia.
"I was expecting it to feel faster than it was," said the 32-year-old, who has spent the last two years in rallying.
"OK, Valencia is not the fastest circuit, but it was still pretty normal."
Raikkonen, who was speaking in an exclusive interview with the BBC's new F1 commentator Ben Edwards, said the car did not feel especially fast.
"I was expecting it to feel fast when you really go with the throttle but I had the sensation maybe once," he said.
Nor, he said, did he suffer any neck pains, despite the high G-forces of an F1 car - which can reach 5G during braking and around the fastest corners.
"I don't feel in the neck any stiffness," Raikkonen said. "I probably expected to have more problems in the neck but I didn't really have any."
Raikkonen was driving a two-year-old car because F1's testing restrictions forbid teams running current cars outside official tests.
That meant the team was unable to establish definitively whether he was on the pace, although trackside operations director Alan Permane told BBC Sport that "from the first run he was pretty much there."
Raikkonen will make his debut in the team's 2012 car at the first pre-season test in Jerez on 7 February.
He refused to set any targets and ambitions for his first season with his new team, who finished fifth in the constructors' championship in 2011.
"We try to do as well as we can of course in every race, but it's very difficult to say," he said.
"We have to see how the car is in the testing and go from there.
"Hopefully we can have a good car to challenge in front and that would be nice, but if not we try to improve it and go to the front.
"The team has everything we need to produce a good car. We are not missing something that's the reason we don't have a good car.
"The people are very keen to have a good year. The atmosphere is great, it is a bit more family like than in other big teams, very nice people to work with and I've been enjoying it so far."
Raikkonen said the main reason for his return to F1 was that he was missing wheel-to-wheel competition.
"Racing is the biggest thing, that's why I've probably come back," he said. "That's really the main thing."
The car has been named E20 in recognition of the Lotus factory in England. It will be the 20th vehicle that the Enstone facility has produced.