Caterham target points with new F1 car
By Andrew Benson
Chief F1 writer
Last updated on .From the section Formula 1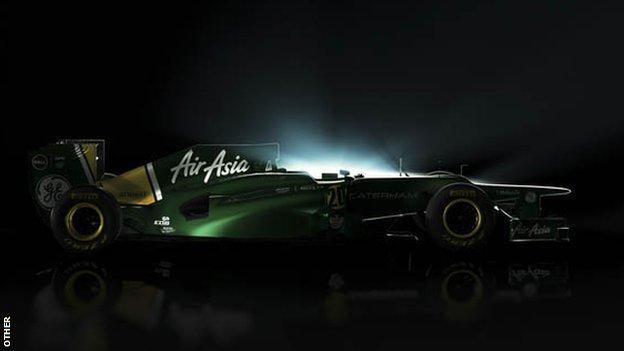 Caterham have become the first team to unveil their 2012 car as they aim to score their first points and join the midfield battle.
Caterham, previously Lotus, have finished 10th in their two seasons in F1 but aim to move up at least one place in 2012.
Chief technical officer Mike Gascoyne told BBC Sport: "We want to be racing that midfield group - and if you're racing them, you're looking to score points."
Gascoyne added that there were "a lot of reasons to think we'll move forward".
He pointed to the team doubling the amount of aerodynamic research they are able to do by sharing use of the wind tunnel owned by rivals Williams, who finished ninth last season.
Mark Smith, who previously worked with Gascoyne at Renault and Jordan/Force India, has also joined Caterham as technical director, while the team have done a deal to use Red Bull's gearboxes and Kers, the first time they will have used the power-boost system in F1.
Gascoyne said: "We didn't finish that far off in terms of qualifying last year in Brazil and we were doing that without Kers.
"We'll have that this year, so we want to be picking off a few people in front of us and challenging for points. But if the top five teams are as reliable as they have been, then scoring points is not that easy in F1 these days."
Officially, Caterham have retained Finn Heikki Kovalainen and Italian Jarno Trulli as their drivers.
However, Russian Vitaly Petrov is expected to join the team in 2012, taking Trulli's seat.
Caterham have released only one official picture of their new car - it is being launched exclusively in this month's F1 Racing magazine, which is published on Thursday - but it has already drawn attention for its looks.
Its nose section has been changed as a result of new regulations that require a lower nose to improve safety.
With the height of the chassis behind a certain point remaining the same as last year, the result is two pronounced lumps on either side of the upper chassis and a flat forward section to the nose.
Gascoyne said: "The rules for the lower noses have dictated a development direction and I'm sure we won't be the worst-looking one out there. I think it's going to be a common theme.
"They [F1 officials] want to limit the heights of noses for the shunts when a car hits another car's tyre and (risks) taking off.
"But you still always want to get the chassis as high as possible to get as clean airflow under the car as you can. That dictates the look you see on our car and I'm sure you'll see on most others. That shape of the chassis has become reasonably standard."
BBC F1 technical analyst Gary Anderson said: "The nose on the Caterham looks pretty stupid, but everyone's going to be heading in that direction with the new rules.
"The 'eyes' on the top of the chassis are there so the front bulkhead complies with the vertical height and width defined in the rules. The vertical height has to be a straight line, but the top and bottom can be curved, either concave or convex."