Bahrain safe to host next year's GP, says Crown Prince
Last updated on .From the section Formula 1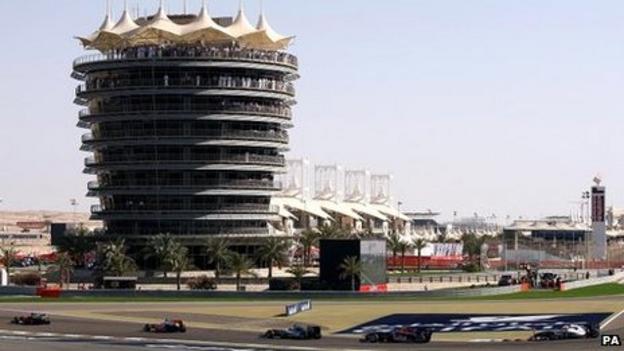 Bahrain's Crown Prince has insisted the Gulf state will be able to hold its grand prix next season.
The Crown Prince said Bahrain was "safe", adding: "Just like any other country that has faced troubles in the past, we will learn and move on."
But F1 boss Bernie Ecclestone has cast doubt on the new race in Austin, Texas.
"Austin? I wouldn't want to put my money down that that will happen," said Ecclestone of the race scheduled to make its debut on 18 November next year.
"I hope it will and we are doing our best to make it happen, but I wouldn't want to say yes."
In February this year, the Bahrain pre-season test and race were called off following anti-government protests in the Gulf Kingdom in which more than 30 people lost their lives.
In June, the race was rescheduled to take place on 30 October, but teams made it clear they were opposed to the move. They protested on grounds of logistics, but were known to have concerns about going to Bahrain in the circumstances.
Two weeks later, the sport's governing body said the race would not take place in 2011.
The teams are understood to still have concerns about going to Bahrain next year in the context of the political situation.
However, Crown Prince Salman bin Hamad bin Isa Al Khalifa said an independent report, which is due to be published on 23 November, suggests that the situation in the Gulf State is returning to normal.
"There are certainly things that happened in our country [which] nobody is proud of," added the Crown Prince, who was speaking at Yas Marina ahead of Sunday's Abu Dhabi Grand Prix.
"We have an important report coming out on 23 November that will really give us a narrative on the truth that we can accept and move on.
"This sport has a great following. You saw our marshals in India and the pride with which they carried themselves.
"I would be very sad to let them down, the Bahraini fans and the Gulf fans for not doing all that we can to make our race a great success.
"[The report is] a milestone. After that there will be implementation of its recommendations and we will move on. That is the way of the world.
"The race is a symbol of our national unity. Sports are a great unifier. Yesterday we had a soccer game and everyone was cheering for the same flag.
"That is what we want to do. We want to bring back to the forefront our spirit of nationalism which is there and is strong.
"This race is part of our passion."
Ecclestone added: "If somebody early on had started explaining the real facts and the truth it would have been a lot different.
"But there is a report, completely and utterly independent. It's not a glossy thing. I've no doubt in my mind we'll be there."
When asked if the race could be targeted by anti-government protestors, Ecclestone replied: "But why would they want to do that?"
The Crown Prince added: "Anyone with a moderate agenda, a global agenda, knows that race is what ties Bahrain to the world.
"Extremists on either side might disagree, like there is going to be a green party somewhere in Europe that is opposed to a race.
"But the majority of people, especially those that love their country and want it to be part of the world, support it, and they will have my support for that."
The United States Grand Prix in Austin, Texas, is the first of two new US races, with the Grand Prix of America in New Jersey scheduled for 2013.
But Ecclestone said that problems between the organisation building the track in Texas and those who are promoting the race were putting the event in doubt.
"What's happened is you've got a guy that owns the land and started building and there's the guy that owns the company and has got a contract with us. And they forgot to talk to each other," said Ecclestone.
"The truth of the matter is maybe the people that have put the money down are perhaps a bit [angry] that he's getting some publicity and they are not and are saying: 'We've got our money on the line, you haven't got any money on the line.'
"They are trying to get it together. I've said: 'You guys have got to fall in love. Get married.'"