Team Lotus & Renault change names
Last updated on .From the section Formula 1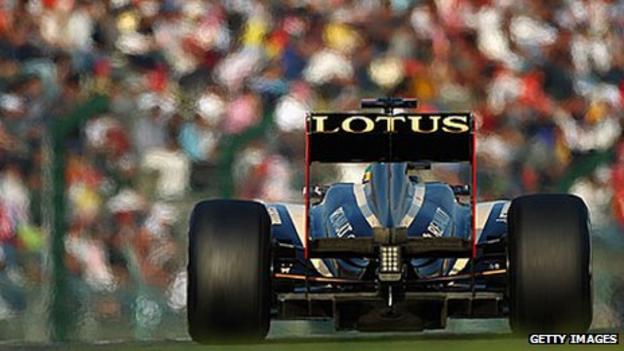 The long-running row over the use of the Lotus name in Formula 1 has ended with an agreement for both teams involved to change their cars' names.
A meeting of F1 bosses has approved a request for Renault - sponsored by the Lotus car company - to change the name of their F1 cars to Lotus in 2012.
And Team Lotus will from next year run cars called Caterhams, and change their team name accordingly.
The Virgin team will also change the name of their chassis to Marussia.
Renault may also alter their official name, currently Lotus Renault GP, although they have yet to decide whether to do so.
The changes, which relate to how the cars' chassis are labelled, were approved at a meeting of the F1 Commission group of stakeholders, which also ratified the 2012 calendar as it has already been published.
There had been doubts about the Bahrain and Korean GPs - Bahrain because of continuing civil unrest and Korea because of financial difficulties.
The name changes surrounding the Lotus teams are the endgame in a bitter and complex naming dispute that has been running for more than a year.
The row began in 2009 when Malaysian businessman Tony Fernandes entered a team in F1 using the name Lotus Racing, under licence from Group Lotus.
At that time Group Lotus had made it clear to Fernandes that it did not own the rights to the name Team Lotus.
But the two parties soon fell out, with Group Lotus deciding that it wanted to promote its brand in F1 with a more established team.
It agreed a sponsorship deal with the Renault team for 2011 and terminated its licensing agreement with Fernandes.
Fernandes then reverted to the historic Team Lotus name, which bought the rights to the Team Lotus name from businessman David Hunt - brother of 1976 world champion James Hunt.
Both decisions were the subject of a lawsuit which was finally resolved in London's High Court in May.
A judge ruled Team Lotus could continue to race under that name but that Group Lotus retained the right to use the Lotus marque on its road cars, and in F1 if it chose to enter its own team.
Fernandes, however, had already begun formulating a back-up plan by buying Dartford-based sportscar manufacturer Caterham in April.
That led to new talks with Group Lotus, which ended with them submitting the joint request to change their names that was resolved on Thursday.