Drivers praise Indian Grand Prix circuit
By Sarah Holt
BBC Sport at the Buddh International Circuit
Last updated on .From the section Formula 1
The high-profile new track that will host the inaugural Indian Grand Prix on Sunday won almost universal praise after drivers experienced it on Friday.
The Buddh International Circuit, outside Delhi, has several elevation changes and a high average speed.
"The ideas are different," said Ferrari's Felipe Massa, the fastest man in practice. "I really enjoyed it."
McLaren's Lewis Hamilton added: "It's a nice, beautiful flowing circuit. I think they've done a really good job."
The track has been configured by F1's favoured architect Hermann Tilke, who has often been accused of producing uninspiring circuits, such as those in China, Valencia and Abu Dhabi.
But there were few complaints from the drivers after they sampled his newest creation for the first time.
On Friday, Massa's fastest lap was an average speed of 133.76mph, one of the highest on the calendar.
"They've done a great job with the circuit," said 2009 world champion Jenson Button, who was sixth fastest in practice.
"It's also pretty smooth, which is nice for a new circuit, and the lay-out is fun to drive.
"There are some pretty slow corners here, like Turn Three, which are quite tough but you've also got a lot of high-speed corners; it's a lot faster than what we thought it would be around here."
Red Bull's Mark Webber, whose favourite track is the Belgian classic at Spa-Francorchamps, also seemed satisfied.
"It's a good track with good Formula 1 corners," said the Australian, who clocked the fifth fastest time.
"There are quick left-rights, Turn Three is a unique corner, it's very slow but it's uphill and quite extreme on the elevation. Turn Four is also not straightforward, so they're both challenging."
As the drivers tested their limits on the untried asphalt on Friday many of them ran off track but only Toro Rosso's Jaime Alguersuari and Virgin's Jerome d'Ambrosio crashed out.
Hamilton, who had set the fastest time in first practice, added: "The grip level seems great.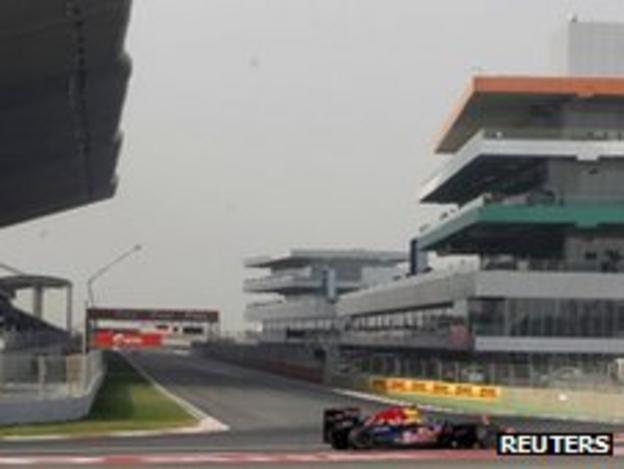 "The kerbs are some of the best we've had compared to all the circuits, nice rumble strips that you can actually drive on."
Massa finished the day as the fastest man, with a best time of one minute 25.706 seconds and the Brazilian says his experience bodes well for Sunday's inaugural grand prix.
"The track is very nice; some uphill, some downhill, some high-speed corners," he said. "It can make the race very challenging for the drivers."
India sealed a deal to bring F1 to the world's second most populous nation four years ago and the event is being funded by private company Jaypee Group, rather than being supported by the government.
The circuit has been planned as the centrepiece of a sports complex outside Greater Noida, a new city 25 miles outside the capital Delhi, and it sits amid flat farmland - which means dust is inevitable.
"It's very dusty to start with," commented double world champion Sebastian Vettel. "It's dusty off line, which makes it tricky, so we'll have to make sure we stay on the racing line."
Ferrari's Fernando Alonso agreed dust and sand were an issue but he had other concerns after first practice was red-flagged because of a stray dog.
"It was not good to see animals running on the track," said the Spaniard.
"If this happened in a race situation it can become dangerous if you are in a group of cars it can cause an accident.
"It's something that I'm sure the circuit will avoid and I'm 100% confident on Sunday that it will be no problem at all."
Indian Karun Chandhok, has been following the evolution of the circuit since construction began towards the end of 2009, and after his run in first practice for Team Lotus he was proud of what had been achieved.
"I came here a year-and-a-half ago and this was an empty, barren, flat piece of land," he recalled.
"All these elevation changes were not there, and they were still excavating them, so to come here now complete the circle. It's very special."