Mark Webber column

By Mark Webber
Red Bull driver
Last updated on .From the section Formula 1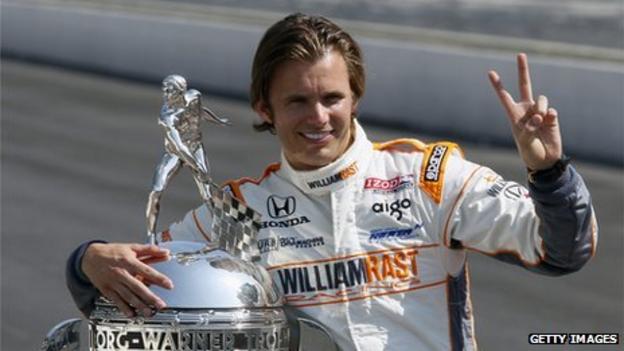 I want to devote most of this column to Britain's Dan Wheldon, who died following a crash at the Las Vegas IndyCar race on Sunday.
I never raced against Dan but I spent a lot of time with him down at Brands Hatch when we were both instructors at the racing school in 1996-97.
It was difficult not to hit it off with him - he was a likeable bloke.
At that stage, I wasn't completely flush with mates in the UK - it wasn't long since I had come over from Australia - and Dan was someone who was of a similar age, doing a similar sort of thing, with whom I had a lot in common.
We had a lot of laughs, plenty of banter and lots of fun with the punters.
Dan set his life up in America not long after that, while I was racing in Europe. But I always loved to bump into him whenever he was in the UK, at a motorsport awards ceremony or whatever.
I was at Singapore airport waiting for a flight to Sydney when I first heard about the crash. I got a text message - from Luke, the son of my partner, Ann - telling me there had been a huge shunt and a lot of guys had been taken to hospital.
One of those involved was Will Power, who I'm pretty close to, so I was thinking about him a lot. I know a lot of the guys in IndyCar pretty well, actually. Dario Franchitti, Ryan Briscoe, and Tony Kanaan, for example.
You just hope everyone's all right in situations like that and always assume they will be. But, about an hour after that first text, Luke informed me that Dan hadn't made it.
It was one of those awful, crushing moments. I didn't want to believe what I'd been told but then I saw the incident on TV and it was pretty clear there was a chance someone could have been seriously injured in that type of crash.
It was extremely nasty and a lot of the drivers didn't have a chance of avoiding it.
They had nowhere to go. Skill does not come into it. It's down to how the car reacts, what angle it goes at. You're an absolute passenger in that situation.
IndyCar can learn a heavy lesson from Sunday's crash. What organisers certainly have to do is work out how to stop cars leaving the ground and flying into the air in such situations.
It is a sad irony that Dan was the test driver for a new car that officials plan to introduce next year.
It has enclosed rear wheels, which will definitely help because front wheels won't be able to go over rear wheels any more, which is one of the major factors that makes cars take off.
I've never raced on an oval track but I've spoken to a lot of the guys who have. One thing they don't like is the element of pack racing, especially on a short oval such as Las Vegas.
Running three wide on a track like that is not really racing. You're just getting a slipstream. Drivers look to move into a different lane - from the top to the bottom of the track, say - and things can happen.
At certain speeds, that is fine and no-one gets badly injured. But when you're doing 220mph in an open-wheeler, the cars can leave the ground by five or six metres and someone's going to get seriously hurt.
To have 30-odd single-seaters, nose to tail, with cold brakes. It's too much. Drivers feel this needs looking at.
In the accident that killed Dan, nearly half the field were running together and half of them ended up in the air. That's not right.
The crash affected a lot of people - you may have seen the footage of Dario, for example, sobbing in his car afterwards - and the public often wonder why racing drivers carry on after incidents like this.
I've had my share of bad accidents. Two Mercedes sports cars flipped on me in three days at Le Mans back in 1999. In the second of those shunts, I did think for a split second that I probably wasn't going to make it.
I'm sure you will have seen my accident in Valencia last year, too, when I took off after hitting the back of Heikki Kovalainen's Lotus. The car landed upside down before skidding into the barriers the right way up.
But safety has come on a long way in F1 and it's a different type of racing to IndyCars anyway.
Don't get me wrong, I know there are risks. Valencia could have gone either way for me, that's completely clear. But I feel it's safer than IndyCars. Or rallying or MotoGP, for that matter. That gives me confidence to race.
The vast majority of the time, my fate is in my hands. But there are three things that might let me down one day: the rain, what someone else might do that could put me at risk, and mechanical failure. That's racing.
When you're in your late teens and early-20s, you never think about that stuff. But, when you get a bit older, you think about it more because you're a bit wiser.
Still, when the helmet goes on, you don't think about the negative stuff. You race hard and do what's right.
As a professional racing driver, what's right is to drive the car completely on the limit and get as much as you can out of it. That means you put yourself in dangerous situations.
We know that generally everything will be OK, even when we do crash. We simply get back in the car and go again.
But I think it's a different question for the guys in America at the moment.
WEBBER UNSPUN
The Korean Grand Prix was a weekend to celebrate for my Red Bull Racing team. We wrapped up the constructors' championship after Sebastian Vettel won the race and I finished third.
We didn't talk much about the championship before the race because we thought it was a bit of a long shot given how fast McLaren looked.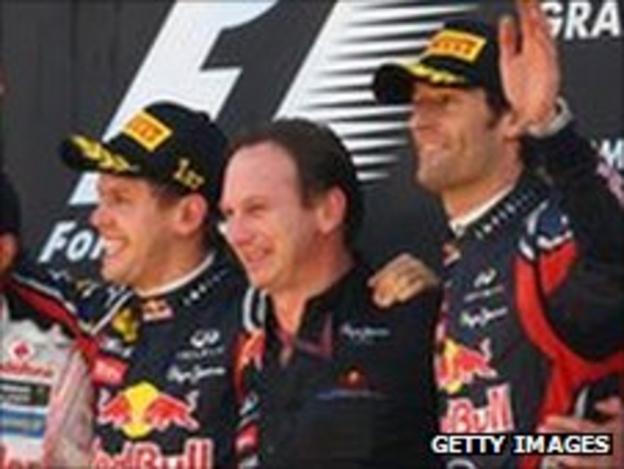 But, as usual, you never know what's going to happen on race day.
I was sitting in a very good position on the prime tyre in my second stint, just behind Lewis Hamilton's McLaren.
If things had worked out, I should have been able to clear him by staying out longer before my second pit stop. Had that happened, I would have had a chance of going after Seb.
But the team were very keen for me to stop on the lap I did. They said they wanted to use my speed on new tyres to jump Lewis in the usual way - by changing tyres before him. But it turned out the lap I stopped was the same time as Lewis.
Following your competitor into the pits is one of the most frustrating things for a driver. It meant we were still stuck behind him and it was very hard to pass.
Although I was much faster in the last sector of the lap, he had better acceleration than me out of the first turn.
That meant I was too far behind to get past him into Turn Three at the end of the long straight, even with the help of the DRS overtaking device.