Robert Kubica plans return to driving in October
By Sarah Holt
BBC Sport in Monza
Last updated on .From the section Formula 1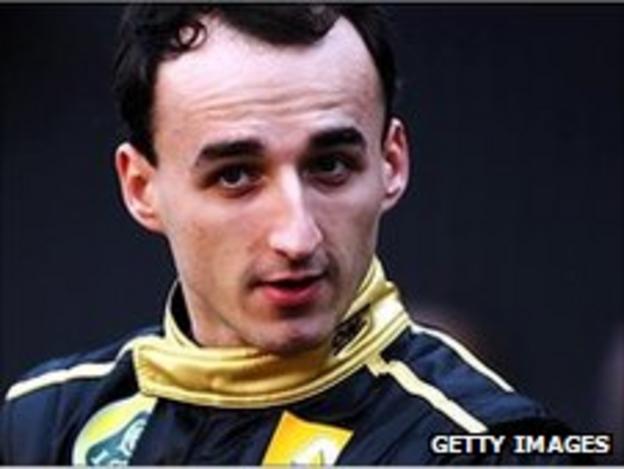 Robert Kubica is to step up his attempt to return to Formula 1 by getting back behind the wheel in October.
The Renault driver suffered a partially severed hand and major fractures in a rally crash in February, but his final operation has been declared a success.
His manager Daniele Morelli said: "In October we think he can put a helmet on to give a message on what he can do.
"It's important that he can start to drive. Whether it's in a simulator or in a road car is not important."
Kubica has undergone a series of operations to try to rescue his career at one of F1's leading drivers.
The 26-year-old will now spend the next four weeks building his strength after a final operation to restore movement to his right elbow.
"Robert has started the final part of his recovery and this is a very important step," added Morelli, who has watched every race but one with Kubica.
"The next day Robert could right away move his elbow with almost normal movement
"We still need nature to do its work but we do not have a concrete obstacle now, it is a matter of time."
Morelli added that he was certain Kubica would make a full recovery.
"We do not have concerns on the final outcome of the recovery of Robert," he said.
It has not yet been decided whether Kubica will return to the cockpit using a driving simulator or a physical car on track.
Renault team boss Eric Boullier had suggested earlier that arranging a Renault F1 show car for a private test of Kubica's abilities could be the most difficult part of his recovery.
"Robert will decide when he feels he has the condition to drive any car," Morelli said.
"He has never lost the feeling in his mind that he would be back."
Morelli added that Kubica is out of contract with Renault, who have now turned to reserve Bruno Senna to stand in for their number one driver after releasing Nick Heidfeld.
But he said: "Renault have given us assurances that there is a seat for Robert. So far we've had their full support."
When asked if Kubica could still return in time for November's season-ending grand prix in Brazil his Italian manager said: "There must be a reason to be there because you cannot just jump in the car as if nothing had happened.
"Robert would need some preparation. I would be happy if Robert is not driving in Brazil but I know that he could drive."