Button will stay with McLaren, insists Martin Whitmarsh
Last updated on .From the section Formula 1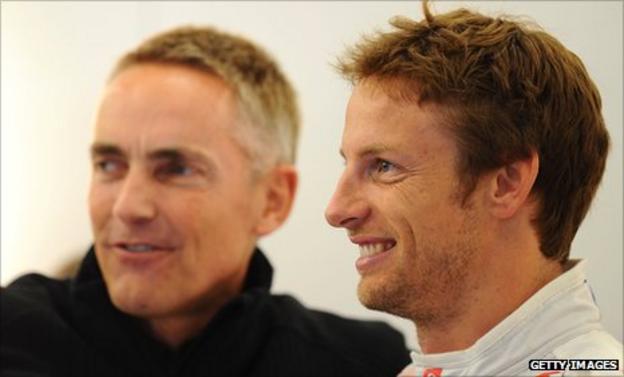 McLaren boss Martin Whitmarsh has told BBC Sport that Jenson Button will definitely be their driver next year, and will sign a long-term contract.
The 31-year-old - now in the second year of a contract that includes an option on McLaren's side to extend it into a third season in 2012 - has attracted interest from rivals Ferrari.
But Whitmarsh said: "I can guarantee you that he will be with us next year.
"We both want to work together for a long period of time. It's a non-issue."
BBC Sport said in June that Button was poised to stay, with McLaren eager to keep him and the 2009 world champion keen to remain with the Woking-based team.
The two parties are currently renegotiating his deal, and looking to put a long-term contract in place rather than simply take up the one-year extension.
Whitmarsh, who was talking in an interview with 5 Live, was asked whether a four or five year contract might happen.
He said that sort of time period would be the case in "an ideal world".
He added: "The nature of a contract is not something we are going to talk about publicly.
"We're just talking about it [at the moment]. I don't think there's any rush to go to a single year contract.
"Jenson's done some of the most spectacular drives in the history of Formula 1 this year. And I think he's capable of even more."
Button's team-mate Lewis Hamilton has one year to run on his McLaren contract, which expires at the end of 2012.
His options elsewhere are limited.
Fernando Alonso, with whom Hamilton spent a tumultuous season at McLaren in 2007, is committed to Ferrari until the end of 2016, and the team are unlikely to want to destabilise him by signing Hamilton.
The Englishman sought out Red Bull team principal Christian Horner at the Canadian Grand Prix in June to discuss the future, although it is understood they did so only in the loosest terms.
Their second seat alongside world champion Sebastian Vettel is up for grabs at the end of next season, with Mark Webber committed only to a one-year deal.
But Horner has sounded lukewarm on the prospects of a Hamilton-Vettel partnership, saying he had concerns over whether it could destabilise the team.
Listen to the full interview with Martin Whitmarsh on 5 live F1 at 2130 on 909 and 693 MW