Mark Webber column

By Mark Webber
Red Bull driver and BBC Sport columnist
Last updated on .From the section Formula 1
Formula 1 is having its three-week summer break before the Belgian Grand Prix at the end of August, so we have all got a chance to reflect on what has happened and get ready for a hectic climax to the season.
It looks from the outside as if McLaren and Ferrari have caught us up a bit. But actually there have been hardly any dominant victories, all the races have been pretty tight this year. Even when Seb had his phenomenal run of victories at the start of the year, the McLarens and Ferraris were never far away.
The margins are very, very tight these days and on race days you need to get everything right to win - that's something we haven't been able to do of late.
I was in with a shout during the German Grand Prix at the Nurburgring against Fernando Alonso and Lewis Hamilton, and Seb was challenging Jenson Button and Lewis in Hungary on Sunday.
Of course, we are aware of the areas we have to work on, and we certainly wouldn't pick Spa and Monza, the next races, as our best two tracks to fight back on.
But Red Bull have always been there at every race. We've had good reliability, and we're not going to lose that consistency and form overnight.
Seb has a good gap in the Drivers' Championship and the team are looking equally strong in the Constructors'.
We're not going to be rolling over easily as a team, that's for sure.
July was a bit of a bizarre month, with three grands prix all in cool conditions - you certainly don't expect that in Budapest, where we raced on Sunday.
It was a good month for me in a lot of ways, in that I've definitely made a step forward with my performance on Sunday afternoons compared to earlier in the year as I'm getting a lot more out of the car. I also had stronger qualifying performances at Silverstone and Nurburgring and have been more even with Sebastian at the last three races by being able to put longer stints together on the tyres.
Hungary was not that kind to me in terms of results, though. I had my most frustrating qualifying of the year and ended up sixth on the grid.
The race didn't go as I'd hoped either.
Once it had settled down after the wet early laps, I had a good fight with Fernando. I kept him behind and he went for a different strategy to try to jump me, by fitting super-soft tyres at his third stop, while Seb and I went onto the harder 'soft' tyre at that point.
All weekend, the weather forecasts had been pretty inaccurate, so when it started raining with about 20 or so laps to go I thought it was another one that the predictions had missed.
I thought if it rained just a little bit heavier, the intermediate would be the right tyre. So I took a gamble and came in to fit it. That was my call. If it goes right, you're in very good shape. But it didn't rain for long enough.
Without that, I'd certainly have been racing Fernando for the podium. As it was, I ended up fifth. But Lewis Hamilton made the same call, and these are the margins we deal with.
There's only one guy who got everything perfect on Sunday and that was Jenson Button. That's how it goes sometimes.
ON THE MARK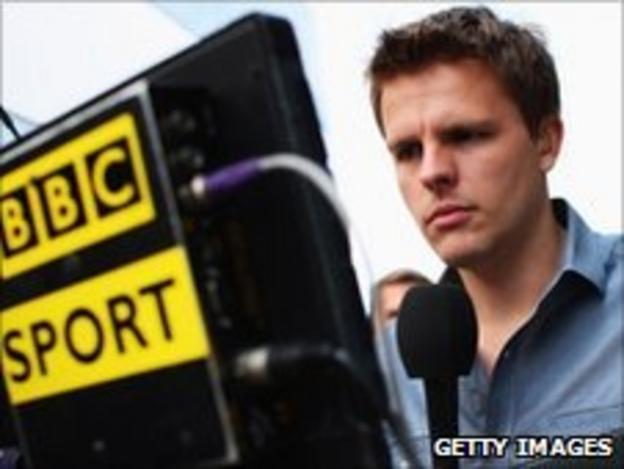 The new UK television deal was a big talking point at the weekend, and as always when something new happens there is a lot of uproar and opinions.
I think it's going to be a little bit bizarre to have two stations running one sporting event. To me that seems unusual outside the World Cup.
It's a big shift. It's such a phenomenally popular sport and viewers expect a sporting event of F1's calibre to be live and pretty easy to access.
I have Sky at home. I like sport and I watch a lot of different types. But not everyone is like that, and there is a big percentage of people who love F1 who only deal with free-to-air in their household.
Clearly that's going to have to be overcome in some fashion. I don't know how. That is the biggest uncertainty.
OFF THE MARK
Budapest is always a great place to go, but I don't think it quite had the usual atmosphere this year. The city and the track both seemed a little bit quiet although there's no doubting the passion of the Hungarian fans who assemble outside the drivers' hotels every morning and evening to get a glimpse of us.
I suspect that part of the reason was because Robert Kubica was not racing. A lot of Polish people traditionally come to Budapest to watch him race and they always add a lot of colour to the weekend, but they weren't there in as big numbers this year.
WEBBER UNSPUN
I actually wish there wasn't a break right now. I always feel like I need a break after the first four or five long-haul races, but in Europe I feel I could just go on and on.
I got up on Monday morning after the race in Hungary and was thinking about Spa already; looking for that next opportunity to improve.
Jenson has just had two rubbish results with the car letting him down and then, bang, he's won the grand prix; this is motorsport and I suspect my first win of the year will come when I least expect it. I've just got to keep knocking on that door.
What I will probably do during the break is to sit down with the team and talk about the future.
I flew out to Austria before the Hungary weekend to see Red Bull boss Dietrich Mateschitz and we had a good chat about several things, past, present and future.
So he knows where I'm coming from, and I'll have to talk to the team about those discussions, which we haven't yet done.
We'll do that in the next few weeks, I'm sure, and work out how we can go forward if that's the case.
We're going to take a bit of break from this column, too. But I'll be back with the next one before Spa on 25 August.
Mark was talking to BBC Sport's Andrew Benson.