Red Bull will not change philosophy despite winless run
Last updated on .From the section Formula 1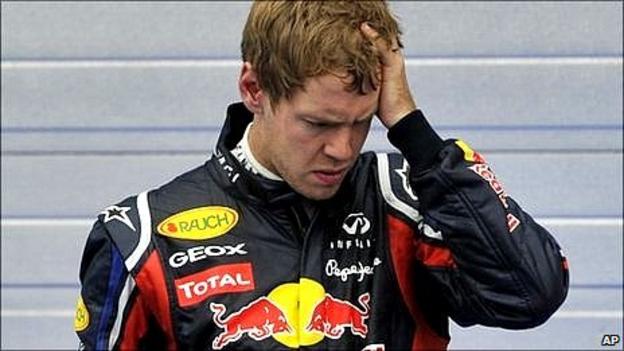 Red Bull will not change their approach to the remainder of the season despite failing to win the last three races.
Sebastian Vettel, who has an 83-point championship lead, and team-mate Mark Webber both called for a re-think.
But Red Bull team boss Christian Horner told BBC Sport: "We work as a team and the drivers don't need to tell the team we need to respond.
"Ferrari and McLaren are going through a competitive phase but we're still right there. We're pushing flat out."
Vettel stormed to victory in six out of the first eight races but his progress has been slowed as Ferrari and McLaren have improved their pace in the races to close the gap on Red Bull.
Fernando Alonso won in Britain for Ferrari, with McLaren drivers Lewis Hamilton and Jenson Button taking a victory apiece in Germany and Hungary.
While it appears that Red Bull's period of dominance is over, Horner does not accept that the tide has turned against the champion team.
"We don't look at it like that," said Horner. "We need to keep doing the best job we can and keep getting developments to the car.
"If you look at all the races this year, I don't think there's any races that we've run away and hugely dominated.
"If you think back to Melbourne, Hamilton was closely behind Seb and in Barcelona, even in Valencia Alonso was very tight with us.
"Operationally we've been very, very sharp and we've extracted the best from the car on a grand prix weekend and that's where the team has been very strong this year.
"These tyres are very complicated but the one thing that has been consistent is Red Bull running at the front."
Going into Formula 1's summer break, Red Bull are 103 points clear of McLaren in the team standings.
But Horner ruled out taking a more cautious approach in the final eight races to ensure the team bring both titles back to their Milton Keynes factory for the second season running.
"Nothing changes in our philosophy," said Horner. "We'll keep pushing, keep attacking every single grand prix because you cannot back off.
"As soon as you start looking to consolidate that is when you make mistakes.
"Our target is to win every single grand prix between now and the end of the year. In reality that's going to be impossible but in the races that we can't win then we want to be second, and if we can't be second then we want to be on the podium.
"So long as we come away from each weekend optimising what we've got, hopefully over the course of the season that should be enough."
The season resumes on the challenging Spa circuit in Belgium where changeable conditions can make it hard to read form, before the full-throttle, low-downforce challenge of the Italian Grand Prix at Monza.
Both tracks are expected to play into the hands of Red Bull's rivals but Horner insisted he is not worried.
"The formbook with these tyres and regulations is absolutely turned on its head," he continued.
"Monza historically has not been our strong circuit; Spa we finished second last year, so it would be fantastic to win that race. We just have to treat each weekend as it comes."
Before the racing resumes, Horner will meet Webber - who has already spoken to Red Bull owner Dietrich Mateschitz - to discuss the Australian's future with the team.
Webber, who turns 35 this year, agreed with Horner last season that they would only do one-year contracts and a deal has not yet been agreed for 2012.
"We always said we'd sit down in the latter part of the summer and that's what we'll do," added Horner.
"I don't see any obstacles that will prevent that and I don't see any dramas associated with it. I expect him to be here next year."
Read more on Webber's future at Red Bull in his exclusive BBC Sport column.