Formula 1 exhaust row officially comes to an end
Last updated on .From the section Formula 1
Formula 1's governing body has brought the sport's latest technical row officially to an end.
A dispute over the use of exhaust gases to enhance downforce came to a head at the British Grand Prix last weekend.
But after the teams reached a compromise agreement to end the dispute on Sunday, governing body the FIA has now made that position official.
Teams will be able to continue to use the technology this season before it is effectively banned in 2012.
The row had been over so-called off-throttle blowing of the diffuser, which is where teams direct exhaust gases over the rear floor of the cars even when the driver is not pressing the accelerator.
This boosts downforce and therefore cornering speeds.
The FIA said in a statement on Thursday that it still considered the practice "questionable" but that because of the complexity of the situation it had agreed to reinstate the rules as they were at the European Grand Prix, the race before Silverstone.
This means off-throttle blowing will remain legal for the remainder of the season but that teams will not be allowed to change their engines settings - or maps - between qualifying and race.
Teams are not allowed to change their cars after qualifying under what are known as F1's "parc ferme" regulations.
The FIA statement said it had acted because teams were using "extreme" throttle maps for qualifying that were then "changed for more durable solutions in the race".
The issue came to a head at Silverstone after the FIA chose to go one step further and try to limit the amount of open throttle that could be used when the driver was not pressing the accelerator.
World champions Red Bull and their engine supplier Renault objected after a concession was granted to Mercedes-engined teams, who then objected after a concession aimed at balancing this out was granted to Renault.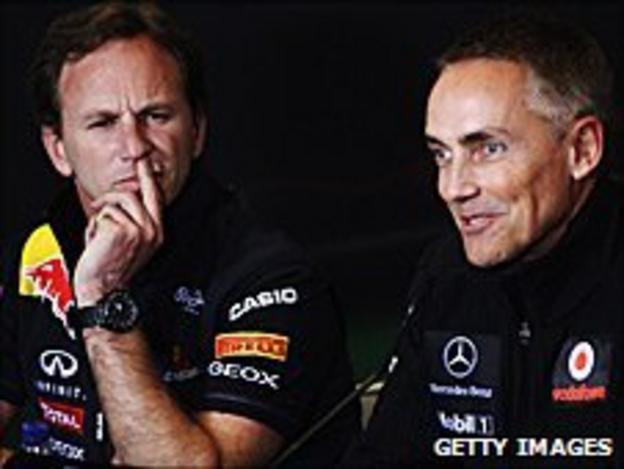 The concession to Renault was then removed, but only after Red Bull agreed to race at Silverstone at what they considered to be a disadvantage on the condition the issue was addressed for the next event.
In the midst of the dispute, the bosses of the Red Bull and McLaren-Mercedes teams had a public argument on the subject in a news conference.
The FIA said it had abandoned its attempts to ban the technology this year because "this was felt to be the most sensible solution to a very complicated matter as the possibility of finding an alternative solution, which would be fair to all engine manufacturers, was becoming increasingly unlikely".
The issue will be removed for 2012, when cars will have to have exhausts exiting at a higher level, where the gases cannot be directed into the diffuser, which is a critical aerodynamic part at the back of the cars.