Mark Webber column

By Mark Webber
Red Bull driver and BBC Sport columnist
Last updated on .From the section Formula 1
I have joined the BBC Sport website as a columnist and will be providing regular updates throughout the rest of the Formula 1 season, both about the grands prix and about other things that have caught my eye across the world of sport.
It is the British Grand Prix this weekend and it is a favourite race of the year for many of the F1 drivers - particularly me.
I love the track. It has been the setting for a lot of legendary battles in the past; Nelson Piquet and Nigel Mansell in the Williams days and then Mika Hakkinen and Michael Schumacher more recently.
But the thing I remember most of all growing up watching the British Grand Prix was the famous track invasions whenever Mansell won.
I was very young at the time but I just thought it was brilliant and in many ways it is a shame that we are not allowed to have that kind of interaction with the crowd these days. It was a perfect way for the fans to celebrate four days of the British Grand Prix.
Silverstone is a classic F1 circuit and a great challenge. There are fast, demanding corners, a lot of subtleties, camber changes, kerbs and so on. You can really get your teeth into it.
I have gone well there in all categories and, having won the race last year, I am looking forward to going back there to defend the win. But that is all history on Friday morning when you roll down the pit lane for the start of business.
Those who follow F1 closely will know there is a bit of a reset this weekend with the introduction of a ban on key technology all teams have been using - off-throttle blown diffusers, which is where teams blow exhaust gases over the rear of the car, even when the driver is not pressing the accelerator. The technology improves downforce and stability in corners.
It will be interesting to see if this has any impact on the pecking order but I have to say the timing of this rule change is bizarre to say the least.
From the outside, the fans will not notice any difference, although the cars could sound quite different when braking and entering for the corners.
This is where the drivers will feel a change in the cockpit as the car might not feel as stable and we might need to make some small corrections for this. It could also reduce rear downforce a significant amount as well as affecting tyre wear.
There will be a new driver on the grid this weekend in the shape of my fellow Australian Daniel Ricciardo, who has earned himself a seat at Hispania.
Aussie F1 drivers have been a bit sparse over time - after Alan Jones in the 1970s and early 1980s, David Brabham raced in 1990 and 1994 and I was next up in 2002, so it is great to see another young Australian finally make it to the pinnacle of international motorsport.
Dan is going to be learning his craft in a very low-pressure situation and I am sure he will grab the opportunity with both hands and do well with it.
ON THE MARK
I went to the MotoGP at Mugello in Italy over the weekend; I've been trying to get there for years to experience the tremendous support for Valentino Rossi and the other Italian riders but it has always clashed with other commitments. But this year I put it in the diary early and it did not disappoint.
I arrived on Saturday night with some good mates of mine and caught up straight away with Valentino's mechanics, who are mostly Aussies who I have known since motorcycling legend Mick Doohan's days.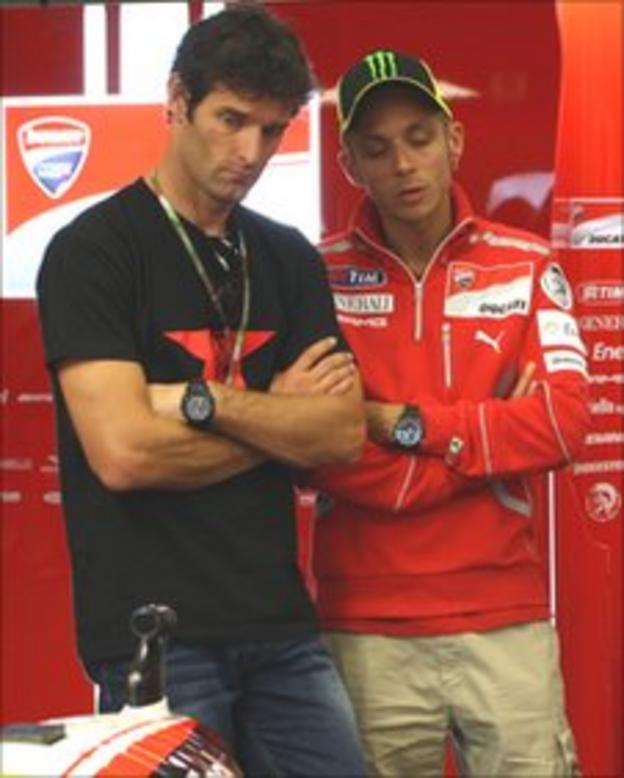 For once, I was not the guy looking at my watch and getting pulled pillar to post, so I could really soak up the atmosphere.
The Italians are so passionate about their racing - whether it be F1 or bikes. Those guys are true heroes to them. 'Vale' passed someone for ninth place and they went wild - and this is a man who has won seven world titles! It was really refreshing to see that and be reminded why people go to watch those events.
Mugello is a wonderful track in the Tuscan mountains and a sensational amphitheatre for a sporting event such as this.
We were there at midnight the evening before the race and the fans were still having a full-on party. The next morning, though, I was amazed at how peaceful the track was between races - you could almost hear a pin drop. Then a few minutes later, you hear the screaming engines of bikes!
I watched the race from a public enclosure and obviously that drew a bit of attention. It was a pretty full-on day for me but I enjoyed taking a few piccies, signing autographs and so on.
OFF THE MARK
I spent a day at Wimbledon last week and I was lucky enough to be sitting a few feet away from the legendary Billie Jean King. She is 67 now but she won 20 Wimbledon titles during her career and she still knows how these players tick.
It was the day Rafael Nadal got injured in his match against Juan Martin del Potro and there was a lot of psychological stuff she pointed out.
Listening to her talking about the tactics of the players, what they needed to be doing, to hear how the players tick, hear her break down the match, was fascinating. She was really going for Venus Williams, really frustrated she could not get on top of her opponent. She was trying to encourage Venus to move better and to try to dictate the point a bit more but, unfortunately, it was all to no avail.
WEBBER UNSPUN
It has been a busy few days for me, actually. I went from a promotional day at Rockingham on 30 June to the Goodwood Festival of Speed a day later - it is always great to catch up with some quality legends of our sport; double F1 world champion Emerson Fittipaldi and Indycar legends Bobby Unser and Johnny Rutherford to name a few.
I told Johnny that my dad took me, probably when I was about five years old and sitting on his shoulders, to watch him race on a dirt oval track a few miles from my house in Queanbeyan, New South Wales.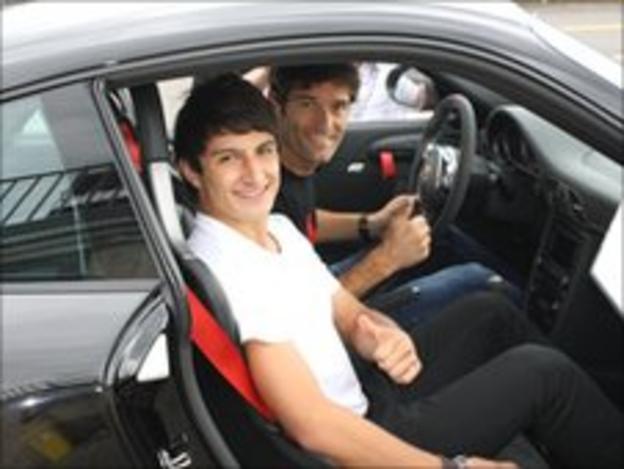 He remembered the night well and said the Aussies were real horrible to race against - great rivals, great battles! Nothing has changed then!
And before I went to Mugello I popped in to the Nurburgring Nordschleife to have a spin around the best circuit in the world with some mates.
I was with Mitch Evans, a young Kiwi GP3 driver I am helping (and who will be racing on the support programme at Silverstone this weekend), and James Tomkins, an Olympic rower, who won three gold medals for Australia, plus a couple of other guys.
We were fortunate to be in a Porsche GT3 4.0 so we had more than enough power up our sleeves for some friendly battles.
We had a lot of fun thrashing around, ripping each other and also saw a few locals run out of talent and crashes.
If you do not know, the Nordschleife is open for anyone to drive around it and it was an eye-opener to see what some of the public get up to there in their road cars. It is hard to put the track into words - it is simply awesome.
It is not often I get to do weekends like that, so you enjoy it when you can.