Fernando Alonso says Ferrari are having a 'very bad year'
By Sarah Holt
BBC Sport in Valencia
Last updated on .From the section Formula 1
Fernando Alonso has admitted his Ferrari team are having a "very bad year", given the pressure they are under to be successful.
The Spaniard is 92 points - nearly four wins - behind championship leader Sebastian Vettel of Red Bull after seven races and has yet to score a win.
"When you are in Ferrari, this is the pressure, you need to win every race and every championship," he said.
"So it seems it has been a very bad season so far because we are Ferrari."
Alonso's best result so far is a second place in Monaco last month, but he says he has been encouraged by the team's upturn in form recently following a disappointing start to the season.
The double world champion finished the Monaco race right behind winner Vettel, and qualified second - his highest grid position of the year - in Canada last time out before retiring following a collision with eventual winner Jenson Button.
And he is hopeful of another strong weekend at the European Grand Prix in Valencia this weekend.
"At the moment, it's difficult to win a race," Alonso said.
"There is no doubt that in Monaco and Canada we had the opportunity to win the race. That is fact, it's not a dream. We were very close, we were 10cm from winning in Monaco.
"The last two races the trend is quite good and we have improved and seem to be competitive.
"The characteristics of the circuit in Valencia are similar to Monaco and Canada so maybe here we will again be competitive.
"But we must not forget that we are sometimes one second behind [Red Bull] in qualifying and with this it's difficult to win."
And he said he had not yet ruled out his chances of winning the world title.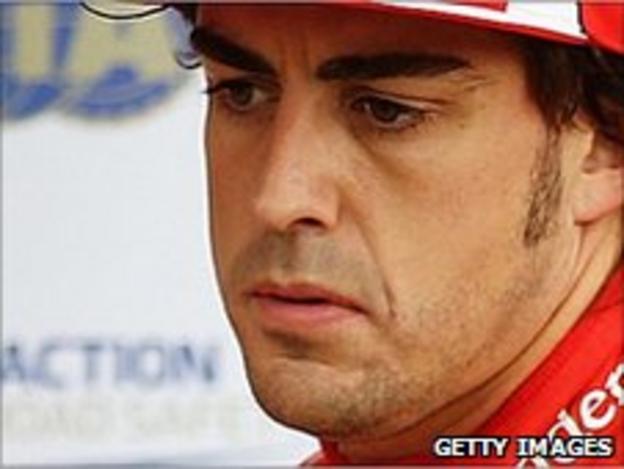 "We need to have the best car and then we can win the title," he said.
"There is plenty of time and plenty of races to recover. If we are fifth or sixth as we are normally in qualifying it is very difficult.
"But the championship is long. We need to concentrate race-by-race and to be on the podium in every race - this is our aim, this is our goal.
"We need to respect our opponents and to understand that in some places and in some races we cannot do that."
Alonso played down the prospect of a significant change in the pecking order this weekend following a ruling from governing body the FIA that teams are no longer allowed to change their engine maps between qualifying and race.
Teams had until this weekend been able to run maps that focused on power and performance at the expense of fuel consumption for qualifying and then change them to run the engines leaner with less power in races.
Some believe Red Bull's command of engine mapping explains why their car is so superior in qualifying but then falls back towards McLaren and Ferrari in the races.
"I don't think the qualifying order will change massively," Alonso said.
"The Red Bull is superior in qualifying and the race as well. In the race we seem a little bit closer."
His assessment was backed by Red Bull driver Mark Webber, who in this race last year survived unscathed after a horrifying somersault following a collision with a backmarker.
Webber said: "It's nothing new to our team to adapt to a change in regulations - I don't think it will turn the field upside down. Ferrari, McLaren and us are quick.
"It would have been cost-effective to know this before the season had started as everyone was already looking at it at the end of last year.
"So it's not a trivial thing to introduce into the middle of the season but we are all in the same boat and will adjust.
"But we are not overly concerned. We have to get on with it. The majority of fans just want to see what they've seen so far this season, they just want to watch a good car race."