Formula 1 bosses confirm engines will not change until 2014
By Andrew Benson
BBC Sport
Last updated on .From the section Formula 1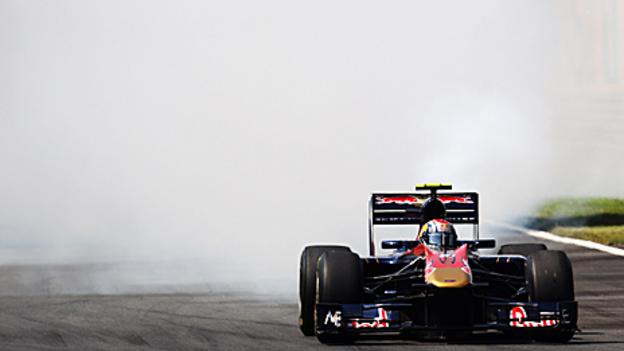 Formula 1 bosses have confirmed a deal to delay the introduction of new 'green' engines by a year until 2014.
The decision to switch from four-cylinder 1.6-litre engines introduced in 2013 to V6s of the same size a year later was made by F1 bosses last week.
It was rubber-stamped on Monday by a vote of the FIA's world council, the legislature of F1's governing body.
The maximum rev limit of the engines will be increased to 15,000 from 12,000 to allay concerns about the spectacle.
F1 boss Bernie Ecclestone has been against the switch to the new engines from the current 2.4-litre normally aspirated V8s, claiming that they will make a less dramatic noise and therefore be less exciting to watch.
It has emerged that many of the circuits that host grands prix have made clear to the FIA their concerns that the switch could result in a drop in spectator numbers, their only source of income.
The decision to increase the rev limit was made on Thursday after the FIA received a letter from some of the F1 tracks expressing their concerns.
It was the latest compromise over the introduction of these rules, which were initially agreed by the world council last December.
Then, the plan was to introduce in 2013 four-cylinder engines with a maximum rev limit of 12,000, fitted with extensive hybrid technology.
But only Renault of F1's current engine manufacturers were fully behind the rules and a period of negotiations began.
The switch to V6s was partly at the behest of Ferrari, who objected to the restriction to four cylinders.
The sport's longest-serving and most powerful team had objected because the restriction had no relevance to any of their road cars.
The debate was made more difficult because Renault made clear that it would consider quitting F1 unless the new rules were introduced - the French company is planning for three-quarters of its road-car engines to be small-capacity turbo-hybrids by 2015.
This new rule, which requires engines to be in a V6 configuration, is a compromise that takes each party's view into account.
The decision to limit the engine configuration to a V6 rather than stipulate a six-cylinder maximum and leave it up to individual manufacturers to decide the number of cylinders and layout, was made in a bid to keep costs under control and as a way to ensure engine performance remains as equal as possible.
The new engines will remain single-turbo units, with much more extensive use of energy recovery than exists with the 'Kers' units this year.
The new rules have been pushed by FIA president Jean Todt, who wants F1 to embrace sustainability and be more road-relevant in the future.
The aim is to improve the efficiency of F1 engines by as much as 35%, as well as to popularise hybrid and other energy-efficient technologies to speed up their adoption in road cars.
The hope is that the adoption of the new rules will insulate the sport from charges of wastefulness at a time when supplies of fossil fuels are diminishing and there is pressure for the world to cut its production of greenhouse gases.
Developments such as energy recovery are being increasingly implemented by road-car manufacturers.
But the hope is that by using them in F1, these technologies will become 'sexy' and be used more widely, in the same way as semi-automatic gearboxes have since their invention by Ferrari in F1 in 1989.
Care has been taken to ensure the performance of cars will not be affected and total power outputs will remain at current levels - approximately 750bhp.
By adopting the regulations, F1 hopes to widen its appeal to sponsors - commercial insiders say some companies are reluctant to get involved in F1 because of its image of being wasteful with resources.
A series of checks and balances have been written into the regulations to keep costs down and to ensure it should be impossible for one manufacturer to steal a march on the others in terms of performance.
This will primarily be done through resource restriction, such as limiting the amount of people or time that can be devoted to a project.
About 600bhp of the 750bhp produced by the engines will come from the six-cylinder single-turbo engine itself, with the rest being provided by energy storage and power-boost systems.
These systems - currently known in F1 as Kers but more widely referred to as hybrids - were first used in F1 in 2009 before being abandoned for 2010, and were reintroduced this season.
For 2014, the power capacity of the Kers systems will be increased from 60kw to 120kw.
Fuel consumption will be restricted both by limiting fuel flow and introducing a maximum capacity for races.
In subsequent years, complex new turbocharging technology called compounding may be introduced to further enhance efficiency.
The regulations have been framed to encourage the pursuit of efficiency in engine design, dramatically increasing the amount of power that can be produced per litre of fuel burnt.