Jenson Button expected to stay at McLaren in 2012
By Andrew Benson
BBC Sport
Last updated on .From the section Formula 1
Jenson Button is poised to stay with McLaren next year, despite interest from rivals including Ferrari.
The 31-year-old Englishman is in the second year of a contract that includes an option on McLaren's side to extend it into a third season in 2012.
BBC Sport understands that McLaren want to keep Button and that the 2009 world champion's preference is to stay, so an extension is effectively inevitable.
But the two parties may renegotiate his deal to improve some of its terms.
Button is understood to have had initial, exploratory talks with Ferrari, where Felipe Massa's place alongside Fernando Alonso is in some doubt, despite the Brazilian being under contract for next season.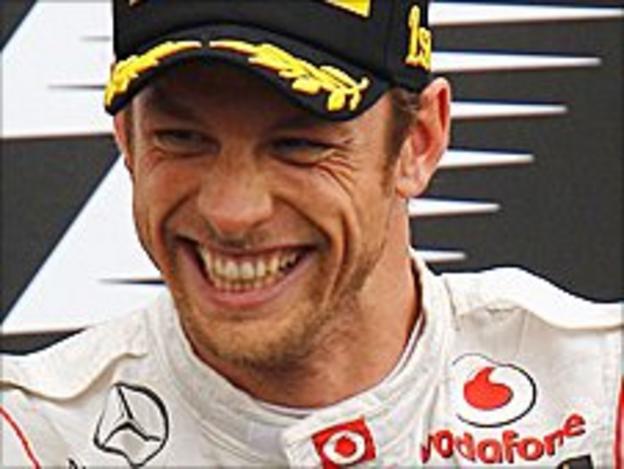 However, the reality of Button's contractual situation is that even if another team made him a big offer, McLaren could take up his option and force him to stay.
In that situation, his only way of leaving would be to negotiate an early end to his contract that would require a big pay-off to the team.
But as both Button and McLaren want to continue their relationship, that will not be necessary and they will almost certainly come to a mutually satisfactory agreement that would result in him continuing with the team in 2012.
McLaren could simply exercise their option and have Button stay on his current terms.
However, they were more than happy with Button's performance, even before his brilliant victory in the Canadian Grand Prix last Sunday, so are likely to discuss areas of his contract he would like to improve and make some concessions.
Button's manager Richard Goddard was unavailable and McLaren refused to comment.
McLaren do have other options - BBC Sport understands Mercedes driver Nico Rosberg is letting it be known that he would be open to an approach.
But McLaren would prefer to keep their current line-up of Button and Lewis Hamilton.
Hamilton's future remains unclear - following the revelation that he spent 15 minutes talking in private with Red Bull team principal Christian Horner at the Canadian Grand Prix.
Hamilton went to see Horner after he was left frustrated by qualifying in fifth, while Red Bull's Sebastian Vettel took his sixth pole position in seven races at a track on which the Englishman had been expected to challenge him.
Hamilton's visit was unplanned and is believed to have taken Horner by surprise.
The 26-year-old is under contract with McLaren until the end of 2012 so if he wanted to leave the team he would have to buy his way out of his deal.
Hamilton has been frustrated by Vettel's success in building a massive championship lead following five wins and two second places in seven races.
But it remains to be seen whether Hamilton feels strongly enough about it to force his departure from McLaren this season or move teams for 2013.
In the wake of the Canadian race, he said he wanted to stay at McLaren as long as the car was competitive.
And if he looks at the current situation dispassionately, he will see that although Vettel is dominating qualifying, McLaren have had the fastest car in the last three races.
Hamilton narrowly failed to beat Vettel in Spain and Button missed out on a win at Monaco because of a badly timed safety car before his stunning drive through the field from last to pass Vettel for victory on the final lap in Canada.
Hamilton lost his hopes of victory in Canada when he collided with Button early in the race.
Equally, a major rule change is coming into force at the British Grand Prix next month that will ban so-called off-throttle blowing of diffusers.
This is expected to reshuffle the competitive order a little, with some teams believed to be exploiting the technology more effectively than others.