McLaren play down Red Bull championship lead
Last updated on .From the section Formula 1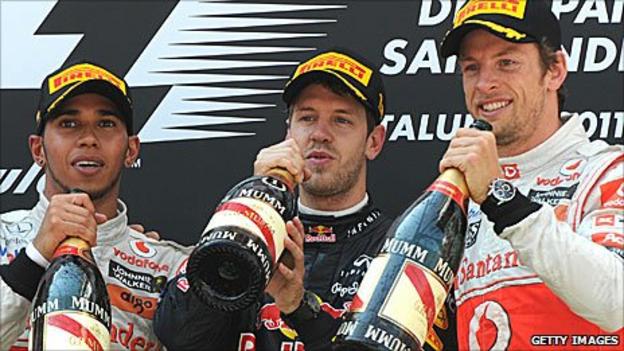 McLaren have insisted that the title race is not over despite Sebastian Vettel and his Red Bull team dominating the start of the season.
In the drivers' standings, Vettel has a 58-point lead over McLaren's Lewis Hamilton ahead of Sunday's race in Canada.
"The championship is there for the taking despite Vettel's big lead," said McLaren technical director Paddy Lowe.
"We're in a good position to take the race to Red Bull in Canada and win it."
Red Bull's defending world champion Vettel has surged to five wins in the opening six races of 2011. Hamilton's victory in China, on the back of a clever strategy call, was the sole race to buck the trend.
But even though Montreal is hosting only the seventh round of a season that could stretch to 20 races if the Bahrain GP goes ahead, there have already been concerns among Vettel's chief rivals that the German's lead could quickly become unassailable.
"It's a good question and we've been thinking a lot about that," conceded Lowe, whose team are 61 points behind in the constructors' standings.
"Even though the points standings may look a little depressing, we are feeling very bullish about our current position.
"We're very buoyed by the fact that we have achieved race pace at slow circuits such as Monaco and Barcelona, which historically has been very tough for us and very strong for Red Bull."
Lowe said McLaren were now focused on improving the car's performance in qualifying so Hamilton and his team-mate Jenson Button, who is fourth in the championship, can maximise any pace advantage during the race.
Button was almost half a second slower than Vettel in qualifying for the last race in Monaco.
"Clearly in qualifying we've got quite a big gap to make up," Lowe said.
"How that advantage is gained by Red Bull, we don't know but we are working hard to find more performance. We are working on a number of things.
"If we can close the gap in qualifying and get ourselves more on the front foot for a Sunday, we are in a good position to win a lot of races to bring ourselves back into championship contention."
Hamilton has a strong record in Montreal, winning his first F1 race there in 2007 and leading Button to a one-two in last season's thrilling Canadian Grand Prix.