Mark Webber doubts rescheduled Bahrain GP will happen
Last updated on .From the section Formula 1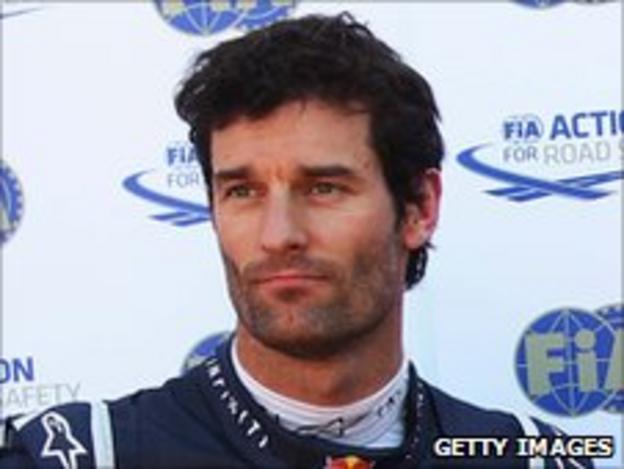 Red Bull driver Mark Webber is uncertain that the rescheduled Bahrain Grand Prix will take place.
The Australian, 34, said: "Even though a decision has been made, I'll be highly surprised if the Bahrain Grand Prix goes ahead this year."
Bahrain was due to be the season-opener on 13 March but was called off due to unrest and pro-democracy protests.
Formula 1's governing body, the FIA, agreed unanimously on Friday to restore the race to the calendar on 30 October.
Webber, writing on his official website, added: "In my personal opinion, the sport should have taken a much firmer stance earlier this year rather than constantly delaying its decision in the hope of being able to reschedule it in 2011.
"It would have sent a very clear message about F1's position on something as fundamental as human rights and how it deals with moral issues."
The government has cracked down hard on opposition activists during 11 weeks of martial law and military trials of mostly Shi'ite dissidents are continuing.
The FIA's decision to reschedule the race - with India moving to a December date - was a move strongly criticised by human rights campaigners and also opposed by teams.
"It's obvious that the parties involved have struggled to reach a decision but sadly I feel that they still haven't made the right one," said Webber.
"Like it or not, F1 and sport in general isn't above having a social responsibility and conscience. I hope F1 is able to return to Bahrain eventually but now isn't the right time.
"As a competitor I do not feel at all comfortable going there to compete in an event when, despite reassurances to the contrary, it seems inevitable that it will cause more tension for the people of that country.
"I don't understand why my sport wishes to place itself in a position to be a catalyst for that."
Champions Red Bull, owned by Austrian energy drinks billionaire Dietrich Mateschitz, have been targeted by online petitioners urging teams to boycott the race.
By Saturday, some 393,000 people had signed one petition organised by campaigners calling on Red Bull and other teams to declare publicly that they would not race in Bahrain this year.
The Formula One Teams Association (FOTA), which groups all the teams except Hispania, said on Friday that they were assessing the situation.
"That (FIA) decision is likely to be discussed internally within FOTA, and a more detailed joint position may be defined after those discussions have taken place," it said.
FOTA is chaired by McLaren principal Martin Whitmarsh, whose team's biggest shareholder is Bahrain holding company Mumtalakat.
Ferrari team principal Stefano Domenicali is also a member of the FIA world motor sport council that met in Barcelona on Friday.