Murray Walker: Life in the fast lane
Last updated on .From the section Formula 1
"When I was in the commentary box, I was a man possessed," says Murray Walker. "I was in love with what I was doing."
One of Formula 1's true legends, Walker commentated on his first grand prix way back in 1949.
At 2000 BST on Sunday, BBC Two will broadcast a documentary all about his life in the fast lane, featuring interviews with the likes of Bernie Ecclestone, the late James Hunt, Damon Hill and Lewis Hamilton.
Along with archive material from a golden era of racing, there is also footage of Walker back behind the wheel at the age of 87.
"I did some tank driving at Bovington and had a blast on a scrambles bike," explains Walker.
But it is his six decades behind the microphone that ties Walker to the F1 and makes him such an intrinsic part of the sport's history.
"It was Murray's voice that was getting your attention," explains 1996 world champion Damon Hill. "Murray's voice is almost like a motorcycle engine in itself.
"I followed Murray and Nigel Mansell before I got into F1. Murray was very important. You knew that if Murray was talking to you, you were part of the story."
Mansell, who won the world title for Williams in 1992, adds: "When it wasn't exciting, he made it exciting. I have no problem saying I love Murray very much.
"The only thing you had to be wary of was when he made a prediction. If he gave a prediction and you were in it, you were definitely worried."
Hamilton and Jenson Button may not have had Walker commentating on their triumphs but both world champions appear on film sharing a joke or two with the man.
"The guy's a legend and it's nice to see him at the races now and again," says Button.
Walker stepped away from the microphone 10 years ago. Former co-commentator Martin Brundle now leads the BBC's coverage with David Coulthard and Jake Humphrey.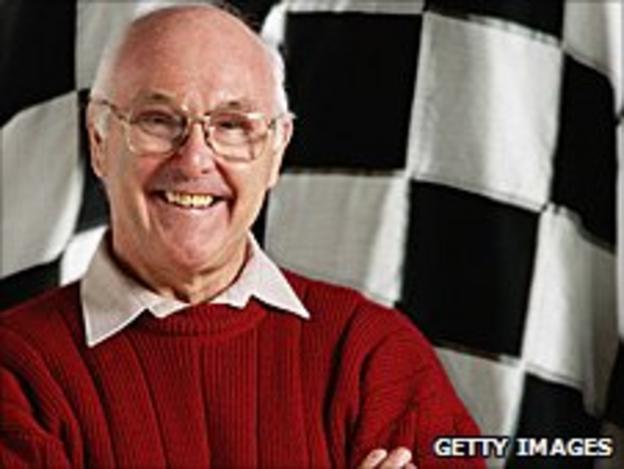 "For people now to compare every F1 commentator and every F1 presenter against Murray Walker makes people like me have a very difficult life," says Humphrey. "You're always compared to someone as special as that."
Coulthard, who stepped into the commentary box in 2011, adds: "It's that ability for Murray to bring sincere emotion to the viewer which has made him universally liked.
"If I had to pick a man to spend several years on a desert island with, then Murray would be a great companion."
Brundle, who worked with Walker and has now taken on the role of lead commentator, agrees there is no-one who compares to Walker.
"He was so engrossed in his commentary that I felt sure that if I tiptoed out of the commentary box and went home he wouldn't notice until the end of the race," says Brundle.
"I don't think I'm stepping into Murray Walker's shoes because they broke the mould when Murray was born. There won't be another Murray Walker, so stop looking."
Murray Walker: Life in the Fast Lane will be broadcast on BBC Two on Sunday 5 June at 2000 BST. It will not be available on the iplayer.
For more Murray, look out for his regular features on the BBC Sport website.