Jarno Trulli will drive for rest of year say Team Lotus
By Andrew Benson
BBC Sport
Last updated on .From the section Formula 1
Jarno Trulli will retain his seat at Team Lotus for the rest of this season, according to boss Tony Fernandes.
The Italian has struggled in comparison with team-mate Heikki Kovalainen and there had been speculation he might be dropped before the end of the year.
Asked by BBC Sport if Trulli's seat was safe, Fernandes said: "Yes, yes, yes, yes. There's never been any question.
"Jarno brings a lot of value to the team. Jarno is doing what he needs to do. We have to give him the car."
Fernandes acknowledged that Trulli's season had been afflicted by recurring reliability problems, especially with his car's power steering.
"He's had problems with the steering and his fair share of [bad] luck," Fernandes admitted.
And the Malaysian businessman pointed to an impressive performance by Trulli in qualifying at the Spanish Grand Prix.
Problems meant the veteran Italian did not get out on to the track until two minutes to go and still managed to put the car 18th on the grid, ahead of a Williams, both Virgins and both Hispanias.
"He did well in Barcelona," Fernandes said. "He had two minutes to do his qualifying lap and he had good race pace.
"He brings something many people don't see - a lot of experience in development of the car.
"If you put a young guy in the car, they can't tell you as much. But Jarno can tell you a lot. He has driven with the best, he has won in Monaco [with Renault in 2004]. That's something I've always wanted.
"And Heikki has been a complete star - 120% every time he gets in the car."
The two men were separated by just 0.038 seconds in qualifying in Monaco on Saturday, with Kovalainen narrowly ahead in 18th place.
Trulli told BBC Sport: "I am struggling with the car so I cannot express myself. I want to give more.
"I am waiting to solve the power steering issue so I can have fun. We have a fundamental issue with the power steering, which is not giving me any feedback.
"I am trying to solve this by using a different steering arm but it is not really working.
"It is really affecting my driving style because I am really precise and sensitive and I don't feel confident."
Fernandes has a number of young drivers on his books, including Indian Karun Chandhok, the team's reserve.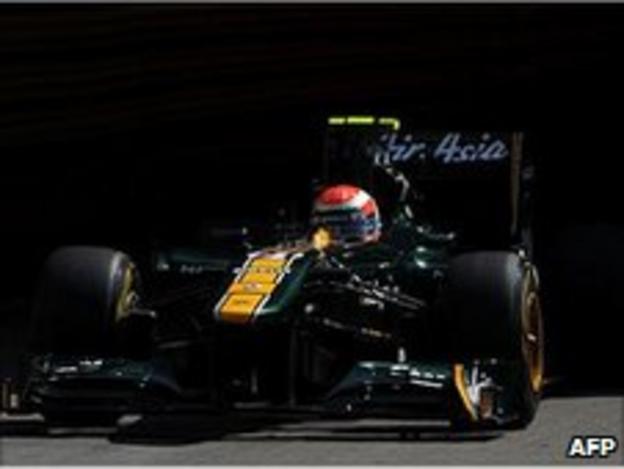 Chandhok, who made his F1 debut last year when he drove half a season with the new Hispania team, has done two Friday practice sessions so far this year and Fernandes says he will be used increasingly throughout the season.
"We have some plans," Fernandes said. "We are going to give him some good, decent practice sessions.
"I've held him back because I wanted the car to be better. But now we are getting some reliability sorted. And in the last two races with the blown diffuser I wanted the race drivers to get to grips with it.
"As we get into the European season, you will see more of Karun, who has been a fantastic addition to the team, his attitude, his spirit. He's been the right guy for this team."
Fernandes has been buoyed by a High Court ruling that he has the rights to use the Team Lotus name in F1.
Car company Group Lotus, which sponsors the Renault team, had claimed that it had the sole rights to the Lotus brand.
The High Court judge also emphasised in his ruling that because of a 1985 agreement between Team Lotus and Lotus Cars, Team Lotus had the right to call their F1 cars Lotus.
Fernandes said he had not yet decided whether to add the Caterham sports car brand, which he bought earlier this year, to the name of his F1 team.
"I'm in an awesome mood - very happy," he said.
"It's the final piece of our strategy and, difficult as this period has been, in some ways it has turned out fantastically, in that we probably wouldn't have got Caterham before, so we now have a Formula 1 team, a car company, and a couple of other brands coming through.
"We're going to step back a bit. We have some thoughts. In my mind maybe by Silverstone [in July] we will unveil something.
"We will add Caterham to the GP2 team's name, that's for sure. I don't have any concern about Team Lotus promoting Lotus."
The court case followed the decision by Group Lotus boss Dany Bahar to sponsor an established team, rather than stick with Fernandes, whose outfit made its debut in 2010.
Fernandes could not resist criticising Bahar's decision.
"We're very happy with the case," Fernandes said. "We're Lotus and they're Renault. It's very clear.
"I'm amazed Dany Bahar has been allowed to get away with the strategy - $30m and 90% of his credibility goes to Renault. I don't see the logic of it."
Lotus Cars has said it plans to appeal against the decision, believing that having two teams in F1 with Lotus in their name is confusing for spectators.
The appeal, said Group Lotus head of legal Sarah Price, is "so that the right to use the Lotus brand in Formula 1 is clarified once and for all".
"Group Lotus and its shareholder Proton Holding Bhd are confident of success on appeal," a statement added.