Lotus boss Mike Gascoyne bullish on diffuser update
Last updated on .From the section Formula 1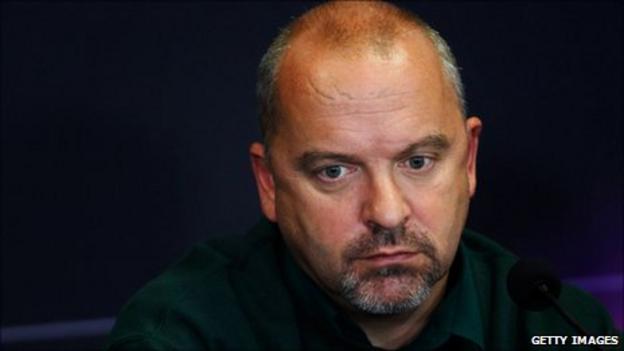 Lotus chief technical officer Mike Gascoyne is confident his team's latest diffuser update will put them among Formula 1's established outfits.
And Gascoyne says the Norfolk-based team could start to shave up to a second off their lap times.
"We believe it is a big step forward, one that should take us into the mid-field," he told BBC Radio Norfolk
"We think it should be worth anything up to a second a lap, which in Formula 1 terms is a massive step.
"You've got to be careful, everyone else is making updates at the same time and it's in an area where it's not straight forward to get it to work straight away.
"It might take a couple of races and we might have some reliability issues with it, there will be a lot of components getting hot that weren't getting hot before."
Lotus demonstrated their potential in Shanghai when Heikki Kovalainen finished 16th, ahead of Sauber's Sergio Perez and Pastor Maldonado in the Williams.
Team-mate Jarno Trulli also registered the 14th quickest lap time of the race.
It is significant progress for the Tony Fernandes-owned outfit, who last season were battling it out to be the best of the three new teams.
"We've moved away from that 'new team' tag," added Gascoyne.
"Williams, Force India, Sauber, Toro Rosso, they're the teams we've got to be racing now."