McLaren's Lewis Hamilton wary before Turkish Grand Prix
By Sarah Holt
BBC Sport at Istanbul Park
Last updated on .From the section Formula 1
McLaren's Lewis Hamilton has played down his chances of a second successive win ahead of the Turkish Grand Prix.
"I don't like to expect too much because if it doesn't work out it's not a big come down," he said.
"Even though we won the last race, we are still slightly behind the Red Bulls in terms of pure pace."
With a three-week break between Hamilton's win in Shanghai and the resumption of hostilities in Istanbul this weekend, McLaren are set to incorporate "a number of small modifications" into their set-up.
Hamilton believes the gap between his MP4-26 and the dominant Red Bulls was "a good half a second" before the teams travelled back to Europe and admits the changes may not entirely eliminate his rivals' advantage.
"I hope we can close the gap but you never know who might have closed the gap more," he said.
"Fingers crossed our upgrade is good enough. We'll see tomorrow.
"We have to assume that whatever we have brought they have the same or similar.
"You have to be cautious and to look out for Renault, Ferrari and Mercedes - they have also made a step and may have moved closer or past us."
Despite the possibility that he will struggle to match Red Bull's pace once again, Hamilton can take solace from his display in China.
The less durable Pirelli tyres introduced for this season have placed more emphasis on race tactics and McLaren's decision to stop three times rather than twice proved key in Hamilton's win.
"We may not be the quickest this weekend, which is possible, but if we are then that will be fantastic," he added.
"In the last race we didn't win because we had the fastest car, we won because we out-did them in strategy."
Vettel lost his lead to Hamilton in China just four laps from the end as Hamilton took advantage of a fresh set of tyres.
And the German says there are lessons to learn from the last race which ended his winning streak of four races.
"McLaren didn't win because they were lucky - they did a better job than we did," said Vettel, 23.
"I don't think our decisions were down to luck and nor were their's. It's important to learn from those things and make sure you don't make the same mistake twice.
"I wouldn't say [losing] has been a wake-up call. People were asking at race two about being dominant and maybe it is a lesson for people asking those questions saying 'it is total dominance'.
"I don't like being beaten but nobody is unbeatable."
Last year at the Istanbul Park circuit, McLaren benefitted from an extraordinary error from Red Bull as a clash between team-mates Webber and Vettel gifted Hamilton his first victory of the season.
Vettel added with a touch of humour that he would not be reflecting on the crash that ended his race 12 months previously.
"What are my memories [of last year]?" the world champion said. "Blank.
"There is nothing we can change. We had our discussions last year and we learned from it.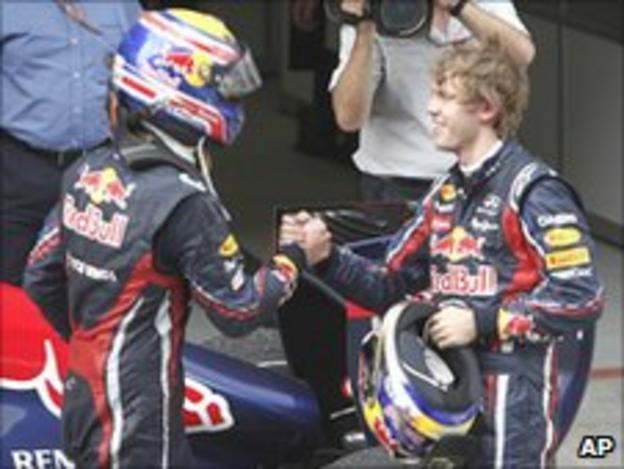 "Coming back here it doesn't really change anything. In the end I always try to learn something even when from the outside everything looks smooth."
Webber wowed F1 audiences in China as he delivered a dramatic drive from 18th on the grid to take his first podium of 2011 in third.
Continuing problems with Red Bull's unreliable energy-boost Kers device and a decision to run on the hard tyres hurt the Australian in qualifying.
But Webber is refusing to use his efforts last time out as a boost and says he would prefer a more straightforward race weekend in Turkey, where he took pole last year.
"People were saying it was just the result I needed which was fine, but I just need a smooth weekend," Webber commented. "I haven't really had one yet.
"We need to have three or four races on the bounce when we have a smooth Saturday and Sunday and that is when I can be happy that I have got the most out of what I have.
"I'm looking forward to having a race here. We've had a few good grands prix here."
Asked whether Red Bull had solved their issues with Kers, Webber said: "The guys have worked incredibly hard.
"We don't have the luxury of testing so we'll learn as much as we can. We still have some attention to focus on it."