Paul di Resta confident of Formula 1 progress
Last updated on .From the section Formula 1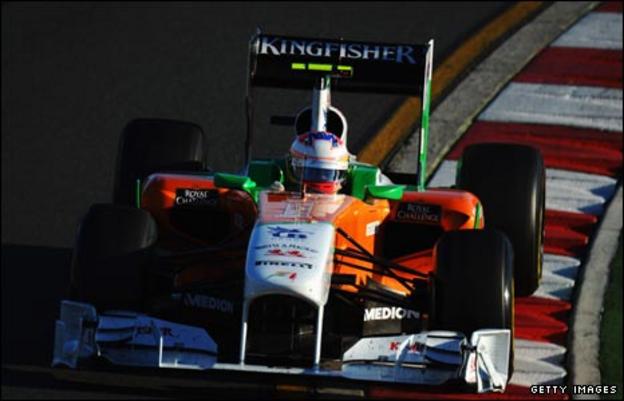 Paul di Resta has said he is confident of building on a Formula 1 debut that exceeded his expections.
For only the 59th time in the sport's history, a rookie collected a point on his maiden outing as Di Resta finished 10th in the season-opener in Australia.
"It was a fantastic experience, one I've waited many years for, and better than I could have imagined," said Di Resta on his debut.
"We have some exciting times ahead, hopefully," the 24-year-old added.
There was an element of good fortune to Di Resta's acheivement, as his Force India car initially finished in 12th place at Melbourne's Albert Park.
However, the Sauber duo of Sergio Perez and Kamui Kobayashi were later disqualified from their seventh and eighth positions due to a technical infringement relating to the rear wing.
So instead of debutant Perez taking his place in F1's history books, it was Di Resta, with Force India team-mate Adrian Sutil taking ninth place.
"We have got off to a good start with a double-points finish in the constructors' championship, and we could not have asked for more than that," continued Di Resta.
"It all worked out beyond our expectations in terms of performance."
This weekend's Malaysian Grand Prix throws up a challenge in stark contrast to that Di Resta experienced in Melbourne.
With temperatures around 30 degrees and humidity just under 80%, the race at Sepang is one of the most draining on the calendar for drivers and their technical crews.
After returning to Europe last week to conduct simulator work, Di Resta flew out early to Malaysia to acclimatise and adjust to the time difference.
However, he knows there is little that can prepare him overall for the energy-sapping effort required for the race.
"I participated in FP1 last year, but did not complete a great deal of laps," said Di Resta.
"I really enjoyed the track, although the heat and humidity is much tougher than anywhere else we drive on the calendar.
"It will be interesting to see how we perform there, and I am very much looking forward to my second race with the team."