Ferrari and Mercedes to be faster in Malaysia - McLaren
Last updated on .From the section Formula 1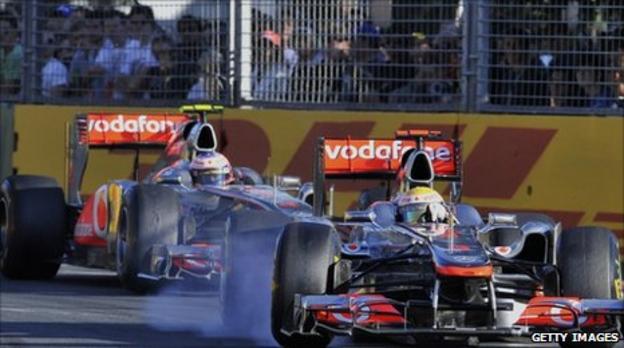 McLaren expect more of a challenge from rivals Ferrari and Mercedes at the weekend's Malaysian Grand Prix.
Fernando Alonso and Felipe Massa were fourth and seventh for Ferrari in the season opener at Melbourne, while the Mercedes cars failed to finish.
Both teams were strong in winter testing, with Mercedes' Michael Schumacher setting the best time.
"I am absolutely sure both those teams have more to bring," said McLaren managing director Jonathan Neale.
"We watched each other carefully though winter testing and we are not imagining that we have seen the best of Ferrari or the best of Mercedes at this stage.
"Once we get to a circuit like Malaysia with much hotter track temperatures, we test the cars more fully."
Neale believes forecasts of heavy rain at the Sepang circuit, combined with less durable tyres from new supplier Pirelli, will produce a thorough examination of all the title contenders.
McLaren and Ferrari's drivers were packed at the back of the grid after both teams misjudged the weather in qualifying for last year's Malaysia race.
"A high possibility of rain will make it very interesting for all of the spectators and very distressing for all of us teams," added Neale.
"We had experience with torrential rain in Barcelona at the winter testing but we haven't done much running on the intermediate tyres yet. But that is the same for everyone."
McLaren suffered a difficult pre-season and, despite Lewis Hamilton taking second in the race at Albert Park, Neale admitted his team have "a reasonable amount of work to do" to match the raw speed of Red Bull.
Reigning world champion Sebastian Vettel led from the outset in the season's first race after qualifying almost 0.8 seconds clear of Hamilton.
It had been feared that the gap could be even greater, as McLaren's decision to delay the launch of the MP4-26 to concentrate on development initially failed to produce a competitive car.
A drastic overhaul of the exhaust system, which saw the team abandon an innovative "octopus" design with multiple exits in favour of a more conventional set-up, helped to close the gap.
Despite the improvement, Neale refused to rule out the return of a more complex system later in the season.
"We are all looking at each other's cars at this time of year trying to work out where the industry trends will go," he said
"That was true with the double diffusers, as it was true when we came up with the F-duct [aerodynamic devices]."
He also shrugged off speculation over Hamilton's future at McLaren.
Red Bull team principal Christian Horner played down reported comments from his own team adviser Helmut Marko linking the 26-year-old Briton with the Milton Keynes-based outfit.
"Planning on drivers is one of those things that goes on continuously behind the scenes but we don't choose to talk about it very much," Neale stated.
"As you are aware through the talks we had when we signed Jenson, we would rather come out at a point where we can say 'this is what we are doing' rather than 'this is what we think might happen'.
"Some teams are speculating that they would like to have Lewis drive for them - I don't think that is particularly newsworthy.
"We would feel the same way if he wasn't driving for us!"