Brilliant Sebastian Vettel moves up a gear - Martin Brundle

By Martin Brundle
BBC F1 commentator
Last updated on .From the section Formula 1
Sebastian Vettel moved onto an altogether higher plane in the closing stages of last season, and he has moved another step forward since he claimed the world title.
He has found a way to carry tremendous mid-corner speed while exploring the extreme edges of the race track, and yet he remains able to apply the throttle hard and early. He is also very accurate and consistent under braking.
Add to all that an ability to stay calm on the grid and deliver regularly good starts with what is now a reasonably heavily driver-controlled launch function and you have a grand prix driver of the highest calibre.
He was also ruthless on the critical overtake of Jenson Button during the tyre-stop phase. However, with all four wheels well off the circuit at the end of the manoeuvre he was fortunate that the stewards did not take a closer look.
No wonder Mark Webber looked a bit perplexed at his home grand prix. He was simply crushed by Vettel's pace and we know how good Mark is. For some reason he seems attached to fifth place in Melbourne.
Lewis Hamilton's dogged determination, and belief in his team and own ability, these past few weeks has been very impressive. He said after qualifying that he would make Vettel work very hard for a victory, and he did.
A frustrated Jenson Button was unlucky to end up with a drive-through penalty after his numerous attempts to pass Massa's Ferrari. However, I agree with the stewards that he should have immediately let Massa back past after he took to the escape road to complete a pass.
The McLaren had fundamental issues pre-season and so they made significant last-minute changes, in particular dumping a complicated exhaust system for a Red Bull clone. The might, experience, and resource of McLaren paid off handsomely. You can't help wonder why they need to keep doing that, but write them off at your peril.
McLaren chairman Ron Dennis handed David Coulthard and Eddie Jordan some humble pie live on the BBC show, and no doubt I would have had a slice if I had been there.
But our job is to report things as we see them, honestly and openly without bias to our mates and acquaintances.
I watched the McLaren for several hours out on track in Barcelona testing. After 28 years of driving and observing F1, I know when a car is not working. The team made no attempt to hide the fact that they had been having problems and were rightly relieved and satisfied Sunday night.
The Albert Park circuit has over its 16 GPs proven to be rather a strange layout in terms of it suiting some cars and drivers better than others. With so many similar corner exits, if a driver is in the groove and finds a good set up he can really take off.
Every single day of pre-season testing suggested about twice the tyre wear and degradation we actually saw in Melbourne. A few drivers and engineers suggested to me that something had changed in this race-tyre batch. It would have to have been a decision taken a while back to get 1,800 tyres manufactured and shipped to Oz.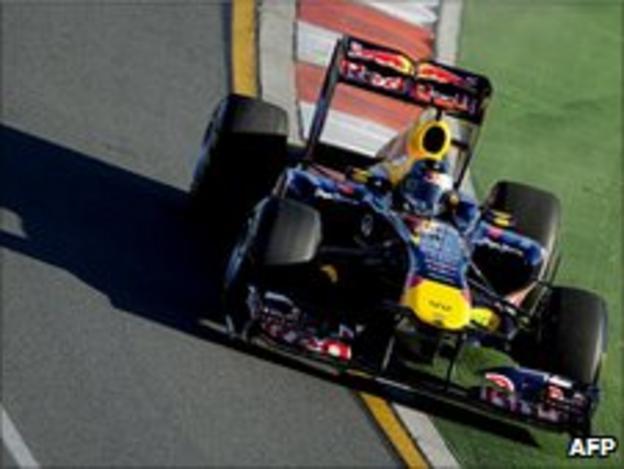 Pirelli said that the improved performance was simply a function of track temperature, which confused us a little as it felt pretty chilly throughout until literally just before the race. They say it's the core temperature just under the track surface which helped.
Disappointingly in many respects, drivers made one, two, and three tyre stops work although two appeared optimal.
We must not lash Pirelli if their tyres wear out more quickly, which they surely will at some tracks especially when it's hot and abrasive, because it is better for the racing. When the Bridgestones fell apart early in Canada last year we implored them to achieve that more often.
For a tyre company to very publically have high tyre wear is not good PR. Yet conversely I'm certain that one of the reasons Bridgestone departed is that as a sole tyre supplier they never got mentioned unless there was a blow out.
We haven't stopped talking about Pirelli so far this year so maybe it's very smart.
The media, teams, and drivers have an important role to play here in managing this particular message. We don't want races where you run as long as you want on one set of tyres in order to pit one lap after your rival to ensure to stay in front of him, as often happened last year.
There were two other stories which stood out for me. Firstly it was a day for the new brigade and the rookies. Vitaly Petrov's sensational third place was fully deserved. He qualified sixth, made two strong moves in the first two braking zones, and then drove consistently to the podium.
My driver of the day was Sergio Perez. He has looked confident in the Sauber since stepping into it, and his ability to complete the 58-lap race at a very solid pace using only two sets of tyres confounded everyone, including Sauber, it seems. That ability will pay dividends this season and it's a crying shame the team were disqualified on a technicality.
I scored points in my first-ever grand prix and they were later rescinded through no fault of my own. It doesn't matter though because 27 years later it only annoys me about once a month now.
Sauber's disqualification, subject to appeal, was at least good news for Scot Paul di Resta who scored his first point in 10th place for Force India. He seemed to be a very solid match for his vastly more experienced team-mate Adrian Sutil and this bodes well for his F1 career.
The other story was the underperformance of several teams who appeared much stronger in the eternally deceiving 'winter grand prix' test days.
I'm thinking Ferrari, particularly in Felipe Massa's hands, Mercedes, Williams, and Lotus.
Nick Heidfeld had an awful weekend stepping into Robert Kubica's fireproof boots at Renault. However, in the race the German had very significant right sidepod bodywork damage from early race contact. We haven't seen his potential yet.
The new drag reduction rear wing wasn't a great success and that will need to be tweaked in due course for longer or more frequent use. The problem in Melbourne was that the corner leading into the zone is notoriously difficult to follow another car through.
Now it's off to Malaysia and China to see who can handle heat, humidity, and very long straights.