Ferrari and Red Bull pick each other as main rivals
By Sarah Holt
BBC Sport at the Circuit de Catalunya
Last updated on .From the section Formula 1
Mark Webber and Felipe Massa believe their Red Bull and Ferrari teams will be each other's chief rivals in 2011.
The duo finished 2010 as the fastest teams and Red Bull's Webber and Ferrari's Massa expect the rivalry to pick up where it left off.
"Ferrari are strong," said Webber, who was third fastest behind Sauber's Sergio Perez and Massa on Thursday.
"I point to Red Bull," said Massa. "They won the titles last year [but] I hope Mark Webber is right."
Sebastian Vettel and Webber signalled their intent as they set the pace for the world champions on the first two days of testing at the Circuit de Catalunya on Tuesday and Wednesday.
Webber and Massa were the early pace-setters on Thursday until Perez set his mark.
Sauber revealed that Perez set his fastest lap - which bettered Vettel's to be the fastest time of the winter at Barcelona - on low fuel and super soft tyres.
Neither Ferrari or Red Bull are believed to have run in full qualifying trim as yet but the pair are nonetheless believed to be the ones to beat in terms of pure pace and over longer spells on track.
Despite these signs, Webber was quick to downplay the significance of pre-season form as he wrapped up his preparations before the opening Australian Grand Prix on 27 March.
"I would not put my house on qualifying in Melbourne," the Australian said. "I don't know who has the outright pace.
"It's impossible for me to know what the red guys are doing. Race runs they are going OK, they look quick.
"In terms of team preparations, it's the best we've had in terms of reliability and understanding the car.
"Hopefully we are not too far away from Ferrari to start with and we go from there.
"We know how many championships are won on Saturday afternoon, not many, so we're always respectful of what happens on Sundays, that's why we've done a good job in the past and so we'll keep focusing on improving that in the future."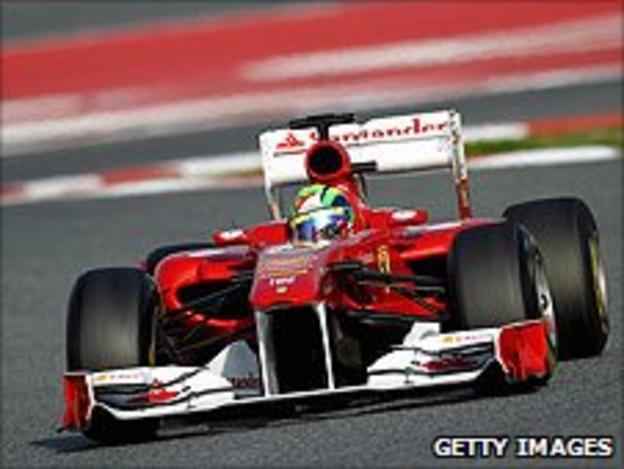 After Massa spent the early part of the day working on aerodynamic configurations, Ferrari worked through a race simulation in the afternoon.
It is in this area that the Italian marque are tipped to have an advantage over Red Bull, even though the champions won nine races in 2010.
"Even if we improved more in the race compared to the qualifying, it was not easy to beat them (last year)," Massa said.
"This year it is a little bit more difficult to know. I saw some long runs from them and they were quick.
"They are very quick here, even yesterday Sebastian did a very quick time as well, so I point to Red Bull.
"Still it is difficult to know so we need to wait and see exactly when everyone is together at the same time, with the same fuel and similar tyres."
Ferrari brought more upgrades to their car, including a modified exhaust system which echoes the Red Bull design, and before turning the car over to Fernando Alonso for the final two days, Massa said he was pleased with the results.
"It's better, there is more downforce in the car," the Brazilian said.
"I think it will be more or less the package for the race so now we are working hard for the next improvement, which we now how important it is during the championship."
Sauber technical director James Key said Perez "did a good and controlled set of laps" and set his fastest on the softest type of tyre.
A planned race simulation in the afternoon had to be curtailed because of a problem with the Kers energy recovery and power-boost system.
Williams, for whom Kers has been troublesome this winter, decided to ward off any potential problems by removing their system as Rubens Barrichello took the wheel.
The team said they were committed to using Kers, which returns as part of the new 2011 rules, as it is expected to be advantageous off the start and could also help with overtaking.
But their caution did not stop Barrichello causing two red flags, firstly with a minor problem before lunch after the Brazilian had set the fourth fastest time of the day, 0.876secs off Perez's pace.
The second came when Barrichello came to a halt on the grass in the final half hour of the session.
Michael Schumacher followed his former Ferrari team-mate in the standings for Mercedes as that team closed to within 1.131 secs of the leading time.
Mercedes arrived in Barcelona with an upgrade, which included a modified exhaust system, but the seven-time champion believes there is still work to do.
"We clearly know Red Bull is very strong, and they are the team you have to look at," said Schumacher.
"I guess we're not quite in this position but I wasn't expecting to be in this position right now.
"The season is long and there is a big question mark as to who is coming behind Red Bull, and I hope we play a sufficient role in that.
"I know where we are, and we are working very well. We are on the progress curve like we want to be."
Team Lotus driver Heikki Kovalainen recovered another frustrating day, after his team-mate Jarno Trulli only managed six laps in the morning because of a gearbox problem, with the sixth best time.
The Renault drivers also split the day with Vitaly Petrov, who was held up by Kers problems, giving way to Heidfeld, who bettered the Russian's best time by more than 0.7secs.
It was also an encouraging day for Force India as Adrian Sutil also churned through a race simulation.
Vettel and McLaren's Jenson Button, who both made appearances at the track on Thursday despite being relieved of driving duties, will be back on Friday.
McLaren sat out testing on Thursday but along with Ferrari, Mercedes, Williams and Hispania will run on the final two days.
Fastest times, final pre-season test, day three, Circuit de Catalunya:
1 Sergio Perez (Mex) Sauber-Ferrari one minute 21.761 seconds
2 Felipe Massa (Brz) Ferrari 1:22.092
3 Mark Webber (Aus) Red Bull-Renault 1:22.466
4 Rubens Barrichello (Brz) Williams-Cosworth 1:22.637
5 Michael Schumacher (Ger) Mercedes 1:22.892
6 Nick Heidfeld (Ger) Renault 1:23.541
7 Heikki Kovalainen (Fin) Lotus-Renault 1:23.990
8 Vitaly Petrov (Rus) Renault 1:24.233
9 Adrian Sutil (Ger) Force India-Mercedes 1:24.334
10 Jaime Alguersuari (Spa) Toro Rosso-Ferrari 1:24.779
11 Jerome d'Ambrosio (Bel) Virgin-Cosworth 1:27.336
12 Jarno Trulli (Ita) Lotus-Renault 1:34.485