Staring into the abyss: Would a budget cap save the once mighty Williams team?
Last updated on .From the section Formula 1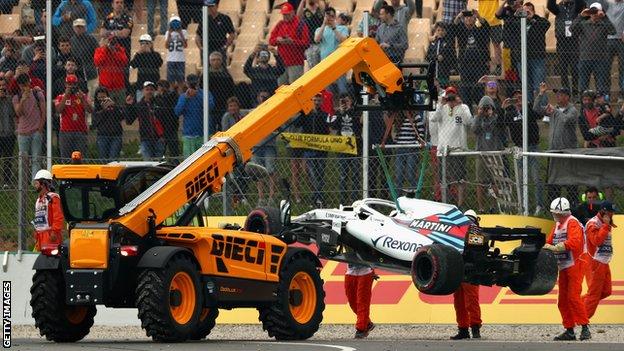 It's no secret the Williams team are struggling - we've seen it at every grand prix this season.
Five races into 2018 they sit bottom of the constructors' championship, their car clearly uncompetitive.
They have been here before, having failed to finish higher than eighth for three seasons between 2011 and 2013.
But what is worrying on this occasion is that the team's hierarchy is struggling to see a stable future without significant changes being implemented.
Speaking last month, deputy team principal Claire Williams claimed F1 was "basically broken" because of financial discrepancies between the top teams and the rest, and called for the sport's owners Liberty Media to approve a budget cap currently under consideration.
So how did it come to this for one of the sport's most famous and enduring names?
Don't forget to cast your vote on whether F1 should introduce a budget cap at the bottom of this article.
From leaders to feeders
Frank Williams set up his eponymous Williams Grand Prix Engineering operation in 1977 and success was quick to follow thanks to the design nous of Patrick Head, the bullish driving of Australia's Alan Jones and the pace and durability of the Cosworth DFV engine.
The team's maiden world title arrived in 1980 - Jones delivering on his early promise - before Keke Rosberg (1982), Nelson Piquet (1987), Nigel Mansell (1992), Alain Prost (1993), Damon Hill (1996) and Jacques Villeneuve (1997) followed suit.
The team's success in the 1980s and 1990s - which came amid fierce duels with McLaren and Ferrari - delivered them nine constructors' championships, a record second only to Ferrari's 16.
Williams' innovative engine and technical partnerships with Honda and Renault were key to their competitiveness, which in turn allowed them to compete for the best drivers and designers.
But as costs soared during the 2000s, the team trickled down the order, their place at the sharp end of the grid no longer assured as the likes of McLaren - bolstered by Mercedes backing - and Ferrari grew ever stronger thanks to the support of their road car divisions.
Williams, as a privateer, had no such backing, and it quickly took a toll on results.
Perhaps this is best demonstrated by the fact that Williams' 113th grand prix win came in 2004 and their 114th in 2012.
They are still awaiting win number 115.
'Surviving, not racing'
Williams now have the youngest drivers on the grid with 19-year-old Lance Stroll and the 22-year-old Russian Sergey Sirotkin. Both have struggled this season with their best result Stroll's eighth in Azerbaijan.
Stroll says the team are "surviving, not racing" and he was struggling with balance issues throughout all five races this season, adding: "The car wasn't cooperating the way I wanted it to, the balance was all over the place."
Sirotkin, meanwhile, said the seat in his car was "so painful" he struggled to make it through the Spanish Grand Prix in Barcelona last time out.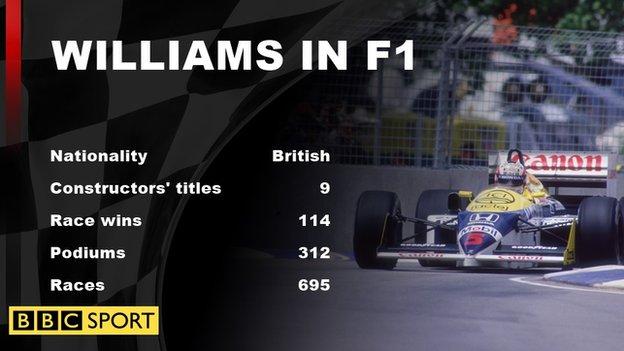 So what's next?
The team want a level playing field when it comes to budgets, with Claire Williams admitting she was ready to "crack open some champagne" after Liberty Media said it would consider proposals for a $150m spending cap by 2021.
Such a move is unlikely to appeal greatly to teams such as Mercedes and Ferrari, who spend around three times that figure, but Claire Williams is blunt about the cost of inaction.
"If we don't do this then Williams will close… the whole of the company," she said recently.
"Sometimes you almost need to hit rock bottom to make you address the areas that you may have papered over previously."
For the sake of one of the sport's greatest teams, let's hope they do not have any further to fall.
Analysis
Andrew Benson - chief F1 writer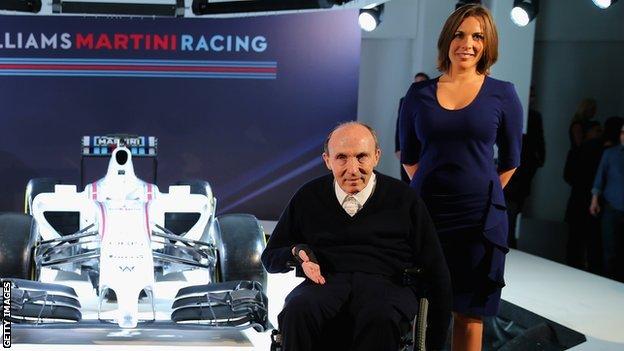 Williams are last in the constructors' championship after five races this year, and in grave danger of finishing there if they cannot turn their season around quickly.
Last weekend's Spanish Grand Prix highlighted their problems - a difficult, slow car and inexperienced drivers meant lots of mistakes, qualifying at the back and zero points.
The team know what is wrong. The car has a fundamental aerodynamic flaw - the rear floor suffers an aerodynamic stall on corner entry, making it unpredictable to drive.
New parts to fix the problems are on their way but are not expected until just before the summer break - at the halfway point of the season.
These are worrying times for a once great team. They have two unconvincing 'pay' drivers in the car, making it more difficult to be sure of the car's actual level.
As for the future, with performance as bad as this, what proven, well-rated driver would want to go there?
If you are viewing this page on the BBC News app please click here to vote.