Gareth Bale: Los Angeles FC confirm signing of Wales captain after Real Madrid exit
Last updated on .From the section Wales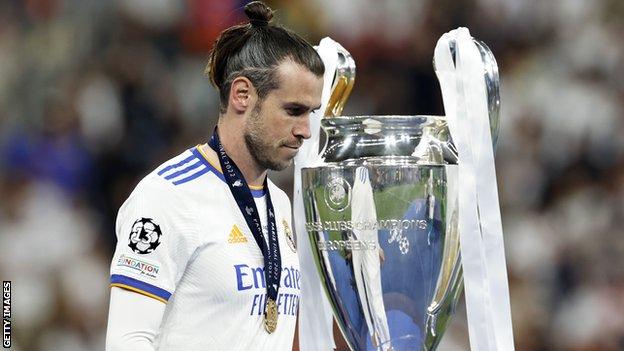 Gareth Bale has joined Los Angeles FC on a 12-month deal following his departure from Real Madrid, saying: "I cannot wait to get started."
The Wales captain, 32, has signed as a free agent after nine years in Spain with an option to stay there for the 2024 season.
"I am extremely excited for this move to LAFC," said Bale.
"This is the right place for me and my family and the right time in my career."
LAFC co-president John Thorrington said: "Gareth is one of the most dynamic and exciting players of his generation
"Adding a player who brings his talent and experience at the highest levels is an incredible opportunity to improve our club.
"I am grateful to Gareth's management team who helped make this happen.
"It is clear that Gareth is highly motivated to continue to win trophies and we are elated that he has made the choice to join LAFC and help lead us in our ultimate goal of winning championships."
LAFC head coach Steve Cherundolo said: "There are simply not many players in the world who can have an impact on a match like Gareth Bale.
"He can be dangerous in so many different ways, and we expect him to complement what we believe is already a strong team from the moment he arrives.
"His knowledge of the game and experience in playing in big games will be invaluable."
Thorrington earlier said negotiations with Bale had not been "a financial conversation".
He added: "Our transfer window opens in early July when we can register [players]. We still have to go through paperwork, hopefully a week or the next 10 days to take care of that, to welcome him and his family to LA, get up to speed."
On Sunday Thorrington had expressed the wish for Bale's stay to run beyond November's World Cup in Qatar, where Wales will be making their first appearance at a finals since 1958.
"It was never about six months just for the World Cup. We were always talking about longer term than that. That was very clear from Gareth and his representative," he said.
"When Gareth is looking at what he needs to do, his priority will be at LAFC - we are absolutely sure of that - but we're not naive to the fact that he, like some other players of ours, have a World Cup on the horizon."
Thorrington, who is also Los Angeles FC's general manager, said that Bale's first game for the MLS side could potentially be the home derby against LA Galaxy at 03:00 BST on 9 July.
The five-time Champions League winner had been linked with a return to Tottenham Hotspur as well as a move to home-city club Cardiff.
The signing of Bale, who joined Real Madrid for a then world-record fee of £85m in 2013, follows LAFC's move for Italy defender Giorgio Chiellini earlier this month.
"We presented to them what we feel is an unique opportunity for them at a stage of their career to do something different," Thorrington said.
"But we want to win and we want winners, and we have a guy who's won five Champions Leagues and a guy who's won the World Cup [Chiellini].
"We have two great players who will continue to do great things in the next phase of their career here.
"We see them being great influences on the guys we already have here."
There was speculation that Bale would end his playing career had Wales missed out on qualification for the 2022 World Cup.
But after Robert Page's side booked their place in Qatar by beating Ukraine in their World Cup play-off final earlier this month, the only question about Bale's future was which club he would join.
There had been suggestions Bale would opt to join Cardiff, with his agents confirming last week that they had held talks with the Welsh club, and the Championship team's owner Vincent Tan believes he may yet one day play for his hometown club.
'We were very very keen and of course he would have been a big coup for us and it would be great for Gareth Bale if he could play for his hometown," Malaysian businessman Tan told Talksport before Bale's move was confirmed.
"And of course all the Welsh would be very happy if Gareth Bale returned home and played in Cardiff.
"Unfortunately I think the LAFC offer was probably too attractive for him to turn down.
"But actually, originally he really wanted to come. The money wasn't the matter but we still tried to come up with what we thought would be a good offer to him.
"But finally it's very hard to compete when there is a lot of big American advertisers, the commercial deals there are very good for Gareth Bale.
"So we tried our best but we failed."
Asked if he would try again in the future to sign Bale, Tan said: "His contract runs for 12 months, let's see what happens. Maybe by then Gareth will probably want to come back."
Cardiff share a training ground with the Football Association of Wales, which would have allowed Bale to continue working closely with Wales' medical and fitness staff while on club duty had he opted to join the Bluebirds.
However, he is instead heading for the MLS, where the season runs from February until October and the competition's secondary transfer window opens on 7 July.
"We have done incredible diligence and it was an open, transparent conversation and we quickly saw it was a right match in the face of stiff competition worldwide - and he [Bale] agreed and we're excited to welcome him in the next couple of weeks," Thorrington said.
"It wasn't a financial conversation with Gareth or us. If Gareth was making this decision with financial motives he wouldn't be in MLS.
"This league is really exciting globally and he saw an opportunity to make a real impact. He sees here an opportunity to make a difference with the stage we provide.
"He sees the chance to pull this sport up to competing with the other sports.
"As much as possible... understanding how to manage a player like Gareth, a Ferrari or thoroughbred racehorse, they need extra attention in order to succeed, we're confident we'll be able to do that.
"The benefit of him joining the group we have, we will have a player who can play as much as he can, but we will do so sensibly.
"His priority will be at LAFC, but we're not naive - he has a World Cup on the horizon and how we manage his preparation ahead of the World Cup will be important to Gareth and the success of LA, but we want him peaking after the game with the US!
"The exact preparation he needs will be the same for us as it is for the World Cup, which I know for Wales is an historic one."
Wales will head to Qatar in November, where they will face the USA, Iran and England in Group B at the World Cup.
LAFC are currently top of the MLS' Western Conference and have 18 regular-season games to play.
When asked what Bale and Chiellini will bring to his squad, Cherundolo said: "Having been on phone calls and zooms with Gareth Bale and Chiellini, I know 100% they are here for the right reasons.
"I hope he [Bale] will bring what he brought to Tottenham, Real Madrid - goals, assists, constant threat - a prolific player who knows how to win championships."
The end-of-season play-offs follow, with the season-ending MLS Cup final to be played on 5 November - 16 days before Wales' World Cup campaign begins with a game against the USA.