Marcelo Bielsa: Leeds United sack Argentine manager after loss to Tottenham
Last updated on .From the section Leeds United2285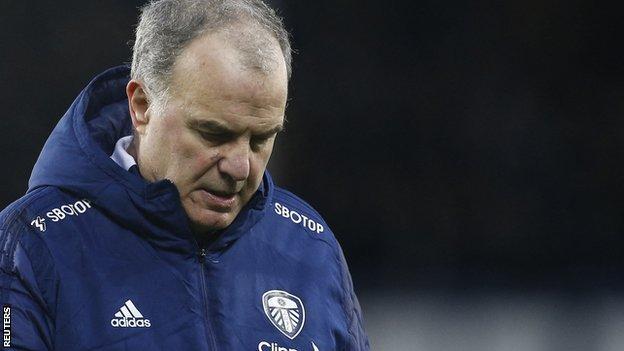 Head coach Marcelo Bielsa has been sacked by Leeds United after a run of poor form that saw his side suffer several heavy defeats.
The 66-year-old Argentine, appointed in June 2018, leaves with the Whites two points above the relegation zone.
Former RB Leipzig coach Jesse Marsch is the overwhelming favourite to replace him.
Under Bielsa, Leeds finished ninth last season on their return to the Premier League after a 16-year absence.
But Saturday's 4-0 defeat by Tottenham meant they had lost their past four games by an aggregate score of 17-2.
"This has been the toughest decision I have had to make during my tenure at Leeds United, taking into account all the success Marcelo has had at the club," said Leeds United chairman Andrea Radrizzani.
"With Marcelo as our head coach, we had three incredible campaigns and the good times returned to Elland Road. He changed the culture of the club and brought a winning mentality to us all."
Leeds had finished mid-table in the Championship in six of the previous seven seasons before Bielsa's arrival.
After they lost in the play-offs to Derby in the 2018-19 season, Bielsa's team was promoted as champions in July 2020 when the following season restarted after the coronavirus pandemic.
Radrizzani added: "I have to act in the best interest of the club and I believe a change is required now in order to secure our Premier League status. Recent results and performances have not met our expectations.
"We find ourselves in a precarious league position and I feel now is the right time to bring in a new head coach, in order to have an impact in the decisive stage of the season."
Leeds midfielder Kalvin Phillips, who became an England international under Bielsa's guidance, thanked the former Argentina, Chile and Athletic Bilbao coach for transforming his career.
"You saw in me what I didn't even see in myself," said Phillips.
Many other Leeds players expressed their gratitude to Bielsa on social media, with striker Patrick Bamford - who also made his England debut last season - saying Bielsa "changed everything for everyone".
Analysis - Who could replace Bielsa?
Simon Stone, BBC Sport
Marsch is the overwhelming favourite to replace Bielsa.
On Sunday night the Elland Road club were remaining tight-lipped over the announcement of Bielsa's replacement, which they have said will take place on Monday.
However, Marsch has been on Leeds' radar for some time, in the belief he would be a strong candidate to take over from Bielsa at the end of the season.
That timescale has changed dramatically over the past few weeks as results have sent Leeds' campaign into a tailspin, culminating in Bielsa's dismissal.
The 48-year-old American, who has also coached New York Red Bulls and Red Bull Salzburg, left the German club in December after a five-month spell ended by mutual consent.
While preserving their top-flight status is the overwhelming priority, Leeds want someone who will work within the structure so painstakingly put in place around Bielsa. Marsch is seen as someone who fits that criteria.
Other candidates have been mentioned, including former Barcelona manager Ernesto Valverde and Huddersfield boss Carlos Corberan, a former Leeds coach who has guided the Terriers into third spot in the Championship.
However, it would be a major surprise if Marsch was overlooked for the role, given he also qualifies for a work permit under new regulations as he has spent three of the past five years working in 'top leagues', which Major League Soccer and both the Austrian and German top flights are listed as.
How did Bielsa's fortunes turn this season?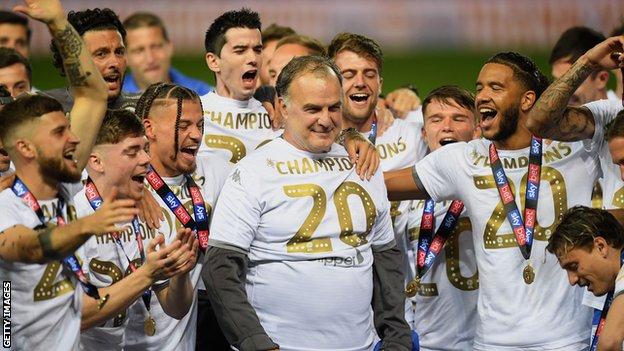 Before Saturday's match against Spurs, Bielsa said he was "very worried" about Leeds' form, having lost four of their five Premier League games before the visit of Antonio Conte's side.
The team's defensive deficiencies were clear again as Spurs scored three goals in the opening 27 minutes, creating more opportunities before adding a late fourth.
That loss came on the back of a 3-0 defeat at relegation rivals Everton, a 4-2 home loss to Manchester United and a 6-0 thrashing at Liverpool.
Bielsa - who has previously been called the "best coach in the world" by both Pep Guardiola and Mauricio Pochettino - oversaw just five league wins in 26 games this season.
Long-term injuries to key players - influential midfielder Phillips, captain Liam Cooper and top-scorer Bamford - were detrimental.
Despite Leeds having conceded the most goals in the Premier League this term, Bielsa had said that playing with a more defensive approach was "not an option".
Defeat by Spurs was Leeds' third consecutive home loss, and also means they have lost all nine league matches this season against the established 'big six' clubs by an aggregate score of 34-7.
Leeds bosses with best win rates

Manager

Games

Wins

Losses

Win %

Don Revie

740

395

148

53.4%

Gary McAllister

50

25

17

50%

David O'Leary

203

101

55

49.8%

Simon Grayson

169

84

45

49.7%

Marcelo Bielsa

169

80

56

47.3%

* Includes only bosses who managed more than 50 games
The romantic who restored Leeds United - analysis
BBC Radio Leeds' Adam Pope:
It was never meant to end like this.
Marcelo Bielsa, the romantic who restored Leeds United to the Premier League playing the purest of football, has the saddest of farewells.
His legacy will shine far beyond the scenes of some of his staff in tears in the stand and the club in peril of relegation after a fourth consecutive defeat.
Make no mistake, despite the calls for his departure in some quarters, the Argentine leaving Leeds will feel like a devastating blow for the majority of the supporters.
Without his ever having wanted to be the focus of attention, his humility, philosophy and ability immediately endeared him to the fanbase and put him at the epicentre of a beautiful revolution.
That change began in earnest in the pre-season of 2018, by the end of which he had revitalised a squad who put newly relegated Stoke City to the sword in his first competitive fixture.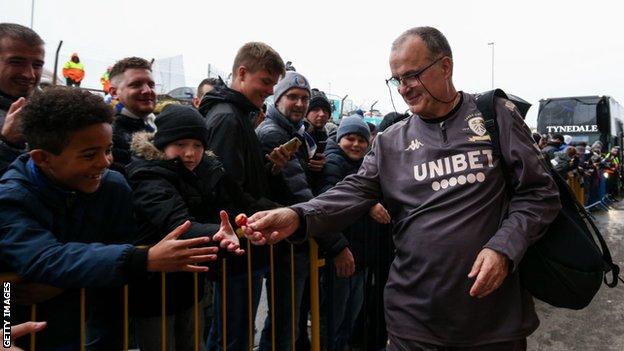 'Bielsa-ball' was born and the players, stands and city were bouncing. Early in that first campaign I recall supporters applauding Bielsa at the services on the way home from a 3-0 win over Norwich. They were smitten already. His ability to convince his charges of his methods was swift too.
Getting them to go again and secure promotion after the heartbreak of play-off semi-final defeat is testament to his extraordinary coaching.


Our coverage of Leeds United is bigger and better than ever before - here's

everything you need to know

to make sure you never miss a moment