Ukraine crisis: Uefa to move Champions League final after Russian invasion
Last updated on .From the section European Football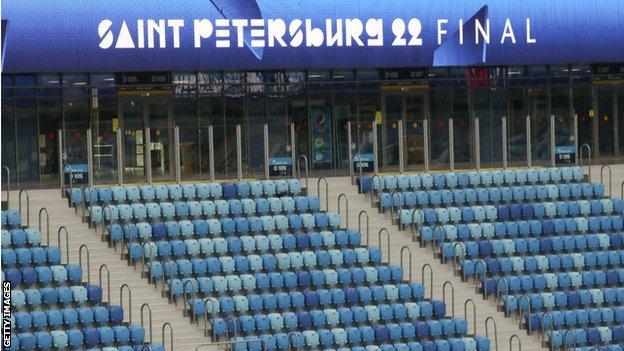 Uefa will take the 2022 Champions League final away from St Petersburg following Russia's invasion of Ukraine.
The decision will be made at Friday's emergency meeting of European football's governing body.
Russian President Vladimir Putin launched a military invasion of neighbouring Ukraine on Thursday.
The Champions League final was set to be played at the Gazprom Arena in St Petersburg on 28 May.
What about Russia and Ukraine's World Cup play-off games?
Russia and Ukraine are both scheduled to play World Cup play-off matches in March, and Fifa said it would monitor the situation.
Fifa president Gianni Infantino says football's world governing body has "a duty to look into the footballing consequences of what is happening".
"Fifa condemns the use of force by Russia in Ukraine and any type of violence to resolve conflicts. Violence is never a solution and Fifa calls on all parties to restore peace through constructive dialogue," Infantino said.
Russia are set to play Poland on 24 March, while Scotland host Ukraine on the same day.
Ukraine's domestic football league was set to resume this weekend after a winter break, but will remain suspended. Fifteen of the most recent 23-man Ukraine squad play in their homeland.
Sweden are also in the play-offs where they will meet the Czech Republic. The winner of that tie could meet Russia for a place at the World Cup finals, which get under way in Qatar in November - if Russia win their semi-final. Karl-Erik Nilsson, the chairman of the Swedish Football Association, told Reuters a match in Russia was "almost unthinkable" at the moment.
Later on Thursday, a joint statement was issued by the Polish, Czech and Swedish FAs telling Fifa that the play-off matches should not be played in Russia, asking for "immediate action" for alternative locations.
Fifa president Infantino said the letter will be looked at "as a matter of urgency" and added that it can "take a decision at any time".
Champions League venue change for third year running
The Champions League final was set to be played at the Gazprom Arena in Putin's home city of St Petersburg on 28 May, but Uefa has known an escalation in the situation between Russia and Ukraine would make it impossible to stage the match, reports BBC's Simon Stone.
Uefa president Aleksander Ceferin has now called an emergency executive committee meeting for Friday, when the decision will be confirmed.
Uefa is in the process of evaluating alternatives but is now committed to changing the venue of its most prestigious club game at short notice for the third year running.
Zenit St Petersburg's Europa League game on Thursday in Spain against Real Betis went ahead, with Zenit going out, losing 3-2 on aggregate.
In Ukraine, football at all levels has been suspended and the Ukrainian FA has said it will appeal to prevent any Russian national or club teams participating in "any international competitions under the auspices of Fifa and Uefa".
Uefa later said it "shared the international community's concern" for Ukraine.
"We remain resolute in our solidarity with the football community in Ukraine and stand ready to extend our hand to the Ukrainian people," Uefa said in a statement.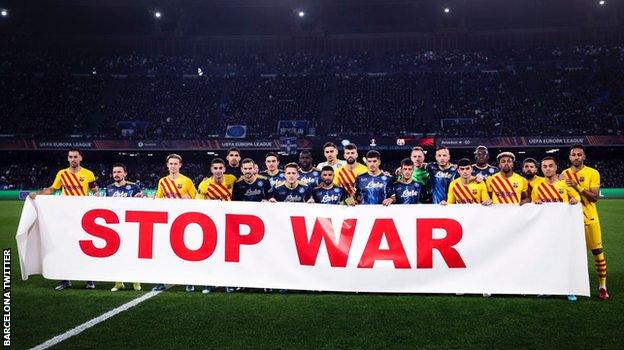 Which sporting stars have spoken?
Former Chelsea and AC Milan striker Andriy Shevchenko - who is Ukraine's all-time record goalscorer and was manager of the national team for five years - called on Russia "to stop their aggression and violation of international law".
"My people and my family are under attack," he wrote in a post on Instagram. "We only want peace. War is not the answer."
Wladimir Klitschko, Ukraine's former world heavyweight champion, called Russia's invasion "a blatant violation of international law".
"The Ukrainian people are strong," he said. "And it will remain true to itself in this terrible ordeal. A people who consider the Russian people their brothers. It knows that they basically do not want this war.
"If Putin goes ahead with his plan for a change of regime in Kyiv, then democracies around the world must now start thinking about a change of regime in Moscow. Before it is too late."
Former Ukraine and Shakhtar Donetsk striker Evgeniy Levchenko told BBC World Service he "is sad that my country is being ruined" and has called on football authorities to take "dramatic" action against Russia.
"They should be suspended from the games [World Cup play-off] and disqualified from this tournament for now," he said. "If you don't do it, they will use if for their own purposes."
Luis Cortes, head coach of the Ukraine women's football team, told Radio 5 Live he was attempting to leave the country.
"It is a really difficult situation," he added. "We are not feeling fear but you don't know what will happen. It is very strange because we have not lived like this before and are away from home."
One of Ukraine's best-known footballers Ruslan Malinovskyi revealed a T-shirt saying "No War in Ukraine" after scoring for Italian side Atlanta against Olympiakos of Greece in the Europa League on Thursday.
On Wednesday, his international team-mate Roman Yaremchuk celebrated his goal for Portugal's Benfica against Ajax in the Champions League by revealing a T-shirt with the emblem of the Ukraine coat of arms.
Russian tennis player Andrey Rublev voiced his support for peace after reaching the semi-finals of the Dubai Tennis Championships.
"It's not about my match, how it affects me," he said. "What's happening is much more terrible.
"You realise how important it is to have peace in the world and to respect each other no matter what, to be united. We should take care of our earth and of each other. This is the most important thing."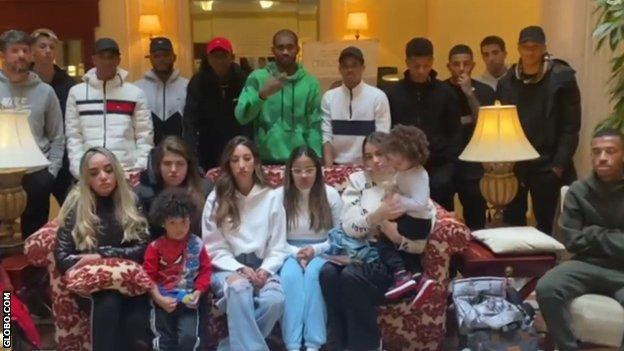 What else has happened in sport?
Formula 1 says it is "closely watching the fluid developments", with the Russian Grand Prix due to take place in Sochi in September.
Four-time world champion Sebastian Vettel says the race should be cancelled - and he will not be there if it goes ahead.
Reigning champion Max Verstappen said: "When a country is at war, it is not right to race there."
Meanwhile, Labour MP Chris Bryant suggested the government should seize the assets of Chelsea owner and Russian billionaire Roman Abramovich - including the Premier League football club.
Abramovich declined to comment, and Downing Street would not be drawn on the claims, with Bryant citing what he claimed was a leaked Home Office document from 2019.
Abramovich is one of Russia's richest people and is believed to be close to President Putin.
With the Beijing 2022 Paralympic Winter Games starting on 4 March, the International Paralympic Committee (IPC) has joined the International Olympic Committee (IOC) in condemning Russia's breach of the Olympic Truce.
The Olympic Truce began seven days before the start of the Winter Olympics and ends seven days after the closing of the Winter Paralympics.
A statement said: "The IOC is deeply concerned about the safety of the Olympic community in Ukraine.
"It has established a task force to closely monitor the situation and to coordinate humanitarian assistance to members of the Olympic community in Ukraine where possible."
A Russian delegation will be heading to the Beijing Winter Paralympics and the IPC has said it is "in dialogue" with the Ukrainian and Russian Paralympic Committees amid the ongoing crisis.
In Germany, second division Schalke announced the logo of main sponsor Russian state-run gas giant Gazprom would be removed from the club's shirts.
Meanwhile, the International Ski Federation (FIS) has said it is "monitoring the escalation in the Russia-Ukraine conflict" and the safety of participants at their World Cup competitions in Russia this weekend.
On Thursday, the International Basketball Federation (Fiba) announced that Great Britain's match in Belarus in a World Cup qualifier due to be played on Friday has been postponed. The Ukraine v Spain match, originally scheduled for 27 February, had already been postponed.