EFL postponements: Matches at Blackburn, Fleetwood, Crewe, Shrewsbury, Harrogate & Salford off
Last updated on .From the section Football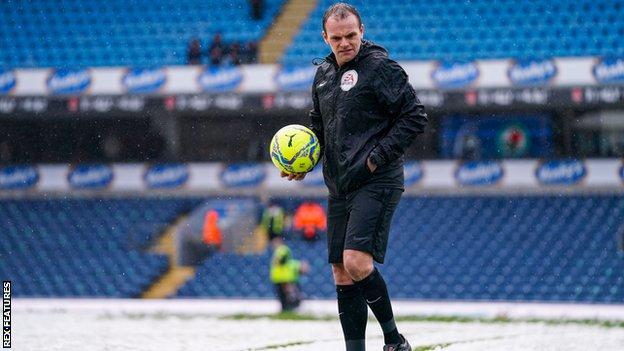 Blackburn's Championship match against Millwall was among six EFL matches to be postponed on Saturday as more bad weather swept across the UK.
The game was called off at 14:15 GMT over player safety concerns after heavy snowfall at Ewood Park.
Fleetwood against Lincoln, Morecambe's trip to Shrewsbury and Crewe versus Portsmouth were all off in League One.
In League Two, Salford's home game with Crawley and Harrogate against Leyton Orient were also postponed.
Millwall chief executive Steve Kavanagh said the decision to postpone his side's trip to Blackburn 45 minutes before kick-off was "farcical", adding he has "expressed that disappointment in the strongest possible terms" to the English Football League.
"By the time the decision to postpone the game was made, the majority of the snow had been cleared," he said.
"At worst, kick-off could have been delayed by a short while to allow any necessary additional time needed to clear what was left. To just call it off in the way it was leaves a bitter taste and I have to question the judgement made.
"You've got fans who have paid out a lot of money for train tickets, petrol, hotel rooms, and more, and I'm not sure that was factored into the thinking when postponing the game."
Snow put paid to the games at Fleetwood and Harrogate, while waterlogged pitches caused the call-offs at Salford, Crewe and Shrewsbury.
Salford's pitch passed a first inspection at 09:00 GMT but further heavy rainfall in Greater Manchester saw the game postponed before another planned inspection at 12:30.
The matches at Fleetwood and Shrewsbury were called off just before 13:00 while the games at Harrogate and Crewe were announced as being postponed just before 14:00.
Saturday's League Two game between Exeter and Barrow was postponed on Friday due to damage at St James Park caused by Storm Eunice.
Four games are also off in the National League.
Halifax v Dover, Altrincham v Weymouth, Yeovil v Dagenham and King's Lynn v Bromley have all been postponed.
Saturday's postponed games
Championship
League One
Crewe v Portsmouth

Fleetwood v Lincoln

Shrewsbury v Morecambe
League Two
Exeter v Barrow

Harrogate v Leyton Orient

Salford v Crawley
National League
Altrincham v Weymouth

Halifax v Dover

King's Lynn v Bromley

Yeovil v Dagenham