Tottenham v Arsenal: Spurs 'extremely surprised' at north London derby postponement
Last updated on .From the section Premier League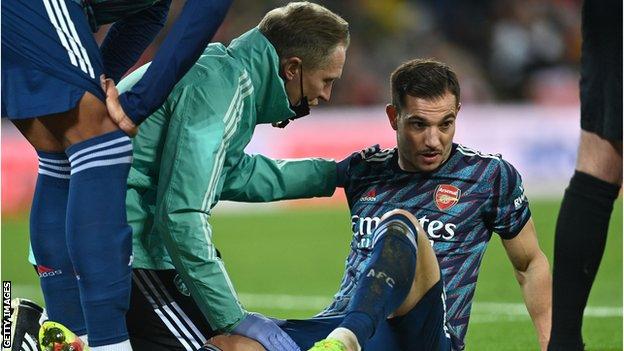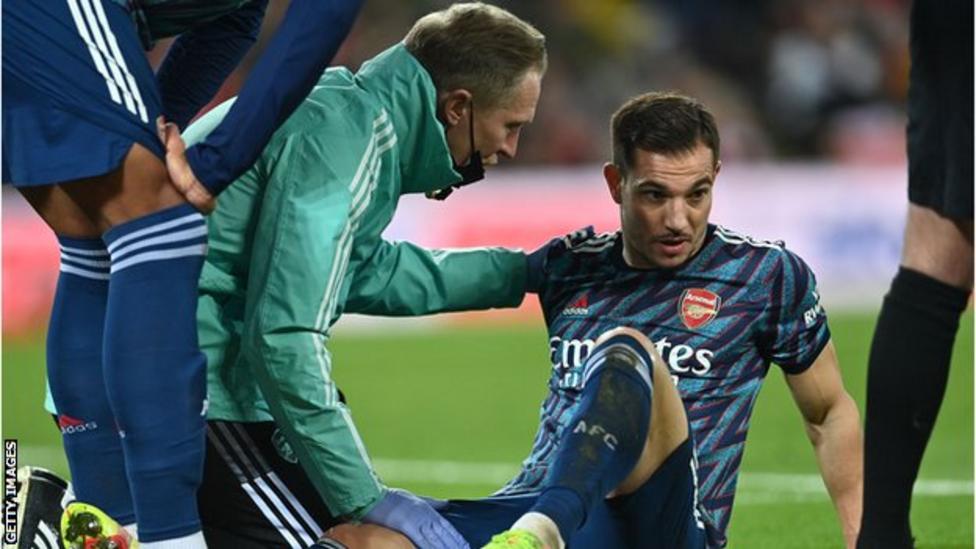 Tottenham Hotspur say they are "extremely surprised" at the decision to call off Sunday's Premier League derby at home to Arsenal.
The Gunners' request to postpone the game, as they did not have enough players, was granted on Saturday.
Premier League rules say clubs can apply for postponements if Covid-19 is a factor in teams having fewer than 13 players and a goalkeeper available.
Spurs believe there are now "unintended consequences" of this rule.
"This follows an application from Arsenal to the Premier League on the basis of a combination of Covid, existing and recent injuries and players on international duty at the Africa Cup of Nations.
"We are extremely surprised that this application has been approved," Tottenham said in a statement.
"The original intention of the guidance was to deal with player availability directly affected by Covid cases, resulting in depleted squads that when taken together with injuries would result in the club being unable to field a team.
"We do not believe it was the intent to deal with player availability unrelated to Covid.
"We may now be seeing the unintended consequences of this rule. It is important to have clarity and consistency on the application of the rule."
'The Premier League must stop this now'
Former Manchester United captain Gary Neville, now a television pundit, believes the Premier League must make changes to the rules.
"What started out as postponements due to a pandemic has now become about clubs not having their best team," Neville tweeted.
"The Premier League must stop this now, draw a line in the sand and say all games go ahead unless you have an exceptional amount of Covid cases. It's wrong."
Arsenal have Thomas Partey, Mohamed Elneny, Pierre-Emerick Aubameyang and Nicolas Pepe on Cup of Nations duty, while Cedric Soares, Bukayo Saka and Calum Chambers all picked up injuries in their Carabao Cup semi-final first leg draw against Liverpool on Thursday.
Granit Xhaka was also suspended for Sunday after he was sent off in the first half at Anfield and Martin Odegaard missed the game through illness.
Former Aston Villa striker Dion Dublin and ex-England defender Matthew Upson echoed Neville's sentiments.
"I sympathise with everyone and I understand the situation but this is where is starts to get a little bit blurry as to what is allowed and what isn't," Upson told BBC Radio 5Live.
"There is a combination of reasons why Arsenal's squad is so thin, where do you draw the line? It is a really sensible question to ask. It needs real clarity. It needs to be down to Covid but all these other situations happen and you have to deal with it."
"Is this the same with everybody? What goes on? Can you just have a look around your squad and think, 'You know what, we could do with him playing... hold on a minute, he's got Covid,'," Dublin added.
"We just don't know what's going on. From the outside looking in, it looks like clubs are thinking they want a stronger side for a certain game and so they're asking for it to be called off. It's a confusing situation."
The Gunners said they "reluctantly" requested a postponement and were "disappointed" that the game had to be called off.
It is the second Premier League game scheduled for this weekend to be postponed after Burnley's game against Leicester City was called off on Friday because of Covid-19 and injuries in the Clarets camp.
The Premier League said: "All clubs are able to apply for a postponement if Covid-19 infections are a factor in their request.
"Postponement rules are designed to protect the wellbeing of players and staff, while maintaining the sporting integrity of the competition.
"Club requests are assessed on a case-by-case basis, based on existing rules and adapted Covid-19 postponement guidance, implemented in light of the Omicron variant.
"The board examines a number of factors, including the ability of a club to field a team; the status, severity and potential impact of Covid-19, and the ability of the players to safely prepare for and play the match.
"The detail within all applications is scrutinised by the league's specialist staff before the board makes its decision."