Rochdale: Why League Two club's future is at a crossroads
Last updated on .From the section Rochdale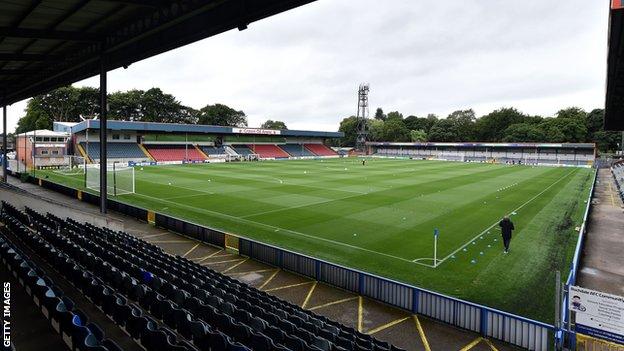 It has not been an easy season so far for Rochdale.
Relegated after seven years in League One at the end of last term, Dale are 15th in League Two after 14 games.
On Saturday they secured their first victory since beating Tranmere on 11 September, which leaves them six points clear of the relegation zone and six points off the play-offs.
But it is not only on the pitch where there have been problems at the Crown Oil Arena.
Talks involving former board members triggered what has been regarded by some as a hostile takeover attempt. This was staved off by those who believe the club can operate without the outside investment some at the club spent months trying to arrange.
Behind the scenes, the dispute over future direction and share ownership led to bitterness, threats and splits, all at odds with Rochdale's image as a stable, lower-league club.
A controversial search for investment
To get to the crux of what triggered the off-the-field division earlier this year, you only need to read the small print from Rochdale's most recent home game against Sutton United on 23 October. Attendance: 2,248.
They are certainly not on their own in this but Rochdale's playing budget outstrips the finance generated from ticket sales.
Money earned from the sale of Ollie Rathbone to Rotherham in August and Stephen Humphrys to Wigan in July, plus more from the second tranche of the sell-on from Craig Dawson's move from West Brom to Watford, will help plug the gap.
It is a familiar situation for many in the English Football League, with the impact of Coronavirus said to have cost the league's clubs at least £150m on top of the pre-existing financial challenges.
In 2019-20, Rochdale played an EFL Cup tie against Manchester United at Old Trafford. They also went on an FA Cup run that included two televised games, one of which, against Newcastle, went to a replay at St James' Park. In addition, they earned more from the sale of teenager Luke Matheson to Wolves. Thanks in part to this windfall, the club posted profits of £1.4m to 31 May, 2020.
However, the previous year when Rochdale were eliminated from the FA and EFL Cups in the second round, they posted a loss of £1.2m.
But none of this is new. Rochdale have made a profit after tax in five of the previous 10 seasons and the board felt the club was well run and in good shape financially.
However, this view was not shared by all. In 2018 some senior figures on the club's board felt the financial position was unsustainable in the long term. They made it a priority to seek outside investment. They were not, it was said, looking for someone to plough money into the first-team squad.
They said that their focus was more on obtaining decent training facilities. The club does not own a training ground and their academy, on which so much importance rests in terms of generating revenue, uses local pitches and an external indoor facility.
This would ultimately spark the bitter dispute and end with two directors who were key in driving this move, David Bottomley and Graham Rawlinson, being voted off the board.
Between 2018 and 2021, a number of non-disclosure agreements were issued to interested investors. Some on the board thought they had found the right man in entrepreneur and motorbike team owner Martin Halsall. Another businessman, Andrew Curran, was also among those club officials spoke to.
After Halsall had been given a presentation by the club, he was introduced to the Rochdale Supporters' Trust (Dale Trust) who put forward a number of questions about his plans which they say were not answered.
When Halsall backed away, Curran and a company called Morton House Management emerged as an interested party.
Fan resistance
Morton House planned to take a majority stake in Rochdale through private, independent deals with seven shareholders. But, after talks with the influential Dale Trust fans group, former chairman Andrew Kelly did not sell his shares, which left Morton House with a 42% stake in the club.
Individually, none of the six completed transactions were subject to EFL approval. However, as a whole, they took Morton House above the 30% threshold required for submission to the EFL's owners and directors' test.
EFL rules say either the "club and/or person responsible" are responsible for submitting the paperwork to request EFL approval. The necessary paperwork was not submitted and an essential element of becoming a significant club shareholder was never completed. This is now the subject of an EFL investigation.
By now, the Dale Trust had got themselves mobilised. They had seen what had happened to local rivals Bury - who were expelled from the EFL in August 2019 following ongoing financial problems - and were instinctively distrustful of the motives of anyone with no connection to the club offering to invest.
They felt the club had a sustainable model - buy players cheaply and sell at a profit. They want the club to remain fan owned.
They did due diligence on Morton House and didn't like what they found. For a start, the fans did not know where the money was coming from. Ill-feeling was obvious on both sides.
In June at a five-hour meeting, Rochdale directors David Bottomley (also the club's chief executive and blamed by the fans for many of the club's problems) and Graham Rawlinson were voted off the board by shareholders. Their motions proposing that the club required outside investment were also withdrawn at that meeting.
With the atmosphere turning increasingly toxic, Curran stepped away. The EFL began an investigation and released a statement which said Morton House was "formally withdrawing from the approval process and plans to divest the shares acquired at the earliest opportunity".
In the meantime, Morton House agreed to sell 25% of the club to Matt Southall, who was formerly chief executive at Charlton and heavily involved in their ownership dispute that attracted so much controversy in 2020.
BBC Sport understands Southall, who has recently moved to Dubai with his family, has no desire to get involved in the day-to-day running of Rochdale.
It is also understood that Southall believes he has an agreement to increase his stake in Dale should Morton House get hold of Kelly's shares - which are now the subject of a legal dispute - which would take its holding over 50%.
Southall feels there is no reason why he would fail the EFL owners and directors' test. Rochdale's fans, prompted by Charlton supporters who have criticised their own club's ownership dispute, have an entirely different view. A recent virtual meeting between the two parties found no common ground.
BBC Sport spoke at length to Dale Trust chairman Colin Cavanagh, who explained his organisation's position.
"We know that the club had been after an outside investor for some time," he said. "We disagreed with them. They assured us that they would not sell out to just anyone and as a Trust we would be kept in the loop at all times.
"Our wish for a fan-owned club is not a political thing. We are not having this 'we are a working class club in a working class game and we should be owned by working class people'. The main reason we want to stay a fan-owned club is because it works for us.
"Look at our peers, look along the M62 - Bradford, Huddersfield, Halifax, Bury, Bolton, Wigan, Stockport - they have all been in administration. The one club that hasn't in all that time is Rochdale."
The current picture is one of confusion and legal debate, not helped by arguments over 398,000 'golden shares' - "dormant" shares the club could sell to raise money. Any sale of these shares would dilute the holdings of existing shareholders.
However, there is uncertainty about whether the golden shares have to be offered on a pro-rata basis to current shareholders and, for those currently running the club, that is fraught with problems.
For example, if 42% of the new shares were added to Morton House's 42% stake - and others went unsold - it could take Morton House above the 50% mark. But the ongoing EFL investigation into the sale of shares to Morton House raises questions as to whether or not Morton House would be offered them at all.
The EFL is investigating the events of the summer share sales and has already interviewed a number of significant people involved in the situation. According to their regulations, deals done without seeking prior approval when required are regarded as misconduct, which has the potential to attract fines for individuals depending on who is viewed as being responsible.
Meanwhile Rochdale, with Simon Gauge - a long-time supporter - as chair, will try to navigate their way through choppy waters on and off the pitch.
Gauge and the club said they could not comment on the ongoing legal situation around the club and that they are co-operating fully with the EFL investigation. They also issued the following statements:
"The events of the Summer has seen a uniting of all Rochdale supporters under myself as the new chairman and a new board of directors who are committed to running the club properly and returning the club to League One at the earliest opportunity," the statement read.
"We are all behind [manager] Robbie Stockdale and the team on and off the field.
"Despite the ups and downs of football, Rochdale AFC is and always has been since the 1980's a solvent, well-run club that unlike many in the lower leagues has never been in any form of financial difficulty or administration. It is currently owned by over 344 different shareholders, including the Dale Trust which represents over 1,000 members who are all Rochdale supporters.
"The Dale Trust is an integral part of our football club as both body and shareholder and there is a supporters club representative on the Board.
"We are very proud to be regarded by others as friendly, community focussed and well run and against the running costs of the club proved an economic model which delivered League One football in eight of the last ten years.
"In those 10 years the club has made an average profit of £0.2m per season and has added £2.1m to the net worth of the club, bringing with it a positive economic impact to both the local community and the wider town."
The Dale Trust strongly believe Rochdale should remain fan owned and work towards sustainability without any outside investment.
All sides, while adamant they have the long-term future of the club in mind, evidently, have very different visions of what the future looks like.
At a time where Newcastle fans are celebrating an influx of "new" money and Derby's administrators are dealing with the consequences of an owner who spent too much, lower down the pyramid, Rochdale are approaching a crossroads.
For a proud, historic Football League club, who regard themselves as a community asset in much the same way as Bury - local rivals just six miles down the road - did, their very existence could hinge on them making the right choices.
This article was updated on Tuesday, 26 October, 2021