Premier League: Players avoid bans over failing to report for international duty
Last updated on .From the section Premier League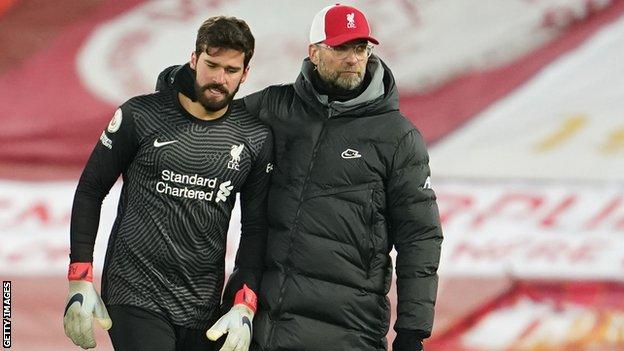 England-based players have been cleared to play for their clubs this weekend after complaints about their failure to report for international duty were dropped.
Brazil, Chile, Mexico and Paraguay had invoked a Fifa rule which would have meant players not released for their recent World Cup qualifiers were suspended from playing for five days.
But the countries have withdrawn their complaints, which would have stopped 12 players appearing this weekend.
All countries involved waived the bans after talks with football's world governing body Fifa.
Fifa said the decision was "a sign of good faith, goodwill and co-operation" and taken "based on positive signals and constructive dialogue Fifa has received from the UK government towards the international match window in October".
The world governing body added that, together with the Football Association and Premier League, it had been liaising with the UK government to avoid a repeat scenario when the next international window comes round in October.
"The UK government is now open to find a reasonable solution with the three organisations, who are working closely together in a spirit of mutual understanding, in the interests of everyone," it added.
Players travelling to red list countries in the most recent window would have had to miss several games on their return because of the 10-day isolation period required under UK rules.
Fifa president Gianni Infantino had called on the government to exempt players from the rules so they could report for international duty without affecting their domestic clubs.
However, that call was rejected.
Players cleared to play
Alisson, Fabinho, Roberto Firmino (Liverpool and Brazil)

Ederson and Gabriel Jesus (Manchester City and Brazil)

Thiago Silva (Chelsea and Brazil)

Raphinha (Leeds and Brazil)

Fred (Manchester United and Brazil)

Miguel Almiron (Newcastle and Paraguay)

Raul Jimenez (Wolves and Mexico)

Francisco Sierralta (Watford and Chile)

Ben Brereton (Blackburn and Chile)
'Common sense prevailed'
All of the South American qualifiers - plus Mexico's matches in the North and Central American qualifiers - took place in countries on the UK government's red Covid-19 travel list.
Anyone entering - or returning - to the UK from those countries has to quarantine for 10 days.
As a result, several players did not report for international duty, resulting in the affected South American national associations invoking the Fifa bans.
On Friday, it was confirmed that Paraguay midfielder Miguel Almiron and Wolves' Mexico striker Raul Jimenez could play for their clubs.
Newcastle boss Steve Bruce did not reveal the details as to why Almiron was available, but said "common sense prevailed".
"It's gone on behind the scenes constantly, but what I can say is that he is available, but there is still live debates as we speak," Bruce said.
Mexico had already withdrawn their complaint, making Jimenez available to face Watford on Saturday.


Our coverage of your Premier League club is bigger and better than ever before - here's

everything you need to know

to make sure you never miss a moment