Brazil v Argentina: Fifa 'regrets' scenes leading to match suspension
Last updated on .From the section Football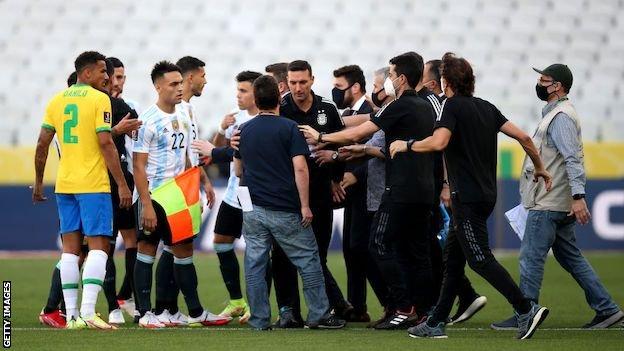 Fifa says it "regrets" the scenes leading to the suspension of Brazil and Argentina's World Cup qualifier which stopped "millions of fans" from enjoying the game.
Sunday's match was abandoned just after kick-off after Brazilian health officials objected to the participation of three Argentine players they say broke quarantine rules.
Fifa said it had received the first reports from match officials, which will now be analysed by "the competent disciplinary bodies".
No date for the rearranged fixture has been set.
Brazil's health authorities had said four England-based players for Argentina had to quarantine.
Although it did not name the four, the players with English Premier League clubs are Emiliano Buendia and Emiliano Martinez of Aston Villa, and Giovani lo Celso and Cristian Romero of Tottenham.
Martinez, Lo Celso and Romero all started the game in Sao Paulo.
The Argentine Football Association said on Monday that all four players were returning to their clubs, but because of UK quarantine rules, they will miss their Premier League games this weekend.
"Fifa regrets the scenes preceding the suspension of the match between Brazil and Argentina which prevented millions of fans from enjoying a match between two of the most important football nations in the world," world football's governing body said in a statement.
"The first match official reports have been sent to Fifa. This information will be analysed by the competent disciplinary bodies and a decision will be taken in due course."
On Monday, Brazil's federal police said they had opened a formal inquiry into the actions of the Argentine players accused of breaching the country's quarantine rules.
Brazil's quarantine rules state that visitors who have been in the UK in the 14 days before entering the country must quarantine for 14 days on arrival.
"We can confirm an investigation has begun into the possible crime of supplying false information," said a spokesperson.
"Yesterday, the players were notified they must leave the country, which is the regular procedure, and statements from them were taken."
Speaking in a video address to the European Club Association's general assembly, Fifa president Gianni Infantino urged Europe to show flexibility in its thinking in order to help South America resolve its qualification backlog.
It comes after the UK Government ignored Infantino's request to grant quarantine exemptions to footballers so they could fulfil their international commitments.
"We have a difficult situation in the UK. Players have to go back to play for their countries," he said.
"In March, the South American players stayed with their clubs but now they have to play the qualifiers for their national teams. That is why I called for solidarity.
"We have to give hope to countries who only see their best players when they play for their national teams. We have to protect the World Cup. "September has not been ideal, let's find the right compromise for October and November and next year."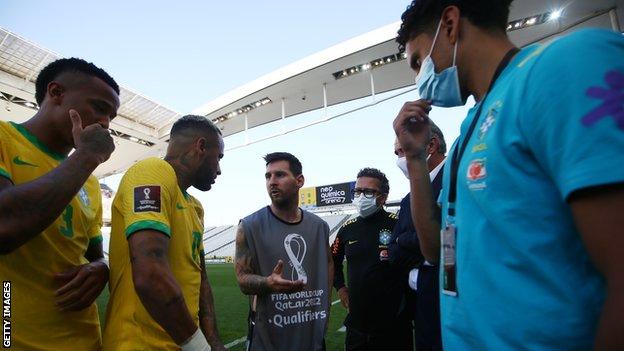 What happened?
Sunday's match at Sao Paulo's Corinthians Arena was abandoned after five minutes when Brazilian health officials came on to the pitch.
The dramatic intervention came hours after Brazil's health authorities had said four England-based players for Argentina had to quarantine.
Under Brazilian rules, visitors who have been in the UK in the 14 days before entering the country must quarantine for 14 days on arrival.
Brazilian health agency Anvisa said the four Premier League players provided "false information" and "failed to comply" with local laws.
It said after it realised false information had been provided on Friday, it held a meeting with the "institutions involved" on Saturday to inform them of the need to quarantine.
Despite this, the players still trained on Saturday night. On Sunday, Anvisa enlisted the help of the federal police to enforce quarantine, only to have their attempts "frustrated".
The Argentine Football Association said the team had been in Brazil since 3 September and had complied with all the health protocols, while Brazilian Football Confederation president Ednaldo Rodrigues criticised the health officials for the timing of their intervention.
Around an hour after the game was stopped, South American football's governing body Conmebol said in a statement the match had been suspended.
What is the background?
In August, the Premier League and the Football Association held talks with the government about the possibility of granting players an exemption but failed to find a solution.
As a result, on 24 August, the Premier League released a statement saying its clubs had "reluctantly but unanimously" decided not to release players for matches in red-list countries during September's international break.
Under UK government rules, players would be forced to miss games because of the mandatory 10-day isolation period upon their return to the UK.
Fifa had already extended the September and October international windows by two days in South America to enable countries to catch up on World Cup qualifiers that were postponed because of the coronavirus pandemic.
That meant matches would be played on Thursday, 9 September and Thursday, 14 October, with players involved being released for 11 days.
Because of the time difference, players involved in those games may not return to their clubs until Saturday, 11 September, when eight Premier League matches are scheduled to take place.
Manchester City manager Pep Guardiola said it "made no sense" to release players while Liverpool boss Jurgen Klopp said the prospect of 10 days' quarantine for his players on their return would put their fitness at risk.
While Wolves, Watford and Newcastle backed the Premier League's decision, Aston Villa allowed Martinez and Buendia to link up with the Argentina squad, as did Tottenham with Lo Celso and Romero.
Manchester United striker Edinson Cavani remained with the club after his call-up to the Uruguay squad was cancelled, while Liverpool trio Roberto Firmino, Alisson and Fabinho and Manchester City pair Ederson and Gabriel Jesus did not link up with Brazil.
However, last week it emerged that some Premier League clubs could be stopped from picking players for their next game after complaints about their failure to release them for World Cup qualifiers.
The Chilean, Mexican and Paraguayan associations contacted Fifa, who can ban players not released in an international window for a period of five days after the window ends.
Wolves' Mexican striker Raul Jimenez and Newcastle's Paraguay midfielder Miguel Almiron could be affected, as too could Watford centre-back Francisco Sierralta and Championship side Blackburn Rovers' Ben Brereton, who both play for Chile.


Our coverage of your Premier League club is bigger and better than ever before - here's

everything you need to know

to make sure you never miss a moment