Gennaro Gattuso: Tottenham not pursuing former Fiorentina manager
Last updated on .From the section Tottenham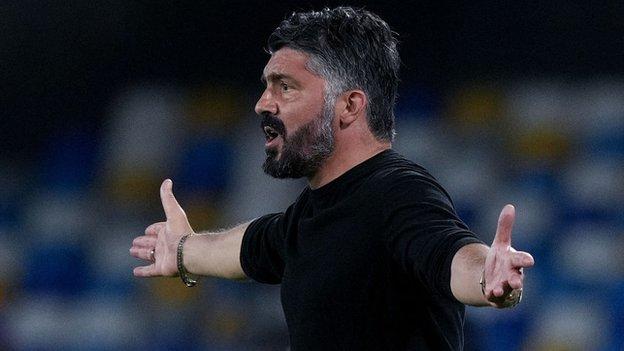 Gennaro Gattuso is not being considered as a candidate to become the new Tottenham manager.
The prospect of him joining Spurs prompted a fan protest, which was communicated to the club by the Tottenham Hotspur Supporter Trust.
The club had not commented on Gattuso but it is understood they are now looking elsewhere.
On Thursday, Spurs ended talks with former Roma manager Paulo Fonseca.
Fonseca, 48, is understood to be stunned by the developments, with negotiations reportedly so far advanced that discussions had taken place about potential signings.
Fans moved to create a #NoToGattuso hashtag which was trending on Twitter.
Some on social media referenced controversial comments the former Italy midfielder had previously made on subjects such as same sex marriage and women in football.
"We can and do communicate supporter sentiment to the decision makers at the club, and have done so very clearly on this occasion" the Tottenham Hotspur Supporter Trust tweeted. "We are aware of and acting on your concerns around potential managerial candidates."
Earlier in June, Spurs had also been in advanced talks with former Inter Milan and Chelsea boss Antonio Conte, while also trying to persuade their former manager Mauricio Pochettino to leave his role at Paris St-Germain.
It is now nearly two months since Mourinho was sacked after 17 months in charge.
Analysis
It could be argued it was better that the controversial interviews Gattuso has given came to light before he was appointed Spurs manager rather than afterwards, when it would have been harder to deal with.
The content merely reinforced an overwhelmingly negative view of the Italian from a fanbase that must wonder where Tottenham's managerial search is going to take them next.
Had either Julian Nagelsmann, Brendan Rodgers or Erik Ten Hag been attainable, the chances are they would have got the job. But none of them were.
Then it seemed Mauricio Pochettino was on the brink of making a sensational return, only for Paris St-Germain to stand firm.
Antonio Conte would have been a bit left-field given Daniel Levy's demand for the right candidate to fit Tottenham's DNA but the Italian's - winning - record demands respect. However, in the end, all parties decided that union wasn't going to work.
From there Tottenham went to Paulo Fonseca, who on Thursday morning thought the job was his despite tension with director of football Fabio Paratici about the playing style.
Now Gattuso has come and gone.
Spurs' managerial search has taken on a life of its own in this social media age, with so many names being thrown out by fans revelling in the travails of such a big club.
Levy and Paratici, who has not officially taken over as technical director yet, need to bring a sense of order to the situation because an opening-day Premier League meeting with Manchester City is fewer than two months away and not many Tottenham fans will be looking at it with a sense of confidence.
Tottenham's managerial search
19 April -Jose Mourinho is sacked as Spurs boss after 17 months in charge
20 April - Former Tottenham midfielder Ryan Mason, 29, is promoted from club's academy to take over as interim manager until the end of season
27 April - Julian Nagelsmann, who had been linked with taking over at the London club, is announced as Bayern Munich's new boss for next season following his spell at RB Leipzig
30 April - There is speculation Ajax head coach Erik ten Hag could be in the running for the post but he signs a new contract with the Dutch club
23 May - Leicester City boss Brendan Rodgers is another name mentioned as a possible Spurs target but he insists he will not be leaving the Foxes
27 May -Tottenham make contact with Paris St-Germain boss Mauricio Pochettino about the Argentine returning to the manage the Spurs side
28 May -PSG have no intention of letting Pochettino leave the club, according to football journalist Guillem Balague
2 June -Antonio Conte is a clear front runner for the Spurs job fresh from leaving Inter Milan after leading them to the Serie A title
4 June - Conte also led Chelsea to the top flight crown during his spell in charge at Stamford Bridge but talks with Spurs break down
15 June -Spurs are close to appointing former Roma boss Paulo Fonseca as their new manager
17 June - Tottenham's attempts to find a new boss take another twist as they end talks with Fonseca in a move thought to be linked to Gennaro Gattuso's unexpected Fiorentina exit
18 June -Gattuso is not being considered as a candidate after the prospect of him taking over prompted a fan protest, which was communicated to the club by the Tottenham Hotspur Supporter Trust. The search goes on...