Celtic & Rangers B teams invitation given provisional approval by Lowland League

By Brian McLauchlin
BBC Scotland
Last updated on .From the section Scottish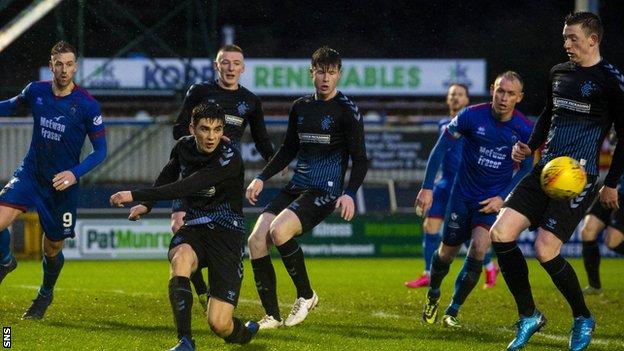 Lowland League clubs have given provisional approval to inviting Celtic and Rangers 'B' teams into the division for one season, the 2021-22 campaign.
Both halves of the Old Firm were allowed to state their case during Monday's meeting before a private indicative vote showed 11 clubs in favour, five against and one abstention.
Full details of the deal are still to be made public but both clubs will pay £25,000 as entry payment into the league.
And the decision will still need to be ratified at the league's annual general meeting on 27 May.
The Lowland League said work would take place "to make the required rule changes" for the plan to come to fruition.
Speaking on Tuesday, Rangers manager Steven Gerrard said the plan would be "fantastic for everyone if people decide not just to think about themselves".
Gerrard added: "If I try to take myself out of the Rangers environment and think about the Scottish game, I think this is a big plus for Steve Clarke and any future national manager.
"A lot more Scottish kids will be getting challenged earlier playing men's football, playing for points, playing in front of crowds. That brings your development on a lot quicker."
Celtic caretaker manager John Kennedy says it is "something I would support massively" and thinks that other top-flight clubs could follow the Old Firm's lead.
"I remember 10 years ago going out to Spain to see how their B teams operated and how much it gave them in terms of players development and the level of competition the young players were exposed to," he said.
"I think it's the right way to go - having a competitive games programme for young players and challenging them in a competitive environment against guys at first-team level"
A recent proposal for Old Firm colts to play in a 16-team Scottish League 2 next season failed to attract support.
Rangers and Celtic Under-21 sides, along with counterparts from other Premiership clubs, have competed in the Scottish Challenge Cup since 2018.
The Lowland and Highland Leagues are the fifth tier of Scottish football, with the champions of each division playing each other for the right to face League 2's bottom club in the League 2 play-off final.
Lowland champions Kelty Hearts face Brechin City in this month's two-legged final on 18 and 23 May.
League chairman George Fraser said: "Our league is fully committed to the integrity of the pyramid and we have shown this time and time again, so any suggestion we are not is ill-judged and misplaced.
"With all the tier six leagues opting to go 'null and void' this meant there was no champion club put forward to join the SLFL. If there was then the champion club would be taking part in the SLFL league next season."