Arsenal 'devastated' by Europa League exit but where does club go now?
Last updated on .From the section Arsenal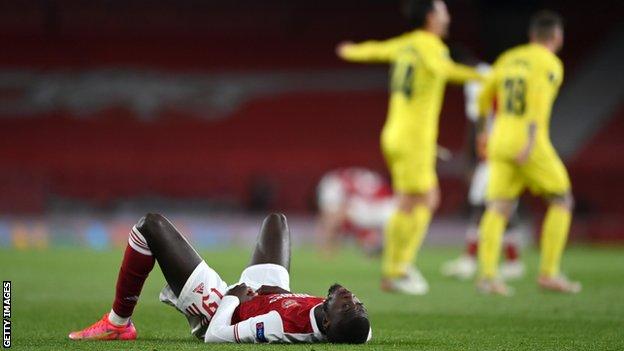 "We are devastated". Mikel Arteta is not a man for big displays of emotion, but you could tell that this one hurt.
Arsenal's failure to score against Villarreal at Emirates Stadium on Thursday - and the Europa League exit that resulted - has repercussions.
Sat ninth in the Premier League, the Gunners' season is now effectively over with little to show for it, and their proud record of having competed in continental competition for the past 25 seasons is likely to end.
There will be question marks over the future of many players, the manager's position and - judging by the fan protests that were once again staged outside the ground prior to kick-off - no end to the pressure on the club's owners.
Here, BBC Sport gathers reaction from the manager, players, pundits and more to gauge the mood after a disastrous night for Arsenal and asks where the club goes from here.
'We must fight for this club'
"We tried everything until the last minute," Arteta told BT Sport in his post-match interview. "We have to congratulate Villarreal. I think we deserved to win the game but the details define these ties. We had three big chances, they didn't have anything but they are through.
"We are devastated. Really disappointed."
Arsenal did indeed hit the post twice through Pierre-Emerick Aubameyang, while Emile Smith Rowe and Nicolas Pepe curled shots wide, but such moments were too few in a display that was strangely passive for long periods.
Arteta felt there were mitigating circumstances, not least of all a lack of match fitness in key players, including Aubameyang following his bout of Malaria and Kieran Tierney, who replaced Granit Xhaka at left-back after he was injured in the warm-up.
Arteta, who admitted everybody's job is now under scrutiny, said: "It's various things. The way we started in Villarreal wasn't good enough. We didn't arrive here in the best moment with everyone in their best condition. For 90% of them it was their first semi-final and we have to learn."
Goalkeeper Bernd Leno agreed that a weak first-leg display and poor finishing on home soil cost the Gunners.
"It's very hard for all of us," the German told BT Sport. "Also for the fans. We are all sad. Hopefully we can make next season better than this season but this season isn't over and in our final four games we must fight for this club and show that we love this club."
'They have gone out with a whimper'
The pundits were less forgiving.
"Over the two legs Arsenal have not done enough," the club's former defender Lee Dixon told BBC Radio 5 Live. "Arsenal have given up on these two games too easily. There has not been enough.
"You are hoping as Arsenal fans things would change but in the back of the mind you don't trust this team. They have outdone themselves, they have gone out with a whimper.
"I hope they're in that changing room hurting, but I'm not sure if they are."
Another ex-Arsenal defender, Matthew Upson, was equally damning: "We can talk about being Mikel Arteta being outsmarted by Unai Emery but I don't think Villarreal had to do a lot and this is the problem.
"The manager has a good idea of how he wants to coach and how he wants to play but none of that matters if you don't have the application, the characters, the commitment and responsibility on the pitch."
'If Kroenke doesn't want it, step aside for someone who does'
There were high hopes when Arteta's side beat Liverpool in August's Community Shield, after winning last season's FA Cup, but what has followed this season has been a model of inconsistency.
Since taking over as boss, the 39-year-old has won 43 of his 82 matches in charge, but it is the 13 defeats he has suffered in the league this campaign that are taking centre stage, leaving the club at risk of their lowest Premier League finish since 1994-95.
This will be their fifth season finishing outside the top four.
The fans' frustration has been exacerbated by the actions of owner Stan Kroenke, especially his eagerness to sign the club up to the proposed European Super League, prompting protests.
Dixon's former team-mate Martin Keown zeroed in on Arteta and the club hierarchy, suggesting that big changes are needed before the club can even think of challenging again.
"There is a crossroads," he told BT Sport. "It is a real fall from grace. Will it mean new owners, a new manager?
"The manager comes under enormous pressure. Look at the wisdom of a young manager taking a massive job. His inexperience has cost him.
"It seemed to me this was the rescue package but it didn't arrive. Is there an appetite to keep him? He is very much the owner's man, but he is going to be under huge pressure.
"I don't know if it changes Kroenke, does this club really matter to him? Does he love football enough? We need someone who wants this club and loves this club.
"It is going to take big investment and if he doesn't want it, step aside for someone who does."
'Investment needed big time' - your take on Arsenal's situation
Eric Yung: All this chat about Arteta out & Kroenke out (all valid) but be realistic - both won't happen this summer, nor, will we have a sizeable summer transfer budget. The board, Arteta, Edu owe it to the fans for assurances on next steps. Act like a big club, show leadership.
Olivier Garnier: Yet another [piece of] evidence Arteta is too inexperienced. All season he has kept making wrong choices (starters and substitutions). Lacklustre football and poor results. Strong decision needed not to waste another year in reconstruction.
M: We used to be contenders for the league season after season. We used to be regulars at the UCL knockout round. People at the club (owners, manager, players) should be ashamed of how they have turned our club into a joke.
Wardy: Arsenal finished on a high last year beating Man City, Liverpool and winning the FA Cup. Where's all that optimism a year on? We're a shadow of the team we were a year ago. Arteta's doing. Arteta's team. Arteta must go.
American Gooner: I have been a tolerant Arsenal fan for 15 years. But I am now losing patience. We have no ambition, no style, no identity, no pride. It's our past that still allows us to feel like a big club but in all fairness we have been a mid-table club now for 10 years.
Peter in Oxford: Arsenal fan very torn here - on the one hand we were pathetic and deserved nothing and on that Arteta should go. On the other hand surely you give him a proper transfer window and pre-season given how the last one was with Covid and at least see if things look to be on the turn at the beginning of next season.
Adam in Oxford: Arteta has to go, 0-0 should never be an acceptable scoreline in a must-win European semi-final where Arsenal only had to score. At least lose having committed all 11 players forward chasing it. Arteta has transformed Arsenal, for the worst.
John G: Now is not the time for knee-jerk reactions. Getting rid of Mikel solves nothing. There needs to be change. Kroenke must go otherwise our downwards trajectory continues. My only solace is at least we are not now going to be battered by United in the final.
Mark, Swindon: It's looking like the shortcomings in Arsenal's squad are going to cost them dearly. Investment needed big time.