Champions League: Plans for revamped tournament agreed
Last updated on .From the section European Football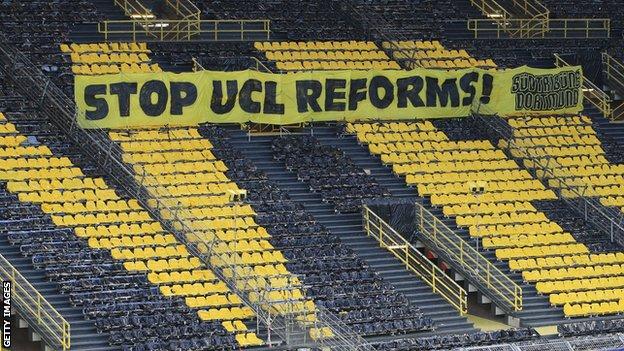 The revamped 36-team Champions League was agreed on Monday.
The controversial new Champions League format is due to start in 2024 and run until at least 2033.
A planned announcement last month was scrapped amid arguments over club involvement in the running of the tournament.
The new format will see 36 clubs qualifying for an expanded 'first phase', where all clubs will play against 10 opponents of varying strengths.
This will result in a league table, with the top eight qualifying for the knockout phase and the next 16 going into a play-off for the remaining eight slots.
The format has been criticised by fans' groups, not least because two of the additional four slots will be allocated on the basis of past performance, to the clubs with the highest Uefa co-efficient that did not qualify for the Champions League automatically - but did qualify for another European competition.
If the process was in existence this season, Liverpool - depending on the outcome of the domestic cup competitions - and Chelsea would have been the clubs who stood to benefit.
The criticism around this format is that it would strip away the basis of qualification being around league position as a team could qualify for the Champions League despite finishing lower in the table than a team in the same league that missed out.