World Cup 2030: UK and Republic of Ireland associations back UK government support for bid
Last updated on .From the section Football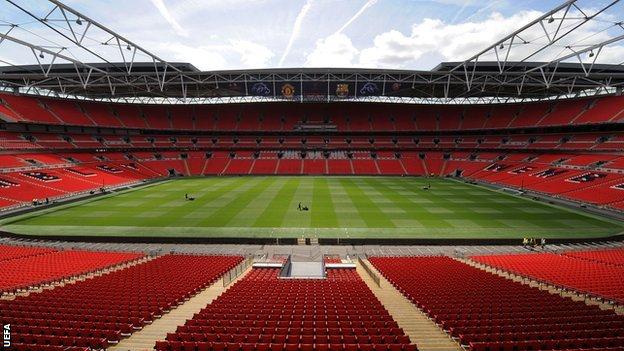 Prime Minister Boris Johnson says it is the "right time" for the UK and Republic of Ireland to launch a joint bid to host the 2030 World Cup.
The UK government will reportedly pledge £2.8m to kick-start the process in Wednesday's Budget.
The football associations of England, Wales, Scotland, Northern Ireland and Ireland say they are "delighted" with the government's commitment.
"We are very, very keen to bring football home in 2030," Johnson said.
In an interview with the Sun, he added: "I do think it's the right place. It's the home of football, it's the right time. It will be an absolutely wonderful thing for the country.
"We want to see a bonanza of football in the years ahead."
A feasibility study will continue before the formal World Cup bidding process begins in 2022.
Aston Villa is one club who will offer full support for any bid and plan to upgrade Villa Park to ensure it meets Fifa guidelines for the tournament.
Villa Park has a rich tradition of hosting major occasions, including three games at the 1966 World Cup, four Euro 96 games and a total of 16 internationals. It was the first English stadium to host internationals across three different centuries and has also staged a record 55 FA Cup semi-finals as well as the 1999 European Cup Winners' Cup Final between Mallorca and Lazio.
A joint-statement from the football associations of England, Wales, Ireland, Northern Ireland and Scotland read: "The football associations and government partners of the UK and Ireland are delighted that the UK government has committed to support a prospective five-association bid for the 2030 Fifa World Cup.
"The FAs will continue to undertake feasibility work to assess the viability of a bid before Fifa formally opens the process in 2022.
"Staging a Fifa World Cup would provide an incredible opportunity to deliver tangible benefits for our nations.
"If a decision is made to bid for the event, we look forward to presenting our hosting proposals to Fifa and the wider global football community."
Johnson also told the newspaper the UK was prepared to host additional Euro 2020 games, after the government last week unveiled plans to end all restrictions on social contact in England by 21 June.
The Euros were postponed by a year because of the coronavirus pandemic and are now set to take place across 12 host cities this summer. It is understood that Uefa still intends the tournament to go ahead in this way.
Wembley will host seven games - including the final and semi-finals - of Euro 2020, while Glasgow and Dublin will also host games.
England is also hosting the postponed Women's European Championship in 2022.
The last major men's football tournament played in the UK was the 1996 European Championship, which England hosted 30 years after staging its only World Cup.
Recent and future World Cup hosts

2006:

Germany

2018:

Russia

2010:

South Africa

2022:

Qatar

2014:

Brazil

2026:

US, Canada and Mexico
England failed with a bid - fronted by former captain David Beckham, Prince William and former prime minister David Cameron - to host the 2018 World Cup, which went to Russia.
World Cups from 2026 onwards will be contested by 48 teams, beginning when the US, Canada and Mexico host the tournament.
A joint bid from Chile, Argentina, Paraguay and Uruguay is expected for the 2030 competition, while Spain, Morocco and Portugal are also considering a joint bid.
'Some will question if it's worth it after 2018 humiliation' - analysis
Dan Roan, BBC sports editor
Government support for the idea of a UK and Ireland bid for the 2030 World Cup is nothing new.
Former prime minister Theresa May said in 2018 that she would back an effort to stage the tournament. The following year, on the eve of the general election, her successor Boris Johnson said he would put his "heart and soul" behind such a bid. Now he has repeated that message.
Ministers are known to be keen to host as many major sports events as possible to help promote Britain in the post-Brexit era, and with London, Glasgow and Dublin set to stage Euros matches this summer, a World Cup bid will enjoy support.
But others will wonder if it is wise use of public money after England's last bid for the 2018 World Cup ended in humiliation, securing just two votes, despite spending £21m.
In the wake of its great corruption scandal, Fifa has reformed the way in which it decides hosts, with more transparency and each national association given a vote, not just its executive committee. But even if this appears to boost UK/Irish chances, there are other hurdles to overcome.
Backing from Uefa is deemed essential. But its president, Aleksander Ceferin, has said he favours just one bid from Europe, and a joint effort from Spain and Portugal is being prepared.
The FA has been on a charm offensive in recent years in an attempt to tackle perceptions of English arrogance, and Johnson's latest reference to football 'coming home' may not have helped build bridges.
But regardless of which bid Uefa supports, it would face stiff competition from an expected joint South American effort from Uruguay, Argentina, Paraguay and Chile.
With 2030 marking the centenary of the first World Cup held in Uruguay, many believe it would be an appropriate choice, although there are concerns over infrastructure and stadia.
China would also provide formidable opposition if Fifa changed its host rotation policy and allowed another Asian World Cup so soon after Qatar stages next year's tournament.