National League North & South campaigns suspended
Last updated on .From the section National League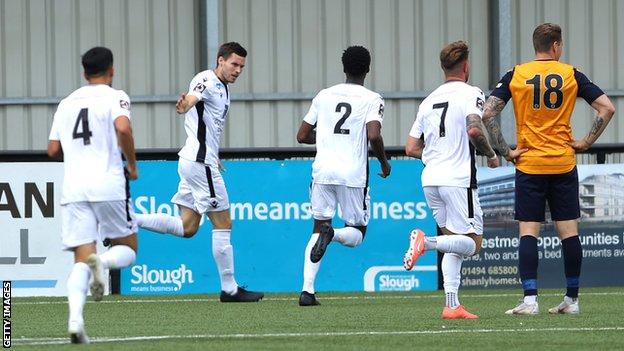 National League North and National League South have been suspended for two weeks amid discontent over funding.
The decision was taken at a National League board meeting on Friday after a review of feedback from clubs.
All of Saturday's scheduled fixtures have been postponed, and will be rearranged.
Dozens of midweek matches either side of games on 30 January are also off, but the National League is set to continue.
National League clubs started the season thanks to £10m in grants from the government, but are now being offered government loans to continue playing.
However, many have said they are worried about the financial implications of taking on loans to cover costs incurred by the coronavirus pandemic and competing behind closed doors.
The 2019-20 National League season was paused in March last year at the start of the first national lockdown in England, with clubs voting to end the regular campaign in April.
Clubs met on Wednesday and were told they would either have to take out loans or suspend their season.
Twelve National League North sides called for the league's "immediate suspension" in a joint statement on Thursday.
National League South club Havant & Waterlooville also went into a self-imposed 10-day isolation break on health and safety grounds, while Concord Rangers and Slough Town also confirmed they would not play.
The initial £10m funding to start 2020-21, which came from the National Lottery, only covered the first three months of the season, and there was some discontent over the method in which the funds were distributed to member clubs.
Meanwhile, the National League has been told by the Department for Digital, Culture, Media and Sport (DCMS) it is "untrue" to claim it was promised further grants beyond the end of December to keep its three divisions going.
Government grants available if clubs in 'critical need'
National League clubs have been angered by discovering the £11m promised to them to cover expenses from January to March must be taken as a loan.
Much of the ire has been focussed on the government, amid claims it went back on an agreement to pay further grants after the pay-out from the National Lottery ran out at the end of 2020.
However, this view of events is being challenged by the government department which granted the funds.
"It is untrue to suggest funding to the National League was ever promised as all grants, and they have been unable to substantiate this claim," said a DCMS spokesperson.
"In October we brokered a unique deal with the National Lottery to provide a £10m cash injection to keep step one and two clubs afloat, and recently announced another £11m in low-interest loans to support them in line with support offered to other sports.
"If any individual step one and two National League club can demonstrate it is in critical need of support and would be unable to repay a loan, grant applications will be assessed on a case by case basis.
"This will of course be through the same rigorous process that we apply to other sports."
Reaction - Fears of a downward spiral while players watch Netflix
The co-chairman of Gloucester City, who are top of National League North, described the decision to halt the campaign as "staggering".
"My fear is it will become a downward spiral," Alex Petheram told BBC Radio Gloucestershire.
"The risk grows every day with no football played that the season will be pulled and a decision of null and void might follow.
"I don't understand what cost we are going to save in two weeks.
"If my players have two weeks off and are sat at home in their pants watching Netflix, they are going to come back heavier and unfit."
Marc White, chairman-manager of National League South side Dorking Wanderers was disappointed the announcement came at such short notice.
"We understand for many clubs, concerned with no solution for finances, they wanted things to stop," White told BBC Surrey.
"Perhaps more concerning is the split between National League and National League North and South for the first time.
"Is this an indication that this is where this is going if there are no grants available from the government?"
Maidstone United co-owner Oliver Ash admitted the choices facing the league are "extremely difficult".
"We haven't really had sufficient information to make an informed choice and that's not entirely the fault of the National League," Ash told BBC Sport.
"We started the season because we had a reasonable expectation that we would have grant funding for as long as spectators were not allowed in grounds.
"But right now, the choices are extremely difficult. There are no good choices and it's a case of trying to find the least-worst option."
Clubs and National League 'need to come together'
Both White and Petheram said resolving how to fund the rest of the campaign is now a priority.
"The clubs and the National League need to come together and lobbying needs to be in place to get grants and the support that was promised," White said.
"The National Lottery were convinced by the government to give £10m for the previous three months in October, November and December.
"If the league does not continue, it will be £10m wasted."
Petherham added: "Parliament, MPs and society have to get behind clubs and the National League being granted the money. Taking on a loan is not a feasible option."

You can stream five fourth-round games live on the BBC this weekend, including Liverpool's trip to Manchester United.

Find out more here.