St Mirren's Jim Goodwin says Covid complaints in public 'not healthy'
Last updated on .From the section Scottish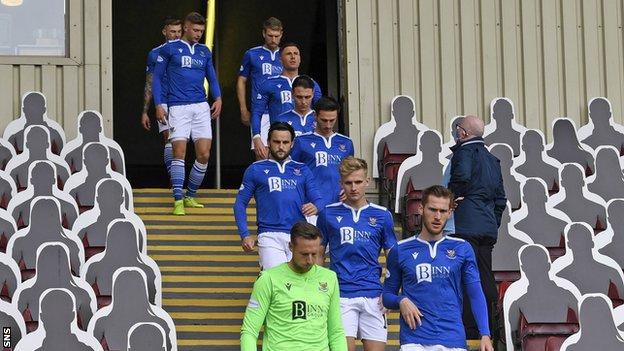 Scottish managers risk "shooting ourselves in the foot" by publicly criticising Covid protocols at other clubs, says St Mirren boss Jim Goodwin.
Aberdeen's Derek McInnes said he had concerns at "a couple of grounds".
Celtic's Neil Lennon had earlier claimed clubs are interpreting the rules in different ways and criticised some changing facilities.
"We don't need to go publicly shaming anybody, I don't think it's healthy. We need to be careful," said Goodwin.
"If those are the concerns they have, then go speak to people higher up in their own club and get them to pass that message back to the clubs involved and speak to the SFA.
"Every club in the country is doing the very best they can with the facilities we've got.
"I think experienced people within the game need to be careful how they put things out in the public because we're working very hard with the SFA, SPFL and the government to keep the game alive.
"I can't understand why some managers feel the need to go out and shoot ourselves in the foot like that. I'm not saying don't raise the concerns, but raise it differently."
'Not telling tales or sticking clubs in'
The comments from McInnes on Thursday came as it emerged clubs have been asked by the Joint Response Group to review their match-day practices after the issue of space given to visiting teams was raised during an SPFL meeting.
"There are clubs that do it better than others," said McInnes.
"When we are in a dressing room, we have got to be socially distant. But there are a couple of grounds where the concerns are clear right from the outset and you are a bit nervous about that next Covid test.
"I have voiced my concerns about where the space isn't adequate, and where if we had a positive test then we would be in real danger of wiping out the majority of the squad."
On Monday, Lennon hit out at the conditions he has experienced at rival stadiums this season.
St Johnstone challenged those suggestions after being named, and McInnes was keen to emphasise that he was not "telling tales or sticking clubs in".
"We learn from other clubs when we visit, and they can learn from us," he said. "It is just about trying to provide the safest environment and to keep the whole thing moving.
"It is great the authorities are now getting involved. The majority of clubs we have visited have been spot on but there are one or two who should be made to do it better."
'A steep learning curve for clubs'
Livingston boss David Martindale has not encountered any problems, saying: "You can only work with the resources you have.
"I think we have all got to dig in and help each other. If I had a problem with a club I would speak to them directly and offer my help.
"We had a lot of sleepless nights and a lot of brain storming putting the protocols in place. It's been a steep learning curve and we are still learning."
Hibernian counterpart Jack Ross was also asked about the issue and said he had "been okay with everything".
"We've been in areas of stadiums that we normally wouldn't be in and it's the same here at Easter Road, where away teams are changing in the concourse underneath one of the stands," he said.
"There has been a variety of ways in which clubs have had to be creative to make sure they provide the necessary facilities."